Jupiter!     Mars!      
Earth!
Those are words my children enjoy screaming out loud because they have recently become fascinated with outer space. It might have been the film we saw at The Franklin Institute narrated by Neil deGrasse Tyson that sparked their interest or visiting The American Museum of Natural History and seeing amazing exhibits. From watching videos of rockets launching to checking photos on the NASA Facebook page, my kids are intrigued by what is beyond earth.
While I truly appreciate the photos and videos that are abundant online, there is nothing like a cool sensory bin that has an academic theme. Safari Ltd. was gracious to send us the Space TOOB filled with figurines of astronauts, satellites, and shuttles as well as Safariology The Solar System filled with the planets in the Milky Way. In order to convey the vastness of outer space, we incorporated black water beads which contrasted beautifully against the bright colors of the figurines.
Sensory Bins are an invitation for children to play and in this instance it can help reinforce academic information. My son loves to look at each individual planet as he attempts to learn their names and identify them. Since he has been playing with the Safari Ltd. figurines he has been comparing them to his favorite books about space, and now he can pretend that his shuttles are traveling past the planets in the solar system.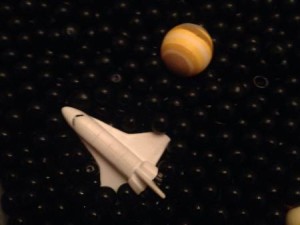 Mommy University Presents
An Out of this World Sensory Bin
Materials Needed:
Large container
Safari Ltd. Space TOOB
Safari Ltd. Safariology Solar System
Black Water Beads
Glow in the Dark stars and moons
Assortment of spoons, cups, and other small containers
Setting up the Sensory Bin
Place the water beads in the large container and fill with water. This is a fun activity for kids because as the beads absorb the water they increase in size, and the kids love to watch the beads begin as tiny little dots to then get fuzzy on the perimeter to full grown beads.
Once they have reached full size, put in the figurines from both Safari Ltd. sets and glow in the dark stars and moons. The sensory bin becomes a little playground as the black water beads resemble outer space and the tactile component inspires kids to play.
Alternative Ideas for this Bin:
Instead of black water beads, you can use black beans. Both mimic the image of outer space and the contrasting colors will really make the figurines pop. The texture and weight of the beans and beads is different so you might find one fits your child better.
If you have books or flashcards about outer space have them ready near the sensory bin as kids enjoy comparing the figurines to the pages as well as inspiring ideas for pretend play. You can also challenge your children to line up the solar system in the order from the sun as well as ask them to organize the figurines into groups.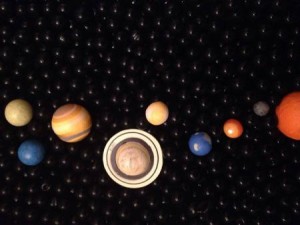 While we continue to explore space, my son is equipped with his own solar system to touch, move, and interact with as his interest expands. There is nothing like seeing genuine interest in your child's eyes and knowing that what they hold in their hands is their future.
You can use our Amazon affiliate link to purchase your own Safari Ltd. Space TOOB and Safariology Solar System.
Mommy University received the Space Toob and Solar System from Safari Ltd. in exchange for an honest review.  All opinions belong to Mommy University.
You may also enjoy:
How to Plan an Outer Space Day