Updated for 2020!
Each year the stores are lined with a variety of advent calendars. What most have in common, however, is that they involve chocolate. Each day you open a little door to discover a lovely piece of candy. The kids eat it and the moment is over. This year why not try something different?
As you know, we are always looking for teachable moments at Mommy University. I believe that an advent calendar offers wonderful opportunities for learning for the entire family. To show you how easy it can be to turn that chocolate into something brain boosting and more meaningful, I have come up with some new and unique advent calendar ideas. Some are simple while others may take more time. You may also be inspired to create your own idea with your family! I included Amazon affiliate links to some amazing kits as well to make shopping easier and faster!
Brain Boosting Advent Calendar Ideas
Puzzle Pieces
So you already bought that chocolate filled calendar, now what? One idea is to open it up and toss all that chocolate (or hide it for when you really need it). Then refill each door with a puzzle piece. You can put one or several pieces behind each door. By the last day, your child will be able to put together an entire puzzle. Not only does this build visual-spatial, fine motor and problem solving skills, it also encourages patience!
Build, Create, Play
Do your kids love to build? If your answer is YES, then instead of chocolate use Lego bricks. Purchase a Lego kit that is for the age and skill level of your child. Then divide up the pieces and place them in the doors. On the last day give your child the box so they can see what they can make. Another idea is to just place Lego bricks in the doors that have no particular design. Each day your child can add the bricks to their creation and by the last day they will have made something really unique!
Another great idea is to purchase one of these awesome brain boosting Advent Calendar sets:
Lego City Advent Calendar: This 234-piece set offers a fun holiday learning experience Kids can build 24 different presents including vehicles, minifigures and other seasonal items
Lego Star Wars Advent Calendar: Behind each window is a Star Wars themed surprise like mini figurines and droids!
Mega Bloks Minions Movie Advent Calendar: Get your countdown to Christmas started with your favorite little yellow characters!
Lego Friends Advent Calendar: Each day kids will get a new buildable gift including mini doll figures, ski equipment and a Christmas tree.
Lego Harry Potter Advent Calendar: This 305 piece Advent Calendar will make any Harry Potter fan jump for joy!
Holiday Experiences
This one is my favorite ideas as I love exposing my kids to new experiences. Behind each door put a holiday experience such as look at Christmas lights, bake cookies, volunteer at a soup kitchen, make ornaments and go get a Christmas tree. Each day the experience can be done together as a family which really highlights the meaning of the holidays. Another way this can be done is by creating a list of experiences together as a family and then randomly placing each one behind the doors. This way everyone knows what to expect but no one will know when it is coming. This also allows the kids to be more involved.
Animals, Reptiles, Bugs, Oh My!
We love figurines at Mommy University especially those provided by Safari Ltd. and Schleich. This holiday season I suggest purchasing some Safari Ltd. Toobs and Schleich figurines and place them behind each door of your advent calendar. Your kids can have fun playing with them, displaying them and creating imaginary worlds. While playing, your kids will enhance language and social skills as well as increase overall knowledge!
You can also purchase these sets from Schleich:
Schleich Dinosaur Advent Calendar: This set contains hand-painted and highly detailed figurines.
Schleich Horseclub Advent Calendar: This set contains hand-painted and highly detailed figurines.
Get Crafty
Not only is this idea fun it can also help enhance creativity and imagination as well as visual and fine motor skills. For each day write down a fun craft for your child to do such as make a snowman, design an ornament, make their own Christmas present for grandma and so on. This is a fun way to build anticipation for the holidays. Another idea is a play off of the Creativity Can. Behind each door place one or two small craft items such as pipe cleaners, googly eyes, pom poms and glitter. Start with one giant piece of poster board, and each day your child has to add those items to their art project.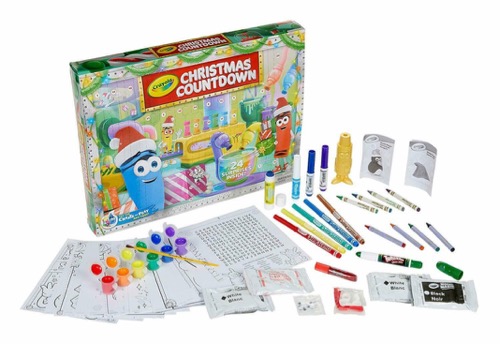 The Crayola Christmas Countdown Calendar for Kids is a great way to get ready for the holidays while encouraging creativity! This set has everything you need to get crafty. Behind each numbered calendar door is a fun Crayola item and corresponding activity. The set includes paint, coloring sheets and markers to name a few. You can purchase the calendar right from the Crayola website!
Giving Back
The holidays are all about helping those in need and giving back to the community. For this advent calendar, which may be best for tweens and teens, behind each door place a way to give back. Some ideas are donate a toy, volunteer at a soup kitchen, write a letter to a soldier, read a story to little ones and help an elderly neighbor. This teaches kids about responsibility, empathy and the importance of helping others. It also helps them learn to appreciate what they have.
Want to try one of these ideas or have one of your own but don't have an actual calendar? You may like one of these:
O Christmas Tree Treasure Box Advent Calendar
VTech Go Go Smart Wheels Advent Calendar
I hope you have fun creating your brain boosting advent calendar this year. Feel free to share your ideas on our Facebook page!
You may also enjoy: