Raised on Snoopy and the Peanuts Gang, I was proud to pass on the family tradition of watching Charlie Brown and his adventures right before every major holiday.  My son is absolutely hooked on the music, laughing at the jokes and, my favorite part, learning some important lessons about life.
Charles Schultz created timeless characters to emphasize how important friendships are, to teach us that dancing is always fun and that sometimes we don't always achieve perfection but the journey is the most significant part of the adventure.  With that said, I wanted to introduce some Peanut themed activities that you can group together for a rainy day, birthday party, or just because you are incredibly excited about the new film! I included Amazon affiliate links to make your planning easier!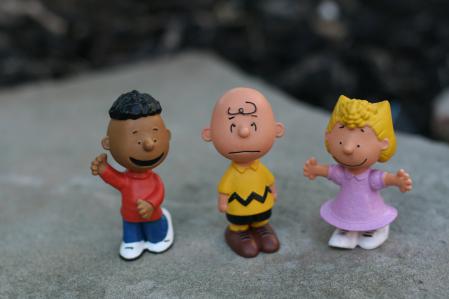 Mommy University Presents
Create Your Own Peanuts Day
Great Pumpkin Pudding
Part of celebrating Halloween in our home is watching "It's the Great Pumpkin, Charlie Brown." This year we decided to make a yummy treat to go along with the movie. First, the kids and I made chocolate pudding together.  After the pudding had cooled we decorated it with green icing (green sprinkles is another viable option).  On top of the icing we plopped a candy pumpkin.  The kids loved eating their pudding pumpkin patch.
Yarn Kite 
In the Peanuts comic strip and featured in the movie is the Kite-Eating Tree which is the inspiration for this craft activity.  Parents raised in the 1980's might recognize this simple art craft which requires yarn and twigs.  You can use different colored yarn or self-striping which is what I used in the photo below.  Take the two twigs and make a cross.  Tie the yarn around and then begin wrapping around each twig until the size you want is reached.  I like this activity because it invites creativity with different colors and textures of yarn as well as fine motor skills and spatial awareness.
Peanuts Bubbles
Bubbles are a great developmental tool that many therapists and educators use to help children improve their fine motor skills.  Speech therapists use bubbles to help children struggling with speech to improve the muscles needed to enhance speech.  The Peanuts line of bubbles from Little Kids Inc. is an absolute toy to add into this themed day.  There are several options that each have their own benefits.  For example you may want to have Snoopy with his endless bubbles.  This toy can have young children chasing bubbles while working on their gross motor skills and popping the bubbles with the tip of their finger to improve fine motor skills.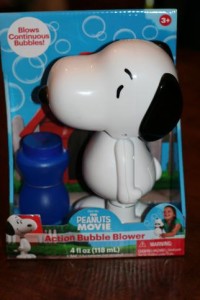 What fits perfect in a diaper bag is Snoopy sitting on his little red doghouse bubbles.  Not only a great size for transportation, a young child can begin practicing blowing their own bubbles.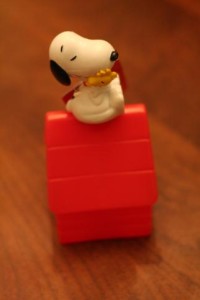 The last option available is the Peanuts wand which children can practice hand eye coordination and gross motor skills as the sway around for bubbles to emerge from the wand.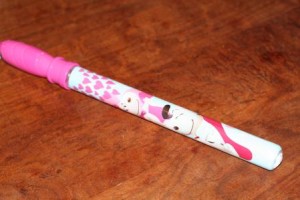 Dance Party
One thing Snoopy taught us is that dancing makes you feel better!  One of the scenes that my children become entranced watching is a simple melodious dance that Snoopy does with bunny rabbits in It's the Easter Beagle movie.  Whenever we get cabin fever or stressed, we put on music and make sure to do dance! For your Peanuts Day Camp, play games like freeze dance or musical chairs to get the kids up and moving. You can also have them choreograph their own routine. Pick up the Peanuts Movie soundtrack to get the fun started!
Peanuts Sensory Bin
To get ready for your Peanuts Day, pick up some Peanuts figurines which are great for language development, imaginary play and themed sensory bins.  We recently received the Schleich Peanuts figurines to review and incorporated them into a sensory bin along with some colored backdrops and beans. You can read all about it in our article It's the Great Sensory Bin Charlie Brown.
Read books
Of course, we are going to read books about the Peanuts gang!  In fact, one of our treasured books is a holiday specific book which is accessible all year in my children's bookcase because it still encourages them to appreciate reading.  Here are a few suggestions:
Peanutize Me
If you love Peanuts, then check out the website Peanutize Me that allows you to create a Peanut character of yourself or your children.  Another option is to let your children select the physical traits and create their own characters.  Check out the website here.  The cover graphic was made using this website.
Play Games
We love playing games at Mommy University especially ones that offer opportunities for learning. There are several fun games that your kids will love to play on your Peanuts Day, or any day for that matter. Here are some brain boosting games from our friends at Wonder Forge:
I hope you have enjoyed reading about these fun Peanuts themed activities. Have fun with your Peanuts Day!
You may also enjoy: