We are so excited to share that Mommy University was chosen to help celebrate the launch of the 2016 Safari Ltd. new product line. We have been provided with a brand new figurine in exchange for our honest review.
At Mommy University, we love the learning opportunities provided when playing with Safari Ltd. toys. We have provided a variety of ways to use Toobs from sensory bins to Easter egg hunts, and now we are excited to share some brain boosting ways to play and learn with the new 2016 product line.
The new line is full of wonder, imagination and discovery. Kids will spend hours creating imaginary worlds with new figures such as animated dragons. They will enhance their knowledge of real animals while playing with the new platypus, octopus and white cobra. Plus the release of the good luck minis are perfect additions to your sensory bins.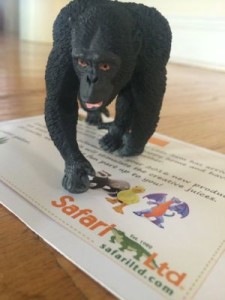 We were lucky enough to be chosen to help spread the word about this amazing new line. As part of the insider team, we were provided with the new Wildlife Chimpanzee. His life-like qualities and expressive eyes will inspire any child to play and learn. My kids were intrigued from the moment we took him out of the box. As my kids played, I thought of some fun brain boosting activities for this fun little creature as well as all the toys in the new line.
5 Ways to Enhance Learning with Safari Ltd.
Act Out the Animal
For little ones, the first step in understanding animals is "being" the animal. We teach kids to bark like a dog, cluck like a chicken and moo like a cow. We teach them to slither like a snake and hop like a bunny. This engages all their senses and enhances learning and understanding. Let your child continue this learning process with Safari Ltd. For each figurine you purchase, have them act out that animal. Ask them, "How does that animal sound and how does he move?" Not only does this increase knowledge it helps develop language and motor skills as well!
Label the Animals
Once children have acquired more language, have them label the animals. Place all your figurines in a hat or box. For each figure pulled from the hat, have them label it. See which child can label it first and keep track to see who labels the most. As kids get older, ask what letter the animal starts with then eventually how to spell that name. This enhances letter and sound recognition as well as reading and spelling skills.
Create Stories
Kids love using their imaginations. They love creating their own worlds and acting them out. Let your Safari Ltd. animals help with this process. For each figurine you own, let your child create a story. Make it more interesting by adding another figure every five minutes to add to the plot line. Another fun way to play is to have one child start the story, then the next child add to it with another figurine. This activity can last for hours! It's great for a rainy day, home schooling and a school classroom.
Writing Prompts
Take story telling a step further by using the figurine as a writing prompt. Place one or more figurine in front of your child and have them write about them. Tell them to include character names, a setting, a problem they encounter and solve and a happy ending. This is a great way to enhance writing skills and comprehension. It also helps children prepare for standardized tests. (I know we don't like to think about that but it's a reality so why not make the preparation more fun!)
Research
A fun way to get to know your animal is to research him. You can start by looking on the internet to find out where he lives and what he eats. You can then take a trip to the library to take out books about your special Safari Ltd. animal. My boys loved going through their pretend kitchen to find the right food to feed their Chimpanzee!
We are so excited to learn more about the 2016 Safari Ltd. product line, and we cannot wait to share it with you! I hope you enjoy using your figurines to enhance your child's learning! You can learn more by visiting http://blog.safariltd.com/, and you can purchase some new Safari Ltd. products by visiting their Amazon page (affiliate link).
You may also enjoy: