If you are from the Northeast then you know how difficult it can be to plan a winter birthday party. You can have it at your house but you have to worry about space as most likely hanging out outside is not an option. You can't have a party at a pool, lake or farm because, well, it's too cold! You can certainly have one at an indoor play place, but those can be very expensive especially when you are providing for a young child that still requires an endless supply of diapers and wipes!
Each year as my son's December birthday approaches, I spend hours on Pinterest trying to find fun but easy party themes. I combined many ideas as well as came up of many of my own in order to put together parties my son and his friends would really enjoy. In this article, I will share 3 fun winter themed birthday party ideas that I believe are easy, inexpensive, and of course, fun! I will share tips on decorations, food and activities for each theme. I have also included a few Amazon affiliate links to make the process easier!
Winter Wonderland (or ONEderland)
Many months before my son's birthday, I began searching first birthday party themes. There are so many out there that it can be overwhelming. To embrace his winter birthday, I went with a Winter ONEderland theme. Now, if your child is not turning one, then just a Winter Wonderland theme is also a great option.
Decorations: Making your house looks like a winter wonderland is easy because you can use what you already had. My Christmas tree was decorated and lit up for the party which made for a great focal point and photo-op. I used white frames to frame my son's first birthday pictures and used blue candles and pine cones to create centerpieces. After a quick trip to the dollar store, I also had blue and white ball ornaments of varied sizes that I turned into fun decorations by also adding homemade snowman crafts.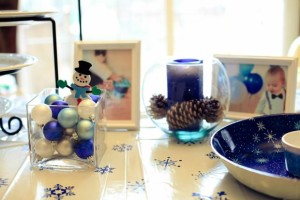 Food: Since my son was turning one, I decided to go with small finger food. I like the idea of using comfort food with a winter theme so we had items such as shot glasses of tomato soup, grilled cheese croutons, mini pretzels with cheese dip, small quiches and pulled pork to make sliders. For dessert, we had the kids decorate cookies along with amazing hot chocolate cupcakes. I had the cake and cupcakes made from Little Cake Bakehouse which saved me time and sanity, but you can make your own.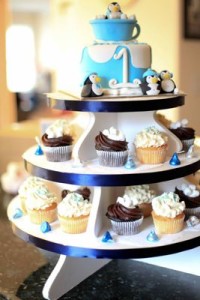 We also had a hot chocolate bar full of amazing toppings such as white and milk chocolate chips, a variety of flavored marshmallows, whip cream and candy canes.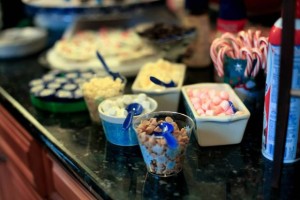 Activities: For our party, we had a craft table where kids could make snowmen and snowflakes using foam items and stickers we picked up at Michael's. Foam snowflake crafts can also be found on Amazon. Another fun activity for older kids is to make snowflakes with white paper and scissors.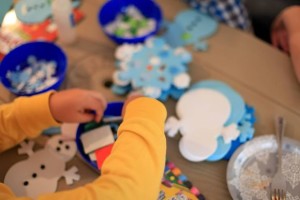 The cookie decorating was another fun activity the kids really enjoyed. I put out winter themed sugar cookies along with a variety of decorations and icing. The kids had a blast using their creativity and unique style!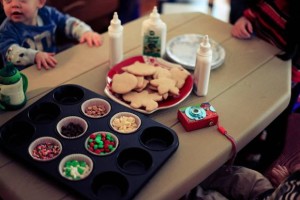 Polar Express
For my son's second birthday, we decided on a Polar Express themed party. He loved the book, and it was more cost-effective than taking friends and family on a train ride!
Decorations: Around the house, we had trains, trees and fake snow set up as decorations. Our tablescape had the Polar Express train right in the center. The Little Polar Express train is also a great option. Again, our Christmas tree was a focal point with a train going around it.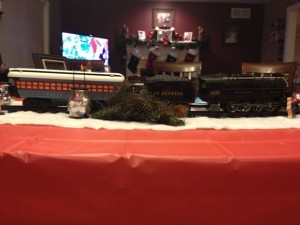 Food: We offered simple comfort food for this party but you can have whatever is easiest for you. What was really fun, however, were the little extras we made. We had hot chocolate cups made from marshmallows and candy canes to go with the story.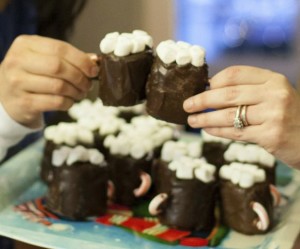 We also made North Pole cupcakes that were lined up along a train track. Lastly, we included a hot chocolate bar again as it fit perfectly with this theme!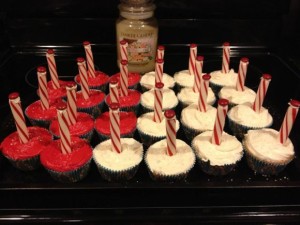 Activities: First, we had all the kids show up in their pajamas. In each invitation was a ticket so the kids had to arrive with their tickets and turn it in at the door. Next, we had a story time with Polar Express the book which the kids loved.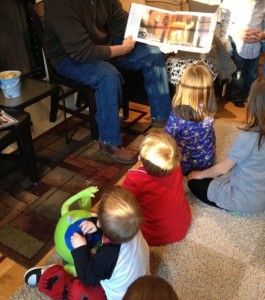 Last, we watched the movie. Since kids have limited attention spans, we provided different activities throughout the movie such as presenting the hot chocolate treats during that part of the movie and hiding tickets around the house to find during the part when the ticket blows away in the movie. We also distributed each child their own bell at the end!
Frozen
Frozen is not just for girls! My boys love Frozen so for Trevor's third birthday, we focused on this theme especially Olaf!
Decorations: If your kids are like mine, then you have more Frozen toys then you know what to do with. Take all those figurines, stuffed animals and toys and place them around the house and on the main table. You can also add some fake snow and balloons and you are all set!
Food: Since the focus and fun of this party was more in the activities, we went with simple food. We had various appetizers and mini sandwiches. For dessert, we ordered a Frozen themed cake from BJs which was delicious and very inexpensive. I added an Olaf figurine and 2 moose to make it fit the theme.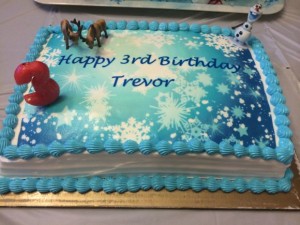 We also had adorable snowmen cookies that were made from dipping Nutter Butters in white chocolate.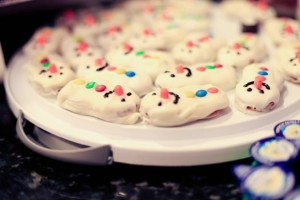 Lastly, the kids decorated cupcakes with blue icing and snowflake sprinkles.
Activities: There are so many fun brain boosting activities you can do for this theme. First, you can make Elsa's Ice Castle using sugar cubes and white frosting. Each child can make their own unique castle to take home.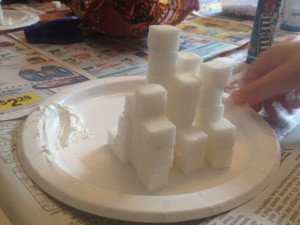 Next, kids can make snowmen out of marshmallows, M&Ms, and pretzel sticks. You can also add a Hershey Kiss or peanut butter cup as a hat!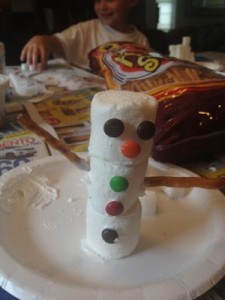 Lastly, you can have all the kids make blue goop. This is a fun sensory task the kids will LOVE! For more ideas check out our Frozen Day article.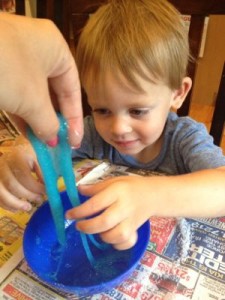 If you like this post, you might like:
10 Awesome Brain Boosting Party Favors