In full disclosure, we received the kick flipper from PlaSmart in exchange for our honest review.
My son recently told me that he wanted to learn to skateboard. Being that he is only 6 years old, I was definitely nervous about the prospect of him zipping down the driveway and falling. The Kick Flipper by PlaSmart, however, was the perfect alternative. My son can learn to balance, spin and flip his board all without the wheels! No fear of going too fast, rolling into the street or falling down the hill. It's a win-win!
The Kick Flipper is a plastic board almost 20 inches long that offers hours of fun AND learning! It is recommended for kids ages 5 and up; however, my 3-year-old also had a blast learning new moves. The kick flipper is even fun for adults! (Be advised, however, that the recommended weight limit is 200 lbs.) My kids were so excited when they saw it that I was really wishing I had two of them!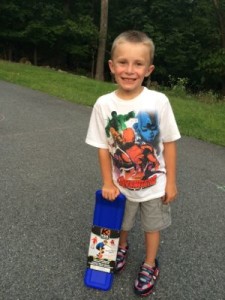 The kick flipper can be used outside on the driveway, in sand and even on carpet. This means it can be used year round and any time of day! My family, however, really enjoys using it outside. It is a great way to encourage outdoor play plus my driveway offered more space than the living room! Although, this winter I am sure we will be clearing away some toys (and furniture) to have some Kick Flipper fun indoors.
We started with learning to balance and then later rocking on the board. My 6-year-old mastered this pretty quickly while my 3-year-old took a little longer. Once we mastered this skill, we worked on spinning which was a lot of fun. Tips along with pictures can be found online to help learn some of the moves (http://www.kickflippers.com/tips-and-tricks/). We tried some of the moves on the website as well as made up some of our own.
I found the Kick Flipper not only to be fun and entertaining, but also a wonderful way to enhance several developmental skills. It is a wonderful toy to help kids with motor planning difficulties as well as difficulties with balance and coordination. Not only is the Kick Flipper fun for at-home play, I believe it would be a great addition to any physical therapist's tool box as well!
4 Benefits of Playing with the PlaSmart Kick Flipper
Improves Balance and Coordination
From simply standing on the Kick Flipper to completing complicated tricks, this toy requires balance and coordination. Younger kids can work on simply balancing in the middle of the board then progress to rocking. While older kids learn to coordinate body movements to complete more complex tricks like flipping the board and landing back on it without falling. Spinning also requires a great deal of balance and whole body coordination.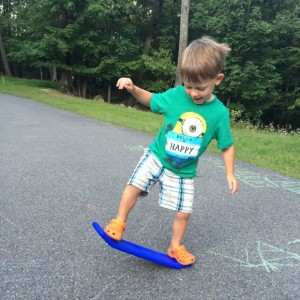 Builds Muscle Strength
Balancing on the board and completing the tricks involves the use of big muscles which builds strength in those areas. Kids (and adults) will build strength in their calves and thighs along with their core as they play with the kick flipper. In fact, it makes for a great work out! Also, building these muscles will make other activities easier such as riding a bike, snowboarding and playing various sports.
Sparks Creativity
How many different ways can I use the Kick Flipper? That's what went through my head when I first opened it. At first, we tried to master the basic skills like rocking back and forth and flipping it off our feet. But once you become better at balancing, creative thinking comes into play.
Great Exercise
As stated above, the Kick Flipper is a great workout. While playing, kids are increasing their heart rate and engaging in cardiovascular activities. It is a wonderful way to exercise and help kids get fit and healthy. As a result, I believe the Kick Flipper would be a great addition to gym class circuits!
The PlaSmart Kick Flipper is not only great for learning to skateboard, it is also a wonderful way to prepare for a winter full of snowboarding or a summer filled with surfing fun! It helps build muscles while improving balance and coordination. It is the perfect tool for enhancing overall motor development!
The Kick Flipper comes in red and blue and only costs $19! So don't wait another minute and use our Amazon affiliate link to purchase your Kick Flipper today!