Hersheypark has exciting coasters, fun family rides, and wonderful entertainment, but it also has some the most amazing treats EVER! As a Hersheypark passholder, we make several trips to the park each year, and, I have to admit, many trips have been just to try the new sweet treats. If you follow MU regularly, then you already know that I am a big fan of dessert. I love trying new things and sharing them with all of you. In this post, I am going to share my favorite sweet treats available at Hersheypark!
Must Have Sweet Treats at Hersheypark
ANY Dessert at The Chocolatier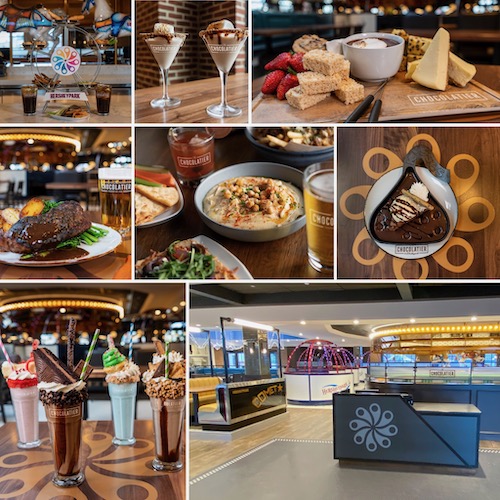 On May 29, 2021, Hersheypark got even sweeter with the long awaited opening of The Chocolatier Restaurant, Bar and Patio. It features culinary masterpieces like chocolate bbq wings, cocoa dusted short ribs, chicken and waffles, filet mignon rubbed with coffee, and so much more. Make sure to save room for dessert because they are EPIC! I absolutely LOVE The Chocolatier Cake which is a piece of chocolate chip graham cake topped with cookie dough ice cream, a soft chocolate chip cookie, and whipped cream sitting on a bed of decadent melted chocolate. Another amazing choice is chocolate peanut butter layer cake. Don't forget to check out the milkshakes and Chocolate Fun-due too!
Ice Cream Sundae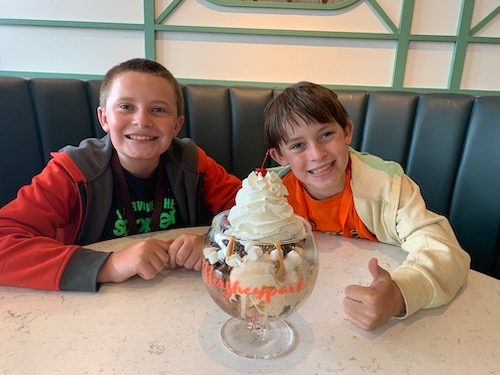 This spring, Hersheypark opened the long awaited Milton's Ice Cream Parlor which offers house-made ice cream made by expert Ice Creamologolists. In addition to unique and exciting flavors, cones, shakes, and floats, Milton's also offers incredible sundaes like the King Size Sundae served in a souvenir Hersheypark dish with 5 scoops of house-made ice cream, confetti cake, unlimited toppings, fresh whipped cream, and a cherry. Who will you be sharing the King Size Sundae with?
Cinnamon Bread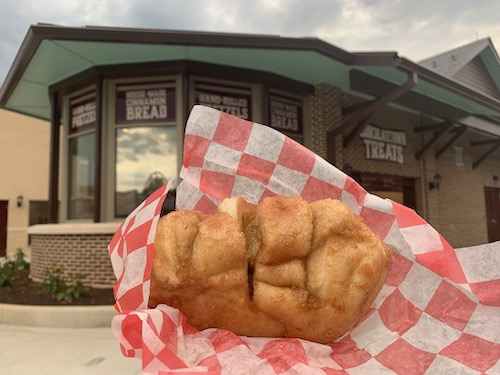 A new addition during the 2020 season, the cinnamon bread at Chocolatetown Treats is still my favorite treat at the park. It is soft, warm, and the perfect snack before or after a day at the park. I will even bring one (or several) home to enjoy later. To make this sweet treat even sweeter, you can also purchase a dipping sauce like vanilla icing or chocolate.
Mini Donuts
Last year, Mini Donuts were all the rage at Hersheypark. Served in Hersheypark souvenir buckets, these bite sized snacks pack big flavor. I may have even eaten an entire bucket myself once. Mini donuts are available in a variety of flavors including: cinnamon sugar, powdered sugar, and glazed. They also offer monthly specials. My favorite to date has been the maple bacon donuts (pictured above). New this year, guests can also order mini donut sundaes. Now that sounds delicious!
King Size Donut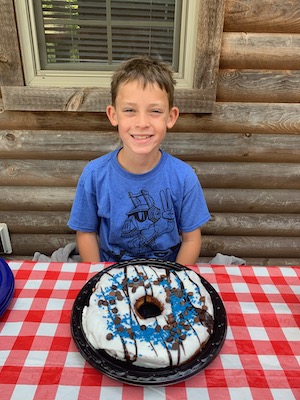 If you are looking for a BIG treat or something to share with the family, then head over to Cookies & Donuts at 1906 Grill for their King Size Donuts. Available in chocolate peanut butter, honey glazed, and vanilla/chocolate, these donuts are a great way to start your day at the park. They also offer seasonal flavors. Last summer, we grabbed a King Size Donut and brought it back to our cabin at Hersheypark Camping Resort and had it for breakfast the next morning. It was delicious!
King Size Shake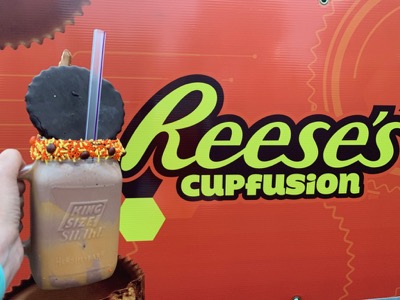 A MUST HAVE treat every visit to Hersheypark is the King Size Shake! It comes in 3 flavors: Reese's Cupfusion, Candymonium, and Mint the Merciless. Specialty shakes are also offered throughout the year like s'mores and pumpkin pie. You can share the shake with someone or drink it yourself. When finished, you can take the mug home as a souvenir. 
Oola Bowls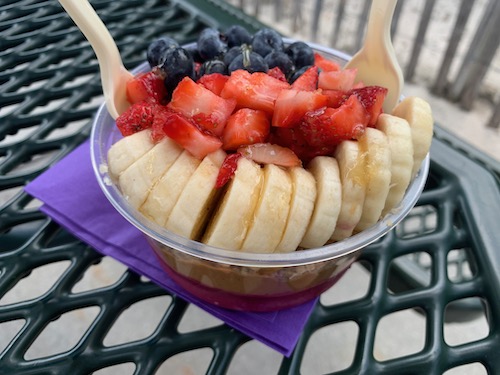 If you are looking for a healthy treat, then you have to try an Oola Bowl! Located in the Boardwalk, Oola Bowls offer unique and refreshing treats. Guests can choose from an acai and pitaya base then add a crunchy layer and some delicious fruit. I really enjoyed the pitaya with peanut butter, granola, strawberries, and bananas. What kind of bowl would you build?
Hot Chocolate
During colder months, Hersheypark offers the most delicious hot chocolate around! You can purchase the refillable mug and/or try the specialty flavors available at Simply Chocolate. Either way, they will warm your body and your heart!
ANYTHING at The Sweeterie
If you have a sweet tooth then this is the place for you! The Sweeterie is a Confectionery Kitchen led by Chef Cher Harris, Corporate Pastry Chef. This unique dining experience offers handcrafted fudge, delicious desserts, chocolate-dipped treats, and much more. My favorite treat is the Chocolatetown Cheesecake but everything is amazing!
Bonus:
Starbucks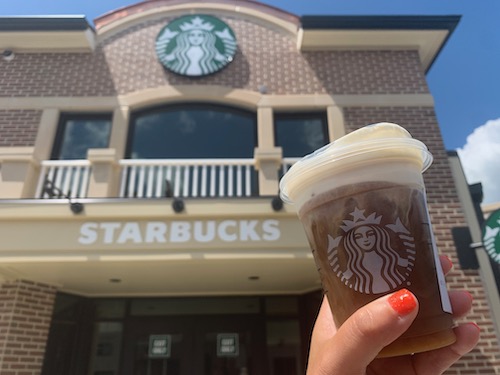 Although this may not always be considered a sweet treat, a Starbucks beverage is a MUST every time I visit Hersheypark. I was beyond excited when the new Starbucks cafe opened inside the park last year. In fact, grabbing a cold brew was the first thing I did on my first day back in the park. You can also get your Starbucks fix at their NEW Nitro Bike+ location near The Claw.
What's your favorite sweet treat at Hersheypark? Put your answer in the comments section below.
You may also enjoy: