We are so unbelievably excited to partner with Chef It Up to bring our readers all their brain boosting culinary arts experiences. We have been invited to take classes in exchange for our honest review.
Not a day goes by that my son does not talk about cooking, watch a cooking show or play in his pretend kitchen. He creates his own menus, sets his tables and chairs up like a restaurant and creates gourmet meals from his pretend food. We also never miss a week of Master Chef. So what does my son want to be when he grows up? You guessed it, a CHEF!
Since my son was little he has wanted to be a "cooker" (as he calls it). He has taken a few cooking classes but we have not been able to find anything nearby. So when we heard that Chef It Up was opening in Mount Olive we were beyond excited! When I reviewed their schedule of classes I was even more ecstatic than before. Finally a place where my son can enhance his cooking skills and work towards his goal of being a chef. With classes ranging from Jr. Chef Cupcake to Mommy & Me to Creative Kid Cuisines, there is so much to enjoy for kids of all ages. Did I mention they have adult classes too? Maybe there is hope for me yet!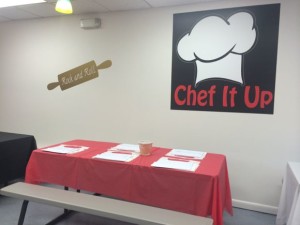 My 6-year old recently participated in their 2-hour Jr. Chef Cupcake class which took place on a Friday evening from 6:30-8:30pm. Parents can drop off their kids but I chose to stay to watch and help my son if needed. For this class, the kids were going to decorate 6 cupcakes all of which they get to take home when done. There was a lead teacher along with assistants to help the children with each task. I loved the care and attention that was given to my son as well as all the children in the class. The class was structured well and very organized while also being relaxed and fun. The participants were assisted with the activities but also given the freedom to explore their own creativity and talents.
The class began with the students decorating their own chef hat and apron which were already on the table when we arrived. I loved how well prepared this class was and the fact that it started promptly at 6:30pm. The first activity the kids engaged in was learning how to make fondant roses. I loved the sensory and tactile learning that took place as the kids rolled out the fondant and had to manipulate it in a particular way to make the gorgeous flower. Although my son needed some help at first, he eventually was able to make one on his own. He was so proud of this accomplishment!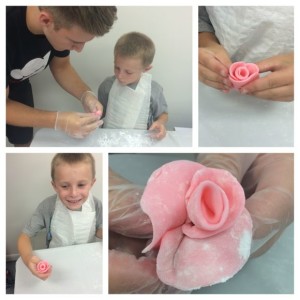 Next, the kids made a very creative cupcake that looked like bacon and eggs. Now that's my kind of breakfast. The second cupcake had a summer theme. The kids each made an octopus. I loved how the teacher and assistant discussed what a real octopus looked like including how many legs it has. This task also involved more fine motor control and strength as the kids had to carefully roll out each leg and place it on the cupcake without it breaking or falling off the top. At the end, they added a small umbrella and some crushed graham crackers to resemble sand. It was an adorable master piece!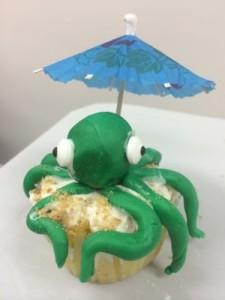 As a Disney fan, the next cupcake made me really excited! First the kids put pink and black fondant on the cupcake. Next they added 2 Oreo cookies placed into the cupcake using toothpicks. Last, the kids added yellow buttons (or a bow depending on who they wanted to make). So what did my son make? You guessed it, Mickey Mouse!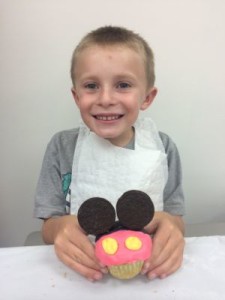 The fourth cupcake allowed the kids to use their fondant flower skills they learned earlier to make a gorgeous cupcake with a rose on top. My son was so proud of himself for making his own rose and then adding the leaves and adornments. The fifth cupcake the kids made focused on the frosting. Each child was provided a small cup of ingredients to mix together to make a delicious buttercream frosting. Next, the kids put the frosting on a cupcake then added fresh strawberries, sprinkles and crumbled graham crackers. It was delicious! The last cupcake was "design your own." Of course my son wanted to make a shark themed cupcake which the teacher happily assisted him with.
My son had the most amazing time at this class. He left saying, "Mommy I am so happy! I did such a good job." There is nothing greater than seeing pride and confidence in your child's face! I am so incredibly happy with all of the skills my son learned during this class. Besides the decorations listed above he also gained many more valuable skills.
4 Skills My Son Enhanced at Chef It Up
Eye-Hand Coordination
Each time my son carefully constructed a flower or slowly placed a decoration on his cupcake, he was building his eye-hand coordination. He had to learn to visually scan each item and then carefully plan out his motor movements to get the result he wanted. Eye-hand coordination is needed to not only be a good baker and cook but to also be good at writing, building and completing basic life skills like putting toothpaste on a toothbrush and putting your keys in a lock!
Visual Processing
In order to recreate the design presented, my son had to visually process each detail. He had to visually scan the cupcake to decide the best place for the fondant to go so it did not fall off and look crooked. He had to discriminate between sizes and colors as well as use visual-spatial skills to make sure everything fit just right to create the design he wanted. Visual processing is a vital skill for academic success!
Fine Motor
As my son rolled and manipulated the fondant, he was building fine motor strength. He learned to appropriately manipulate the fondant which took care as well as fine motor control. He learned what happened if he pressed too hard or not hard enough. It was a good lesson in understanding his own strength and abilities.
Listening and Following Directions
Decorating requires a great deal of listening and understanding directions. In order for the final result to be right, each step must be followed as it is explained and/or showed by the teacher. My son learned to listen first before trying himself. He also learned to listen to each direction and follow them in order. If he did not follow the directions, he did not get the outcome he desired.
As you can clearly see, Chef It Up offers a fun hands-on approach to learning. Kids leave with confidence, skills and memories to last a lifetime. Oh, and they leave with really yummy food too!
You may also enjoy:
10 Benefits of Cooking with Kids