In full disclosure, this post is sponsored by Tuckerton Seaport and Real Mom Media. All opinions are honest and completely my own.
My family and I recently had the pleasure of attending an amazing event at Tuckerton Seaport which is a wonderful family destination located in Tuckerton, NJ. TRUCKerton featured over 20 food trucks offering a wide variety of culinary master pieces. With over 40 acres to explore, there was so much to do throughout the day, and in fact, my kids never wanted to leave!
We arrived at 11am, the start of the event. I was in awe of the unique and delicious selections offered by all of the food trucks. We worked our way around the grounds stopping at various trucks along with way. The trucks were lined up along both sides of the basin allowing for ample walking space as well as plenty of places to relax and dine on your food. Although it was VERY hot, we were able to enjoy a cool breeze off the water while standing in the shade or walking along the dock.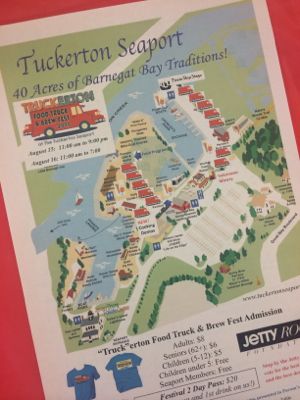 Now you may be thinking how can a food truck event be brain boosting? Let me explain! Last summer we included Tuckerton Seaport in our list of 10 Brain Boosting Summer Experiences in NJ for a reason. They offer wonderful educational experiences for all ages. During TRUCKerton, guests were able to explore those experiences allowing them to learn while they were eating!
Brain Boosting Experiences at TRUCKerton
Culinary Adventure
It's a food truck event so of course the first brain boosting experience is being exposed to new and unique culinary master pieces. From pizza with peaches to brisket swimming in Moonshine BBQ sauce to hot dogs topped with sweet relish, bacon and sea salt, there was something for everyone to enjoy. What I loved was that so many parts of the US and the world were represented. This allowed guests to learn about and try food from around the world. I was amazed to see gator legs and crawfish broil at Cajun Jax (Louisiana favorites) along with New England style lobster rolls and soups from the Original Soupman. Guests could also dine on Italian favorites from Zaza & the Perfect Pie and Zinno's Bistro.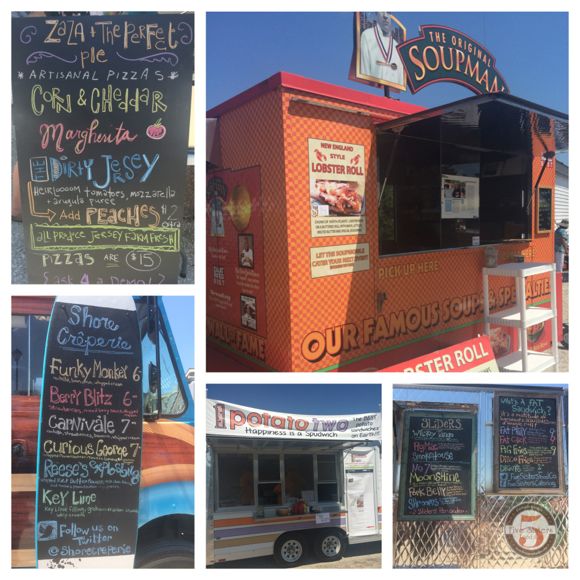 Although my kids were very happy with just hot dogs and sno cones, my mother and I were a little more adventurous. Our first, and favorite, selection came from 1 Potato Two… which offers a variety of sandwiches made out of potatoes (the Spudwich). Although they had a BLT, Bacon Cheeseburger and Cheesesteak Spudwich on the menu, we had to go with the Thanksgiving Spudwich. It contained turkey, stuffing, cranberry sauce and gravy. It was so amazing that I swore I would make them this Thanksgiving!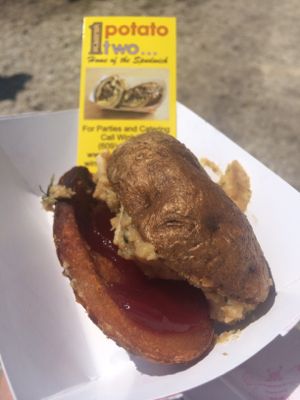 During our Culinary Adventure, we also dined on bruschetta chicken tacos from Zinna's Bistro, potato and cheese pierogis from Pompier Pierogi Flats and smoked brisket sliders with Moonshine BBQ sauce from Five Sisters Food Co. We can't forget about dessert! While my boys enjoyed the sno cones, I thoroughly enjoyed my La Choco-Berry from Waffle De Lys. It was a waffle topped with Belgian chocolate, fresh strawberries, vanilla ice cream, raspberry coulis and whipped cream. It was divine!
Programs at Parson's Clam House
Throughout TRUCKerton, informative and interesting programs were offered inside Parson's Clam House. Families were able to meet with commercial clammers, cranberry farm owners and Tuckerton employees and volunteers. Guests listened to stories and were able to ask questions. The programs also offered hands-on learning! In fact, after learning how to shuck a clam, guests were able to try them. This was a truly multi-sensory experience.
Historic Themed Mini-Golf 
My kids LOVE mini-golf so you can imagine their excitement when they discovered the mini-golf course at Tuckerton Seaport. This free activity not only improves fine motor skills, visual-spatial skills, patience and turn-taking, it also provides various facts and historical information. Each hole has a framed fact that build interest, spark conversations and boosts academic knowledge. For instance, we learned that the Girl Scouts of America started in 1912, and there was an early Girl Scouts campsite on Tucker's Island. We also learned that the Barnegat Lighthouse first turned on its light in 1859, and it is one of the tallest lighthouses in NJ. Facts about fish ladders, rules about the water highway, information about mythical creatures and much more can also be found along the golf course.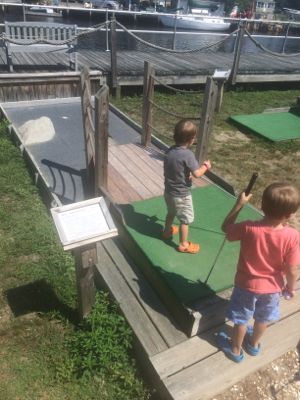 Jay C. Parker's Decoy Shop 
As we explored Tuckerton Seaport, we came upon Jay C. Parker's Decoy Shop. Inside we found George Ross, a real decoy woodcarver, at work. He showed the boys the finished works of art as well as explained how they were made. He also answered my son's many questions which allowed him to better understand the purpose of duck decoys. It was a wonderful interactive experience for the entire family!
Explore, Discover and Play
When kids explore and play, they discover new ideas and gain new knowledge. Tuckerton Seaport offers so many opportunities to explore in addition to what was mentioned above. Just walking along the dock is a brain boosting experience for kids of all ages. It helps spark conversations which improves language development. Visiting the various museums also helps kids increase their academic knowledge as well as gain an appreciation for ocean life. While playing in the playground, my boys made new friends, enhanced gross motor skills and engaged in pretend play. By walking through this amazing maritime village, there is so much to discover and learn!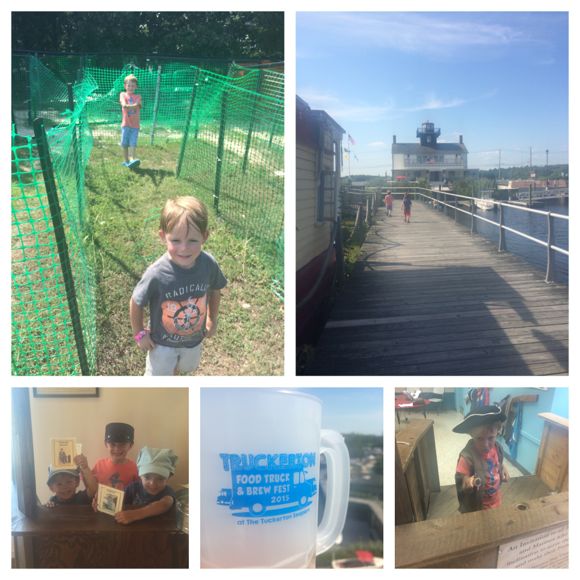 It is clear to see that there is so much to do and see at Tuckerton Seaport! Whether you visit on a gorgeous summer day just to explore or you attend one of the many fun events, families will create memories to last a lifetime!
The Tuckerton Seaport is open 10am – 5pm daily year-round, rain or shine. Admission is $8/adult, $6/senior, $5/child ages 5-12 and children under the age of 5 are FREE! Tuckerton Seaport also offers various levels of memberships. For the remainder of 2015, individuals of all ages can enjoy fun and brain boosting events.
For more information regarding upcoming events, please visit tuckertonseaport.org.
We would like to sincerely thank Tuckerton Seaport and Real Mom Media for providing us the opportunity to explore, play and learn at TRUCKerton. We cannot wait to attend another upcoming event!