In full disclosure, we were provided tickets to this production in exchange for our honest review.
Inspiring, Creative, Touching
Those are the words that come to mind when I think about the new show And Then Came Tango, a world premiere production at The Growing Stage: The Children's Theatre of New Jersey (located in Netcong, NJ). This show will tug at your heart-strings while also making you think about the importance of acceptance.
And Then Came Tango, inspired by true story, is about a young girl named Lily who enjoys volunteering as a Junior Zookeeper at the Central Park Zoo. Lily develops a beautiful bond and love for the penguins as she assists the Zookeeper Walter in daily activities such as cleaning the penguin's living area and feeding them. Audience members are taken on a beautiful journey by the use of dance and music to understand how penguins live and interact.
We are then introduced to two male penguins, Roy and Silo, who long to be parents. Lily convinces Walter to give an orphaned egg to the pair so they can raise the baby fledgling. This creates a great deal of controversy as many oppose this unlikely pair. Lily learns what happens when she stands her ground and fights for what she believes in. It is a wonderful story about determination, love and acceptance.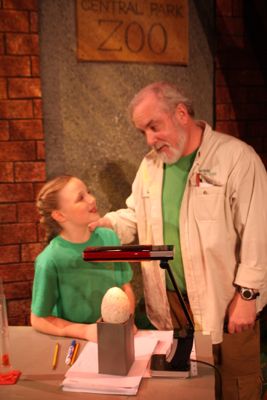 As a choreographer, I was truly inspired and awed by the movement and dancing in this production. The dancers worked as a cohesive unit allowing for the story to be truly told through the art of dance. I loved the lifts and weight sharing that allowed us to see how penguins lived and engaged with each other. Each move flowed into the next flawlessly making difficult choreography appear effortless.
As a parent, I also really appreciated the meaning and importance of this amazing production. It allowed for wonderful teachable moments with my boys. We were able to not just talk about penguins and how they lived, but discuss the importance of acceptance, determination and hard work. And Then Came Tango offers not only a wonderful theatrical experience, but an opportunity to learn and grow.
3 Lessons Learned from And Then Came Tango
Stand Up For What You Believe In
This wonderful show teaches audience members that you should stand up for what you believe is right no matter what your age is. It reminds us that anyone can make a difference in this world as long as they stand their ground and fight for their cause in a way that brings about positive change. It is also important for children to know that their voice matters and can have a positive impact on others.
Determination Leads to Reaching Your Goals
Lily was a determined and strong-willed girl who never gave up on what she believed in. The audience watched as her determination and hard work helped her reach many goals throughout the play. Not only was she able to persuade Walter to give the orphaned egg to Roy and Silo, she was also able to help convince others to accept this unique relationship and bond the penguins shared. Lily's hard work also pays off as she is allowed to engage in more zookeeper tasks that she has longed to do.
Words Are Not Always Needed
This beautifully choreographed play shows how dance and movement can tell a story just as well as words. Watching the penguins allowed the audience members to really understand their world. It also allowed us to understand and even empathize with what they were feeling. We were able to see their joy and sadness through dance. This also teaches us that we need to be more attune to what happens around us. We need to watch in order to learn, not just listen. We can learn a lot by witnessing behaviors and actions of others. This is a wonderful teachable moment for families!
And Then Came Tango will be running Friday nights at 7:30pm and Saturdays and Sundays at 4pm through March 29, 2015. Tickets are only $15 for all ages on Fridays, and $15/children and seniors and $20/adults on Saturday and Sunday. Seating is first come first serve, but every seat in the house provides an excellent view. The Growing Stage is a small theater making it perfect for children especially little ones who may need to get up once in a while. Make sure you stay and take pictures with the cast after the show too!
For more information, please visit The Growing Stage website.