If full disclosure, I was provided with Tiggly Counts at no cost in exchange for my honest review. Affiliate links are also included in this article.
Are you looking for a fun way to introduce math to your kids?
Like many parents today, we sit down with our kids and reinforce concepts introduced at school or even day care. We try our best to get them to understand different math concepts, but let's face it, it's hard sometimes. Well, Tiggly has designed an amazing product that parents, teachers and kids will LOVE! Not only will kids gain valuable math skills, they will have fun too!
Tiggly Counts offers an innovative and exciting new way to learn and reinforce math concepts using your iPad. It is recommended for children ages 3 and up; however, my 2.5 year old LOVED playing with it and was able to understand the concepts easily. Tiggly Counts comes with 5 colorful and durable pieces that can be used to play 3 different math based apps. The Tiggly counting toys are grouped from one square up to 5 helping kids boost their counting skills right off the bat. It also includes a cloth bag making it great for car rides, nights in a hotel or even while shopping around the mall!
How Does It Work?
My kids absolutely love Tiggly Shapes so when Tiggly Counts arrived at the house, they could barely contain themselves. While they played and counted all the squares on the counting toys, I downloaded the 3 FREE apps to my iPad. The apps downloaded quickly and the fun began immediately!
To start, each app will ask you to match specific Tiggly counting toys to the screen. As you can see, math skills are used right away as the kids have to count the number of squares on the screen and match the correct toy. Once the toys are matched, the learning and fun begins!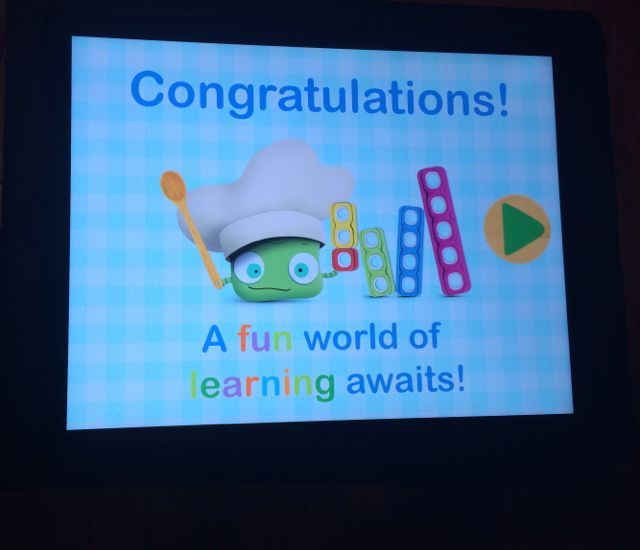 As I stated, Tiggly Counts comes with 3 FREE apps that kids can enjoy for hours: Cardtoons, Addventure and Chef. We enjoyed all three apps, but my personal favorite is Tiggly Chef! Each app offers an multi-sensory approach to learning. It also addresses various learning styles making learning easy and fun for kids at all levels. For each game, information is presented visually and orally which is perfect for reinforcing concepts. Kinesthetic learners are also engaged as the apps involve using the counting toys and their fingers.
Here is what we LOVED about each app:
Tiggly Chef
Tiggly Chef is an adorable and comical game that uses math to create silly recipes. The Chef asks the kids to add up specific ingredients in order to make the craziest meal. Kids can also choose their own ingredients to use. My kids LOVE this app! They learned basic math skills while having a blast. They squealed in laughter every time a new meal was created!
Tiggly Chef is so fun that kids don't even realize they are learning so many valuable academic skills. Here is what your kids will learn using this amazing app:
Basic counting skills are enhanced as kids are asked to find a specific number of ingredients such as 7 radishes or 5 onions.
Matching skills are improved as kids have to match the correct toy to the number of ingredients the chef needs.
Basic addition skills are introduced while playing this game. When a child chooses a counting toy that does not cover all the ingredients, they have to figure out how many more they need. The addition problem is also shown on the screen reinforcing this concept.
Object recognition and language development is improved as kids have to find specific ingredients.
Basic reading skills are touched upon in this game. As the ingredients are stated orally, the words are also shown visually allowing kids to see and "read" the word.
Tiggly Addventures
Tiggly Addventures is a fun and interactive game that allows kids to help Tiggly take a present or an apple to his grandmother. Math concepts are introduced and reinforced as they journey through Tiggly Town. Kids have to use the correct counting toys to help build bridges, ladders and more! It's a problem-solving adventure!
Tiggly Addventures introduces children to a variety of math concepts and boost cognitive development all while having fun! Here are the skills enhanced by this app:
Basic counting skills are needed to help solve problems throughout the adventure in Tiggly Town.
The understanding of one-to-one correspondence is enhanced as kids need to match the Tiggly counting toys to the correct number of blocks needed to create the bridge or the right number of rungs for the ladder.
Basic addition skills are enhanced as kids have to decide how many more blocks they need and which counting toy will help solve the problem.
Problem solving skills are increased as kids need to use thinking and reasoning skills to make their way to grandma's house.
Tiggly Cardtoons
Tiggly Cardtoons is a fun story-telling game that uses math to create characters and settings. To play, your child taps a Tiggly counting toy on the screen. Based on the counting toy chosen a set number of card board pieces and yellow dots appear on the screen. Your child has to tap each dot to count them. The dots then move about the screen at which time your child has to drag them to dotted circle targets. Once all the dots are in their place, they turn into an object such as wrenches, candles, a sun in the sky and more! The cardboard shapes then turn into fun characters and/or settings that tell a cute story!
Tiggly Cardtoons is an exciting app that taps into your child's imagination while enhancing basic math concepts. Here are the academic skills your child will develop while playing this game:
Basic counting skills are a focus of this game and are reinforced frequently.
One-to-one correspondence is introduced as kids match the dots to the targets as well as count each object created.
Academic knowledge is increased as kids are exposed to new ideas, colors and objects.
Number identification is improved while playing. Each time a dot is counted orally, the number is presented visually increasing the child's awareness of this number.
Language development and comprehension skills are improved as kids listen and watch as the story is told.
It is clear to see how fun and educational Tiggly Counts is so what are you waiting for? Order yours today at Tiggly.com and amazon.com for only $29.95!