Bright lights, loud music, big crowds! These are all things we have become accustom to when attending an event, concert or even a museum. For many, this is just par for the course, but for families with children that have special needs, this can be a nightmare. Kids (and adults) with sensory issues often miss out on experiences other individuals their age get to enjoy. Even just a trip to the movies on a Saturday afternoon can be a trying experience for kids with sensory needs or aversions.
Many kids on the autism spectrum have difficulties processing sensory information. They can be overly sensitive to lights, sounds and even touch. In addition, some kids seek sensory input constantly which means they need to move around or feel pressure. No matter what the sensory need, finding experiences the entire family can enjoy can be difficult. Last year, we shared a list of theaters in NJ that offer sensory friendly shows. Now, I would like to share some exciting sensory friendly events families of all abilities will LOVE!
Sensory Friendly Events in NJ
Special Evenings at Sahara Sam's Oasis (SEAS)
Sahara Sam's Oasis offers fun and judgement free experiences the entire family can enjoy. Each event, which is made possible by SAMBULANCE Saftey Squad, takes into consideration the sensory needs of children with special needs. There are quiet rooms available, modified lighting and sound, limited ticket sales and a relaxed dress code. Arcade games are also turned of and lifeguards use their whistles sparingly. The next SEAS events is May 19. To learn more read our recent review of this sensory friendly experience.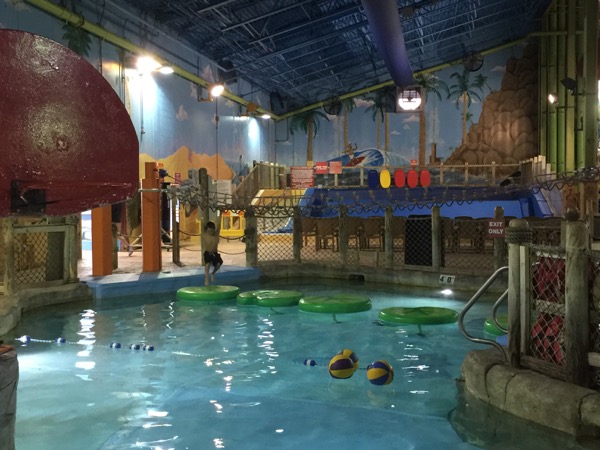 AMC Sensory Friendly Films
AMC has proudly partnered with the Autism Society to offer sensory friendly movie experiences. During these events, the lights are on, the sound is lowered and kids can move about the theatre as needed. The films take place 2nd and 4th Tuesday and Saturday and include new releases such as Trolls, Moana and Rogue One. Check your local AMC for times and details.
Sky Zone Cares
Sky Zones throughout NJ offer a program called Sky Zone Cares which is open jump for kids with special needs. To address sensory needs, the sound is lowered and the staff to jumper ratio is increased. The amount of jumpers is also limited which decreases the stress of large crowds. Check your local Sky Zone for dates and times.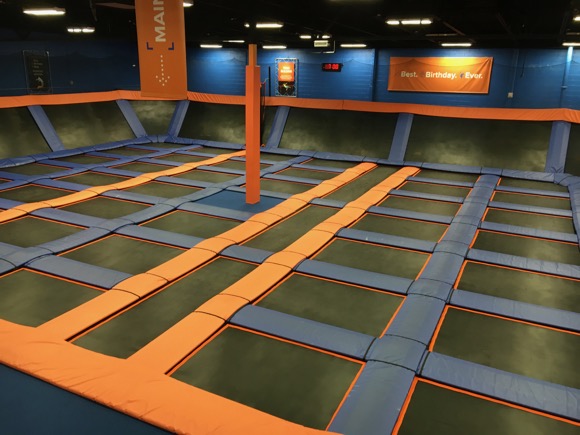 Open Arms
Throughout the year, the Garden State Discovery Museum opens it doors to kids with sensory needs. During Open Arms night families can explore the museum while interacting with other families with children on the autism spectrum. This event is FREE and does not require pre-registration. The next Open Arms event is will be announced soon.
NJ Theatre
There are so many amazing theaters throughout NJ that offer sensory friendly performances. During these events, the lights are left on, the music is lower than regular shows and kids are allowed to move about their seats. Many places also allow families to bring their own snacks as well as offer quiet areas. Check out our list of Sensory Friendly Theaters in NJ.
Chuck E Cheese's Sensory Sensitive Sundays
Chuck E. Cheese's has announced that they will be offering sensory friendly experiences the first Sunday of every month. Chuck E. Cheese will be open from 9am-11am for children with autism and other special needs. The event will offer reduced lighting and noise along with trained and caring staff to help kids enjoy fun games.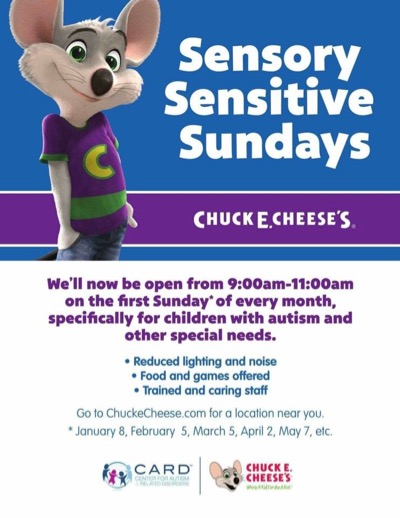 Bonus:
Here are some amazing sensory friendly experiences your family can also enjoy in Pennsylvania:
Sensory Friendly Hours at Choo Choo Barn 
On the 2nd Tuesday of each month from 5:30pm – 7pm, the Choo Choo Barn opens its doors to children with sensory needs. This is the 4th year of this amazing program for which the museum has consulted with local autism experts to make a pleasant experience for kids on the spectrum. Some loud noises and bright lights have been turned off during these events. For more information, visit their website.
Access to Science at The Academy of Natural Sciences
On select nights, The Academy opens its doors to families with children on the autism spectrum. The event is pay-what-you-wish and does not require pre-registration. The next event will be announced soon. The Academy also offers Museum Stories that helps prepare children for a visit to the museum. The stories are designed specifically for children with developmental disabilities. You can download the stories and maps on their website.
Sensory Friendly Sunday at Franklin Institute
On select Sundays during the year, The Franklin Institute offers a comfortable environment for children and adults with sensory needs. During these events, exhibits are modified, staff and volunteers are available to answer questions and quiet spaces are available. Here are the upcoming dates for these amazing events:
March 26, 2017
May 21, 2017
August 27, 2017
October 29, 2017
December 3, 2017
I hope you have found this list helpful in finding an event your entire family will love. Please check back as we will be adding to this list as we find more sensory friendly experiences for your family!
You may also enjoy:
10 Benefits of Sensory Friendly Shows