Free family fun at Bow Tie Cinemas In The 2017 Summer!
The aroma of buttered popcorn fills the air when you enter the doors of the movie theater, and the quest begins to find the perfect seat. Bow Tie Cinemas has been offering free children's movies in June, July and August at select locations for years. Granted these are not brand new movies, but let's be honest, there is something magical about watching these movies on the big screen whether they were released last November or ten years ago.
The fact that these movies are FREE is perfect for our budget but there are several benefits to bringing kids to the movies.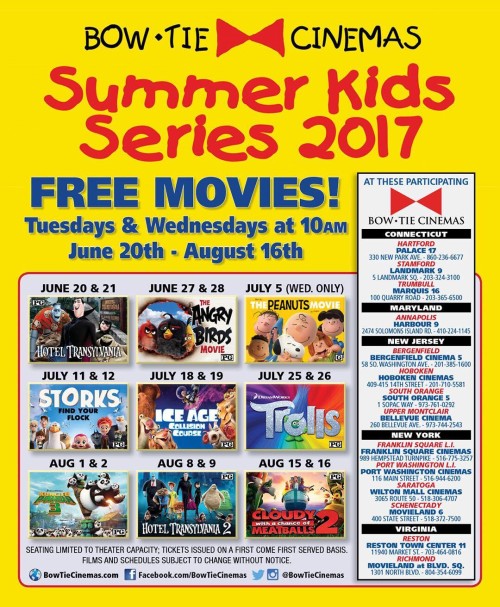 2017  Summer Schedule
June 20-21: Hotel Transylvania
June 27-28: The Angry Birds Movie
July 5 (Wednesday Only): The Peanuts Movie
July 11-12: Storks
July 18-19: Ice Age: Collision Course
July 25-26: Trolls
August 1-2: Kung Fu Panda 3
August 8-9: Hotel Transylvania 2
August 15-16: Cloudy with a Chance of Meatballs 2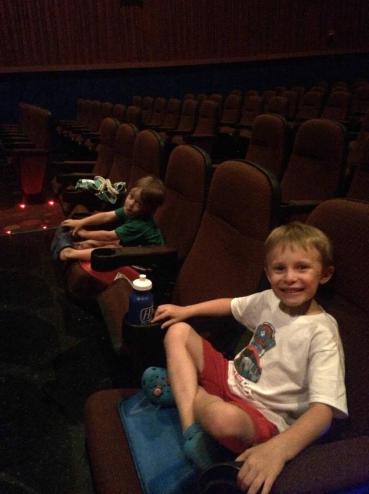 Benefits of Summer Movie Series
Encourages Appropriate Social Behavior
This is a wonderful opportunity for children to practice appropriate social behavior. This will vary based on the age of the child. Two years ago, we brought my children who were just learning to sit through movies, and now we have no problem bringing them to movie theatre for new movies. Not only do kids learn to sit quietly, they also learn about personal space and not hitting the seat in front of them.
Promotes Conversation
This year, Bow Tie Cinemas will be playing the movie Home which is a movie my family loves. What I appreciate about this film is the opportunity to talk to my children about family, home, and friendships. I know this is a movie that will generate different levels of conversation based on the children's age.  Movies can also spark conversations about friendships, family, and emotions.
Family Bonding
Bow Tie Cinemas plays movies in the Summer Kids Series that have been released a year ago to many years ago.  It is a wonderful way to bond with our children and share with them movies we cherished when we were young.
This summer the movies at Bow Tie Cinemas are at 10 am on Tuesdays and Wednesdays from June 20 to August 16, 2017. It is important to note that tickets are first come, first serve and it is recommended to arrive before 10am. 

Participating Theaters in New Jersey
Participating Theaters in other States
Connecticut
Hartford Palace 17: 330 New Park Ave., Hartford, CT
Stamford Landmark 9: 5 Landmark Sq., Stamford, CT
Trumbull Marquis 16: 100 Quarry Road, Trumbull, CT
Maryland
Annapolis Harbour 9: 2474 Solomons Island Rd., Annapolis, MD
New York
Franklin Square Cinemas: 989 Hempstead Turnpike, Franklin Square, NY
Port Washington Cinemas: 116 Main Street, Port Washington, NY
Saratoga Wilton Mall Cinemas: 3065 Route 50, Saratoga, NY
Schenectady Movieland 6: 400 State Street, Schenectady, NY
Virginia
Reston Town Center 11: 11940 Market St., Reston, VA
Richnond Movieland at Blvd Sq: 1301 North Blvd., Richmond, VA