One of my absolute favorite places to explore in NJ is Liberty Science Center (LSC). No matter how many times we visit there is always something new and exciting to experience. This summer is no exception. LSC has an incredible line up of exhibits, events, and experiences the entire family will LOVE!
In addition to their already amazing exhibits and hands-on learning experiences, this summer LSC has even more brain boosting fun. With 4 floors (300,000 square-feet) jam-packed with opportunities to learn through play, LSC is the perfect summer day trip destination. In this post, I am going to highlight the new exhibits along with additional must do experiences.
Must Do Experiences at LSC This Summer
SUE: The T.rex Experience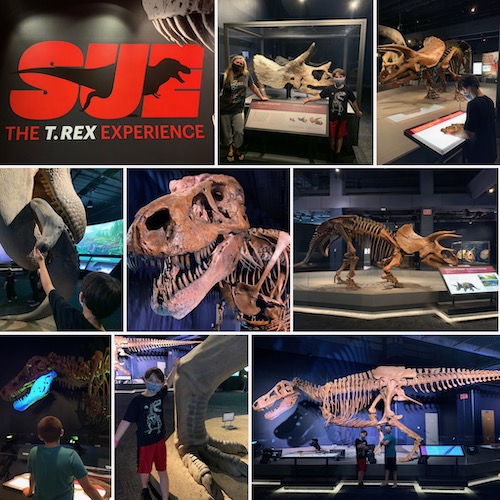 Make sure to visit Liberty Science Center this summer and explore SUE: The T. rex Experience! This new exhibit is filled with interactive experiences that engage all of the senses. The highlight of this exhibit is the 40 foot long, 13 foot tall replica skeleton of SUE, a Tyrannosaurus rex that was discovered in South Dakota in 1990 by an explorer named Sue Hendrickson. As you explore this exhibit, you will learn all about her discovery along with interesting facts about T. rex and other dinosaurs. Make sure to check out the Triceratops skeleton too because it's incredible! This exhibit is an additional fee, and advanced ticket purchases are required.
Hot Wheels: Race to Win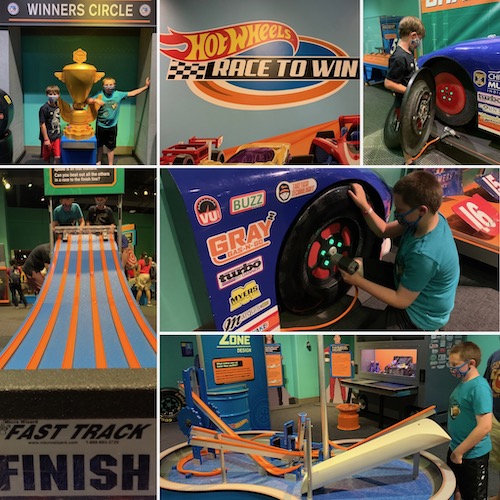 Now through September 6, families can vroom into the Hot Wheels: Race to Win exhibit at Liberty Science Center! Learn all about racing with fun interactive exhibits including being a part of the pit crew. Each child that enters also gets a Hot Wheels car to race on different tracks throughout the exhibit. While playing, kids will learn about STEM (science, technology, engineering, and math) concepts! This exhibit is included with admission to LSC.
Planetarium Show
Did you know that LSC houses the largest planetarium in the Western Hemisphere? The Jennifer Chalsty Planetarium's dome has a diameter of 89 feet with 588 perforated panels that are seamlessly joined together. It has 8K resolution (which is six times more crisp than what you see at the movie theatre) with 88 million pixels as well as a speaker system that boasts 30,000 watts. In addition, while our eyes can only detect 10 million colors, the Jennifer Chalsty Planetarium has the power to produce over 281 individual trillion colors which enables us to understand outer space through stunning visual representation.
I highly recommend getting tickets for the incredible show Black Holes: The Other Side of Infinity. This spectacular show starts with a live presentation about the night sky leading into an introduction of Black Holes. The film then takes guests on an out of this world journey into the depths of the galaxy where black holes exist and thrive. It is a spectacular learning experience you will not soon forget! You may also really enjoy the NEW show Planets Tonight as well as Deep Space Tour and One World, One Sky.
LIVE Science Shows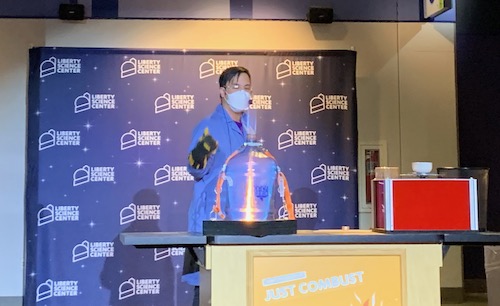 This summer, LCS is offering exciting science shows throughout the day, and they are all included with your admission. Boom Time, Dino Trivia, Just Combust, and Meet an Animal are all shows you can enjoy during your visit. If your kids love explosions and fire, then Boom Time and Just Combust are the shows for you while your dino lover will really enjoy testing their skills during Dino Trivia. Meet an Animal is always a favorite experience too as guests meet different animals throughout the entire day. All shows take place in Governors Hall on the 2nd floor except for Meet an Animal which takes place at Animal Zone on the 3rd floor.
Making Mammoths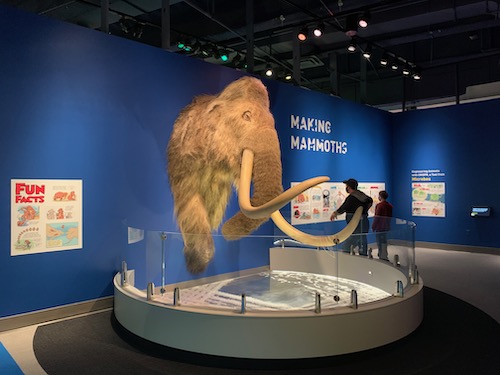 An awesome NEW exhibit located on the 3rd Floor is Making Mammoths. Get up close to a Mammoth replica that took 6 months to make. Located on the 3rd floor, next to Microbes Rule, this exhibit teaches guests all about mammoths. You will also learn how George Church, geneticist, is working to transform modern Asian elephants into "mammophants."
Build, Climb and Play
There is so much to see, do and explore at Liberty Science Center! We love every exhibit but there are some activities the boys HAVE to do every visit. Here are some MUST DO experiences inspired by my kids (ages 9 and 12).
Infinity Climber: Have you played on a playground suspended 35 feet in the air? If not, then you have to check out the Infinity Climber. Located on the 3rd floor, this unique obstacle course has guests climb, crawl, duck, and wiggle through 19 miles of hand-threaded wire that forms a protective mesh. The Infinity Climber measures 26 feet wide, 24 feet deep, and 19 feet tall. It is a MUST DO experience every visit!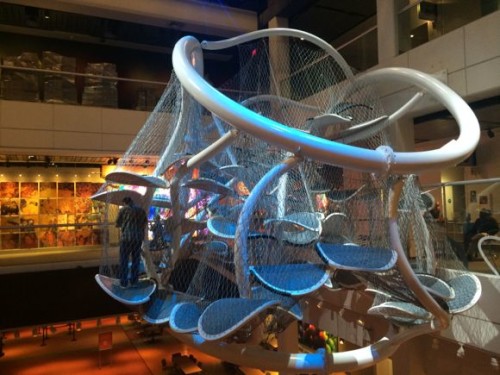 Block Party: This popular experience finally has its own location! Located on the 4th floor, Block Party allows kids to build, play, and learn for hours. Using large foam blocks of various shapes and sizes, kids can use their imaginations to make exciting creations. New this summer, guests can also use foam skeleton pieces to create their own dinosaur.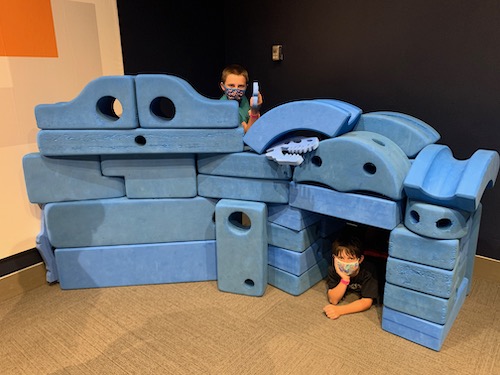 Test Your Strength: Every time we visit LSC, my boys have to test their strength in the Wonder Why Exhibit located on the 3rd Floor. For this task, guests just have to hang on a bar for as long as they can. How long can you hang?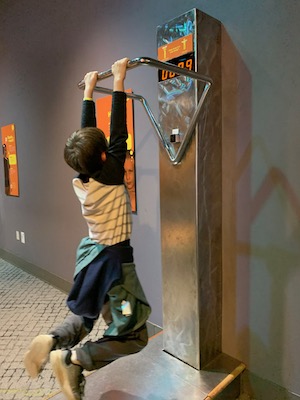 Skyscraper!: Located on the 1st floor near the entrance is one of our favorite exhibits, Skyscraper! This unique exhibit gives guests a look into how buildings are built and what makes them so strong and sturdy. Within the exhibit, guests can build their own buildings out of wood blocks as well as test their building skills against an earthquake. While there, make sure to check out the 9/11 memorial.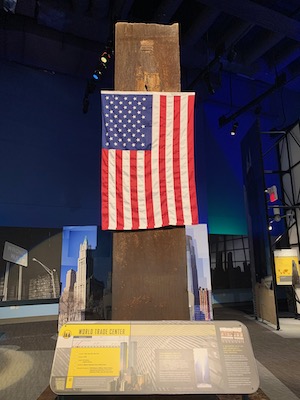 I Explore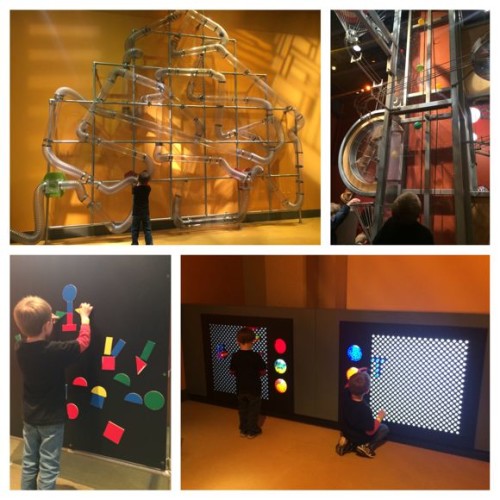 Designed for kids ages 3-5 (with parental supervision), I Explore, which is located on the 2nd floor, offers never-ending hands-on learning fun. This space is designed perfectly for preschoolers as kids can bounce from one activity to another in one confined area. Kids will engage all their senses as they learn through play. Preschoolers can choose from a giant light bright, a rock xylophone, 2-story ball machine, test track, air maze and much more! It's the perfect space to encourage a child's natural curiosity and need to explore, observe and learn.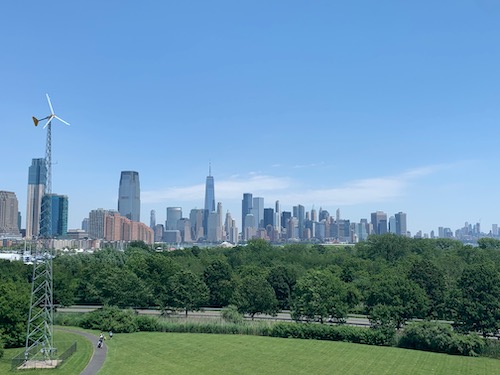 Liberty Science Center is located in Jersey City, NJ with a gorgeous backdrop of the NYC skyline and the Statue of Liberty. It is open Tuesday-Sunday with varying hours. Please visit their website to learn more.
What experience are you excited about the most? Answer in the comments section below!
You may also enjoy: