This holiday season, give a gift that can last all year long! With so many kids learning at home in some capacity, subscription boxes are the PERFECT gift for kids this year. They offer fun at-home learning experiences that go beyond the classroom (or virtual classroom). From balloons to building sets to cooking to even traveling the world from your home, there are options for all ages and interest levels. Here are some amazing gifts that can be delivered right to your front door!
Amazing Subscription Box Gifts
Little Loving Hands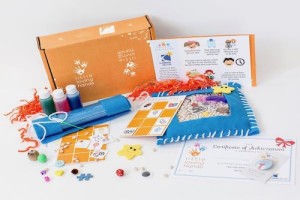 Little Loving Hands is the PERFECT subscription box for elementary-age students, especially those who are learning virtually. Each box helps teach kids all about kindness in the world, community and at home. Each box includes materials needed to complete a project along with a completion button. The box also includes a mailer to return the project for donation. A 6-month subscription costs only $25/month (with FREE shipping). Please visit their website to learn more and to purchase a box.
Deluxe Balloon Bag (The Luxe Life Event Design)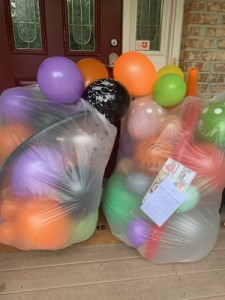 Luxe Balloon Bags are giant bags filled with quality balloons that can be delivered right to your front door! The balloons are air-filled so they won't float, and each bag comes with an activity guide. With over 30 balloons in a variety of shapes, sizes and colors, the play possibilities were endless. Delivery is available for the following counties: Sussex, Morris, Essex, Bergen, Hudson, Passaic, Warren, and Union. 
Crayola Experience At Home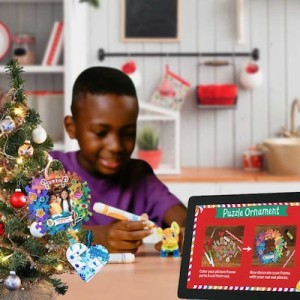 Get Crayola fun delivered right to your front door! The new Crayola Experience box offers hours of fun for families. Each kit comes with a passport with stops around the world, hands-on activities with Crayola supplies, pre-recorded shows and entertainment, and more. Supplies include items such as create your own puzzle craft, Scribble Scrubbie doll, model magic, glue, and more! Kits are only $24.99 plus shipping. To learn more and to purchase a kit, visit the Crayola Experience website.
Owlcrate Jr.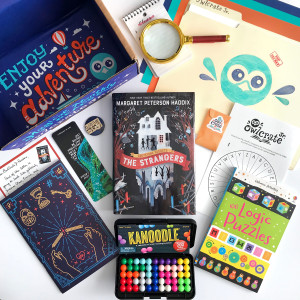 Do you want to encourage your child to be a lifelong reader? OwlCrate Jr. is a subscription service that not only includes a hardcover book but it also contains 4-6 goodies and activities to promote a love of learning. Children will receive an exclusive letter from the author and a collectible monthly sticker. Pricing begins at $27.99 it is designed for children ages 8-12 which makes it perfect for gift giving or to boost learning at home!
Little Global Citizens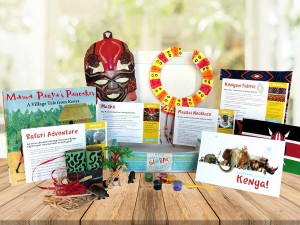 At a time when it is critical to develop an appreciation of different cultures, Little Global Citizens is a subscription service that introduces children to different countries and cultures found around the world. Within each box are guides, crafts, screen-free activities, recipes, language skills and more! Each box also highlights various cultural events significant to that country. Little Global Citizens empowers young minds to embrace cultures by engaging their curiosity. Priced at $39.95 this subscription service is a wonderful complement to learning at home.
Guide Dots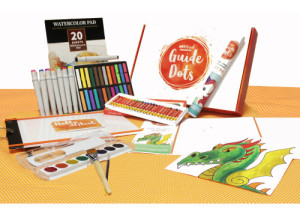 Do you have a child who is doodling on their own or their favorite subject is art in school? Guide Dots is the subscription box to keep their skills sharp and their hobby advancing to the next level. With strategically placed dots and online instruction, kids will be making masterpieces you will want to frame. The subscription begins with the Guide Dots Starter Kit that includes full size art supplies and covers the first three months at $89.99, and the following monthly rates range depending on the duration (3, 6, 12 month).
Pickup Sports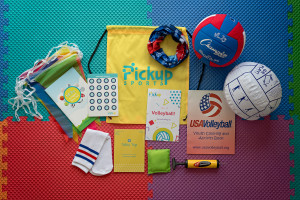 When we are heading indoors, the opportunity for kids to learn and play sports at home in a non-pressured, fun and affordable way is exactly what we need. Pickup Sports is about family fun as they include age-appropriate equipment, access to weekly live virtual coaching with parent-child games, and expert-created curriculum based on years of research. The available sports include basketball, flag football, soccer, tennis, baseball & softball, and volleyball. Pickup Sports is designed for children ages 3-6 years old, and the starter boxes are currently priced at $45. For each purchase a box will be donated to kids with limited access.
Pottery Awesomeness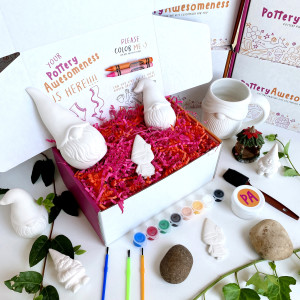 Pottery Awesomeness is a hands on subscription box that includes three cute figurines, acrylic paint, paint brushes, a glossy seale and an instruction card that gives families access to online painting tutorials and instructions. This unique box was designed by a mom who owns a "paint your own pottery" studio in the Northeast that wants to promote screen free art. For every kit purchased, a painting kit is donated to sick children in hospitals. Subscription boxes cost $30 or may be purchased individually at $32. You can order right through their website located here.
The UPside Delivered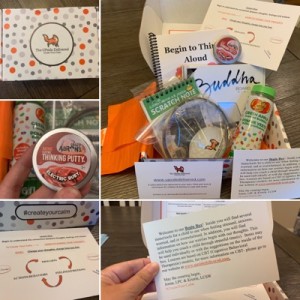 Using cognitive behavioral therapy techniques, The UPside Delivered subscription box program offers tools, advice, and tips to help kids cope with stress and anxiety at home. I absolutely LOVE this concept since so many kids are dealing with uncomfortable emotions right now that they don't always know how to express or handle. The tools found in the UPside Delivered boxes help kids understand the connection between their thoughts, feelings, and actions which allow them to develop better coping skills. There are a variety of subscription box options as well as specialty boxes like the Begin Box (pictured above), Back to School, and the COVID Coping Box. Please visit their website to purchase your box today!
Walt Life Box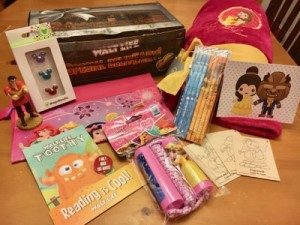 Walt Life is a subscription box service that provides magical delivEARies every month for Disney fans. Each month the wonder and excitement of Disney is brought right to your doorstep. Walt Life offers 5 box options appealing to varied interests and budgets. Each box is available for a prince, princess or both (neutral). Boxes can also be designed based on age starting from babies to over 18. Learn more and order your first box on their website.
Cooking Subscription Boxes
The Ultimate Chef It Up Kit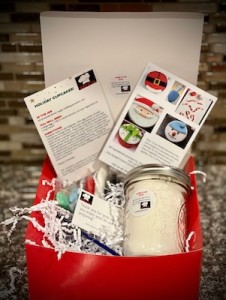 Chef It Up is our favorite place to learn how to cook which is why we are so excited that they are now offering At-Home Cooking Kits! There are 2 awesome options: Holiday Cupcake Decorating and Pasta Making. Each kit includes almost everything you need to make a delicious treat at home including ingredients, cooking tools, an apron, and recipe card with pictures. This is the perfect gift for the little chef in your house. Kits can be purchased on the Chef It Up website.
Harlow's Harvest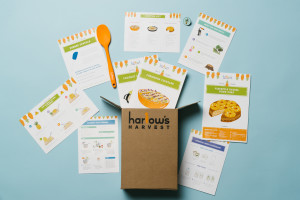 Learning about science, finances, and nutrition doesn't sound exciting until you look through a seven year old's eyes and discover Harlow's Harvest!  This subscription box service has an overall goal to get kids cooking in the kitchen through fun activities and delicious recipes however the learning doesn't stop there.  Included in each monthly kit are three laminated recipes (with the steps broken down with graphics to help struggling readers), a cooking utensil, and a collectible pin.  Like most kits there is an included shopping list, however on the back kids can track their spending to learn about budgeting.  What impressed me the most about Harlow's Harvest is that there are science experiments related to the theme.  Designed for kids as young as four years old to fifteen years of age, don't worry with a long subscription time as the boxes don't repeat. You can order on a monthly basis for $23 however if you expand to a six month subscription the price is $21 a month and for a year the cost drops to $19 a month.
eat2explore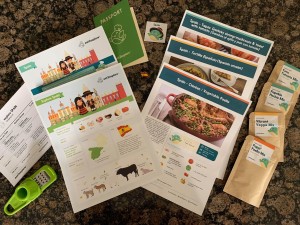 The concept of eat2explore promotes learning of other cultures through food! Each month kids can receive an explorer box which includes: 3 recipe cards, a flag pin, country sticker, essential spices, activity sheet, and a collectible. To start a subscription, you choose an adventure which is deciding if you want to explore by country, continent or the world. You will have to buy the fresh ingredients but they will provide the shopping list. Each month your children will collect a sticker to add to their passport as they travel the world through taste. If you pick a monthly subscription, it is $24.95; however, expanding to the 12 month subscription reduces the price to $21.21 each month. You can read our review on eat2explore here!
Cooking's Cool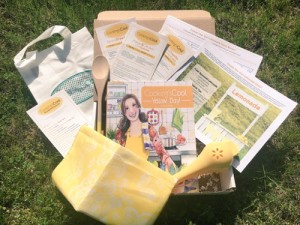 If you are looking for a tool to teach kids that cooking is cool then check out this company which offers seasonal cooking kits! Each year the recipes included will change, but each kit, priced at $25.95, will always include: three recipes with accompanying story, kitchen tools, spotify playlist, shopping list and tote, and learning activities. They also offer color themed kits which is another unusual take on the cooking kits. Check out our review on these fun kits that we have tried!
KidStir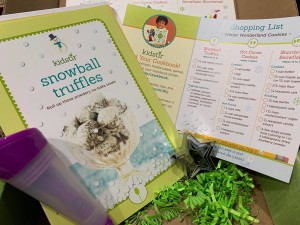 Each kit of Kidstir focuses on food and fun! Designed for children ages 5-12, the kits will teach children kitchen skills they will pay attention to seasonal ingredients and special occasions. They will include three recipes with step by step photographs, a printed shopping list, learning activities and two kitchen tools. Children will enjoy collecting the recipes to put in the Kidstir binder which is a gift for families that purchase the twelve month subscription. If you pick the monthly subscription, it will cost $24.99; however, if you choose the twelve month subscription the price drops to $19.99.
Raddish Kids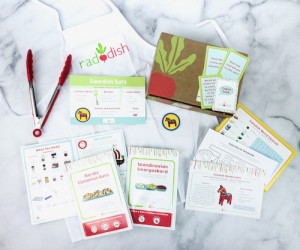 Raddish Kids knows that kids who cook will be kids who try and enjoy new foods. They offer subscription boxes that revolve around a monthly theme that has 3 recipe guides, 1 quality kitchen tool and a kitchen project as well as talking prompts to encourage kids to have fun conversations. The box will include a grocery list in addition to the one that will be emailed in advance. The length of the subscription will impact the price. If you order one month, it will cost $24; however, the yearly subscription costs $20 a month. The 6 month and 12 month subscriptions will include a free apron which is the perfect place for them to adorn with the patch they receive each month.
Veggie Buds Club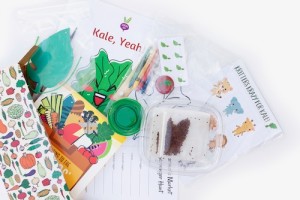 If you have a child that loves veggies (and yes they do exist) or a child that resists them, then Veggie Buds Club might be what your family needs. This subscription box set highlights a vegetable each month with kid friendly recipes, crafts, and activities. Kids will definitely try the vegetable and may even love it. The subscription boxes range in price from $9.99 for the ebook option to $29.99 for the subscription box, Veggie Buds Club Box, you will receive the specialty craft supplies and growing supplies.
Young Chefs Club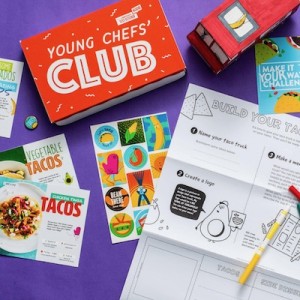 Designed for children ages 5 and older, America's Test Kitchen compiles monthly themed boxes that includes recipes, hands on experiment cards, and a make your way challenge in the Young Chefs Club. The box will also include either a kitchen tool or special ingredient. While this box does not include all the ingredients you will need, they will email you prior to the arrival of the box a shopping list so then when it does land at your doorstep you have all the ingredients. This is a subscription service where members will have access to a digital library of recipes, activities and videos. The subscription box ranges from monthly at $24.99 to twelve month subscriptions at $19.99.
Which box is your favorite?
You may also enjoy: