This holiday season may look and feel a little different but that does not mean the fun has to stop! In fact, several exciting ways to enjoy some holiday cheer are popping up all over NJ (and beyond). A popular activity for families this summer was drive through events. This holiday season, families can continue this adventure but now with lights! In this post, we are listing all of the amazing drive thru light experiences across NJ as well as in neighboring states. We will be updating this list as more are offered so make sure to bookmark this post!
Amazing Drive Thru Holiday Lights
Brookhollow's Barnyard
This holiday season head over to Brookhollow's Barnyard in Boonton for their all new spectacular Christmas Drive Thru Light Show! The event will run November 27-December 31 on Wednesday-Sunday. Tickets will be available for purchase the day before the event on the website. The light show is only $20/car.
Christmas Festival of Lights
For the first time, Holly Shores Camping Resort will be offering a festive drive thru lights display. The event will take place November 27 – January 1. Admission is only $10 and proceeds will be donated to Cape Regional Medical Center. You do not need to be a guest of the resort to attend this event.
Christmas Light Show and Village
Skylands Stadium is offering their amazing drive thru holiday light show again this year. The event begins November 20 and ends January 3. Tickets are $29/car and must be purchased in advance. After or before your drive thru, you can enjoy the Christmas Village and Winter Carnival. Admission is FREE!
Drive-Thru Holiday Fun
On December 20 5pm-7pm, families can enjoy a drive through holiday lights at New Generation Learning Center in East Hanover. Guests will also enjoy Christmas carols performed by Perfect Princess Parties as well as hot chocolate. Santa will also be available for pictures! This event is FREE but donations are appreciated.
Holiday Drive Thru Light Show
Beginning November 18, families can head to Diggerland for a unique holiday experience. Guests will enjoy thousands of twinkling lights across a mile long drive. Holiday music will also be provided on their very own radio station. The event will take place most evenings 5:30pm-9:30pm. Admission is $29.95 per car. Admission is only guaranteed if tickets are purchased in advance online. Holiday treats will also be available for purchase.
Holiday in the Park Drive Thru Experience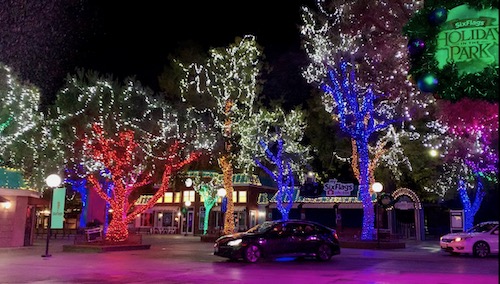 For the first time EVER, Six Flags Great Adventure will be offering a drive thru holiday lights experience. The event will take place weeknights November 30 – January 10. Guests will get to drive INSIDE the 140-acre theme park and admire 12 immersive areas. The event will also feature Santa and Mrs. Clause. Tickets and reservations must be made in advance (beginning November 25) and are on a first come, first serve basis. The event is FREE for pass holders.
Johnson's Corner Farm
Take a drive to Johnson's Corner Farm in Medford, NJ for a truly unique holiday experience. For this event, you don't need to do the driving. Instead, guests can enjoy a hayride around the farm to admire beautiful holiday lights. Guests can also watch the Light Show on the Lake. This experience will take place through December 23.
Magic Of Lights
Returning this holiday season is the amazing Magic of Lights Drive-Through Holiday Lights Experience at PNC Banks Arts Center in Holmdel. New this year is Illuminating Mega Trees. The event takes place November 13 – January 2, 2021, and tickets are $25/car online and $30/car at the gate. 
North Pole on North Maple
Pack up the family and head to Basking Ridge, NJ for a unique drive thru experience. FREE to the public, this event takes place December 19-20 and 26-27 at The Ross Farm. Kids can bring a letter for Santa. Learn more on Facebook.
Orchard of Lights
Take a leisurely drive and admire millions of twinkling lights at Orchard of Lights at Demarest Farms. Families will drive around 32 acres of farmland and enjoy some holiday cheer. Families can also enjoy time by the fire pit, make s'mores, sip on hot chocolate and visit with Santa. This event takes place November 24, 27 and 28 and December 3-29 (no events December 24-25). Tickets are $35/car.
South Jersey Holiday Light Show
Take a road trip to South Jersey this holiday season and check out the Holiday Light Show at the Bridgeport Speedway in Swedesboro.  The drive is over one mile long and synced to music that can be played on your car radio. The event takes place November 19-December 30. Tickets are $23/car when purchased online and $25/car at the gate.
Winter Wonderland Lights Spectacular
This holiday season, take a drive through 1.5 million beautiful holiday lights! Located at the Middlesex County Fairgrounds in East Brunswick, the Winter Wonderland Lights Spectacular will be open daily beginning November 27 through January 3. Tickets are $27/car and should be purchased in advance. Check out their Facebook page to learn more!
Bonus:
Christmas Drive-Thru at Sesame Place
This year, families can enjoy the NEW Furry & Bright Christmas Drive-Thru at Sesame Place. The event takes place Tuesdays and Wednesdays, November 10 through December 23 beginning at 5pm. At the end of the drive, guests can even wave to Santa! Tickets are $45/car.
Dutch Wonderland
New this year to Dutch Wonderland is a 1.5 mile drive thru holiday lights experience! Guests will get to admire thousands of lights as they drive through Old Mill Stream Campground. The event takes place December 2-31 (except Christmas Eve and Christmas Day). Tickets are $15/car and $20/van Sunday-Thursday, and $20/car and $25/van Friday-Saturday. Dutch Wonderland Season Passholders get 50% off.
Hershey Sweet Lights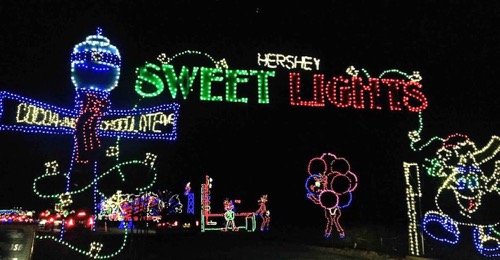 Located near The Hotel Hershey, Hershey Sweet Lights offers families a unique and inspiring holiday light show experience. Guests can sit in their warm car in their pajamas with a cup of hot chocolate as they drive through 2.3 miles of magnificent beauty. With several themed areas such as Enchanted Forest, Victorian Village and Favorite Fairy Tales, kids (and adults) will love seeing new and old characters come to life in lights.
Joy Through the Grove
Beginning November 27, families can enjoy a ride through a gorgeous light display at Knoebels in Elysburg, PA. With over 15 miles of string lights and over 400 light pieces, there will be plenty to admire. Tickets are $15/car on weeknights and $20/car on weekends. The event goes until January 3.
What light display are you most excited about?
You may also enjoy: