We are so excited to partner with some amazing toy companies including Wicked Big Sports, Crayola, Stomp Rocket, Miniland, Bicycle, Buzz Bee Toys, Swimways, and Thames & Kosmos to bring you these incredible outdoor learning toys!
Get outside and get active this summer with some exciting brain boosting toys!
Kids learn so much by exploring the outdoors and having fun in nature. They engage all their senses and learn life lessons they can't get from staying inside all day. Sure, a good book is great for learning, but being actively engaged in the learning experience helps kids truly grasp concepts in all subject areas.
At Mommy University, we love toys that offer opportunities for learning through play. This spring and summer, we are really excited about all the toys that offer learning experiences OUTDOORS! We have come up with a list we are sure you and your children will love! (Amazon affiliate links are included to make your shopping experience easier.)
Play and Learn Outdoor Toy Guide
Stomp Rocket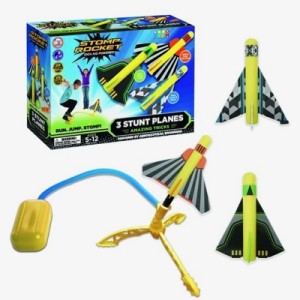 Get outside this summer and enjoy some interactive science fun with Stomp Rocket. See how high you can launch a rocket just by stomping on it. Stomp Rocket Stunt Planes come in 3 designs that offer unique tricks like gliding and looping. Stomp Rocket Ultra lets kids (and kids at heart) launch rockets up to 200 feet high. How awesome is that?! For both sets, the rockets are made of foam so they are not only fun but also safe. Designed by scientists, Stomp Rocket will allow for hours of outdoor fun!
Adventure Force Tsunami Drencher (Buzz Bee Toys)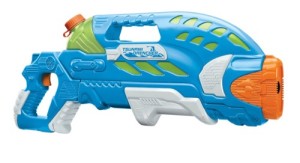 There is nothing more fun in the summer than a water fight! Take this game to the next level with Adventure Force Tsunami Drencher. It is a power pump water blaster that can shoot water up to 51 feet in the air. Now that is some serious backyard fun! It is recommended for ages 8 and up and can be found at Walmart.
Solar Powered Rover (Thames & Kosmos)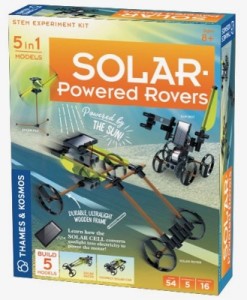 If your kids love building toys, then they are going to love the Solar Powered Rover! With this innovative building toy, kids can build and play outside at the same time. With this kit, kids can build 5 different motorized models that use electricity generated directly from the sun. The Solar Powered Rover helps kids understand various scientific concepts while building fine motor, problem solving, and reasoning skills. Once built, kids can even experiment with rovers allowing for even more learning through play. The Solar Powered Rover can be found on Amazon for less than $20.
Miniland Beach/Sand Toys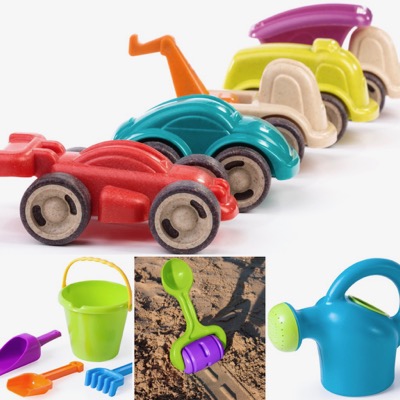 We absolutely LOVE Miniland toys and products. Not only are they durable, but they offer hours of learning through play. Their summer toys are no exception! The Highway Beach Sand Roller is perfect for making tracks in the sand for vehicles like the Minimobils. Kids can play for hours making their own paths and obstacle courses in the sand and then racing their cars. The other side of the roller has a scoop for even more sand fun! The Sand Roller is under $11 on Amazon. Once the tracks are made, kids can use their Minimobils to race and play. The set comes with 5 small vehicles each made from eco-friendly material. The vehicles are great for playing outside in the sand, dirt, or grass. Kids can also play with them inside on a rainy day. The set pictured above can be found on Amazon.
Looking for more sand toys? Also check out the sand molds and sand bucket set. Another fun option is the Miniland Watering Can. Kids can fill it with water and use it to help build sand castles or just fill a hole with water. Kids can also use the watering can to help with the garden. It can be found on Amazon for under $13.
Bicycle Playing Cards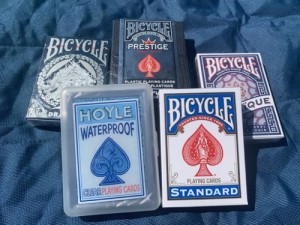 One of our favorite things to do in the summer is to put out a blanket, have a picnic, and play some games. This summer, Bicycle playing cards are offering a wide selection of cards making playing games outside easy and fun. They even have waterproof cards for a fun day at the pool, lake, or beach. Bicycle has been making cards since 1885 and bringing people together for generations. This summer, teach your kids a new game or let them teach you one. Bicycle cards can be found on Amazon.
Swimways Hydro Skipper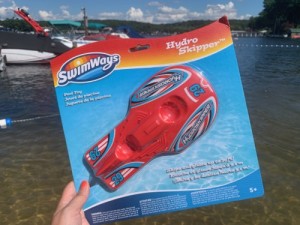 The Hydro Skipper from Swimways is a innovative new toy that will keep kids busy for hours at the lake or pool. The boat can glide and skip along the water. Kids can race or see who can make their boat go the farthest. While playing, kids are learning physics concepts. The Hydro Skipper comes in blue and red and retails for under $13.
Swimways Spring Float Recliner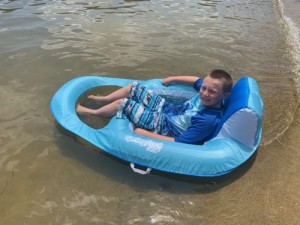 Relax and unwind in the pool or lake this summer in the Spring Float Recliner from Swimways. This unique and durable pool float allows you to sit comfortably in the water thanks to its mesh seat, headrest, backrest, and ottoman. It even has a cup holder! Although the float is recommended for individuals ages 15+, my 11 year old son loved using it in the lake. The Spring Float Recliner can be purchased for under $30 at Bed, Bath & Beyond, Walmart, and Target.
Wicked Big Games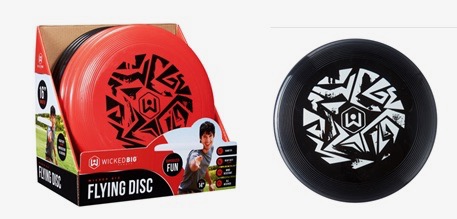 So far we have brought you Wicked Big Pong, KickBall, Flip Cup and Shuffle Toss. This year, we are so excited to share Wicked Big Sports Flying Disc and Takraw. Flying Disc brings that game of frisbee to an entirely new level with this 16" in diameter disc. It is ready for any type of weather and is wind resistant.  Takraw is a fun new game that combines soccer and volleyball. To play, you have to pass the ball over the net by using anything EXCEPT your arms and hands! The set includes net, net stand, court lines, stakes, ball, pump, instructions and carry case. Both games are perfect for a day at the beach, a BBQ in your backyard or an afternoon at the park. Wicked Big Games can be found at Target, Dick's, Cabela's, and Amazon.
Crayola Sidewalk Chalk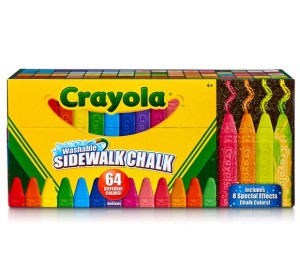 Sidewalk chalk offers so many benefits such as enhancing fine motor skills, increasing academic knowledge and encouraging an appreciation of art. This season, explore the benefits of sidewalk chalk with your children. Sidewalk chalk comes in packs of 5 up to 64! You can also try Crayola Special Effects chalk! It takes everyday chalk and adds even more spark and creativity. Available in Tie Dye, Neon, Glitter and Color Core, this chalk will offer new and unique ways to color and create! All chalk sets can be found on the Crayola website and Amazon.
Insect Lore Butterfly Garden Gift Set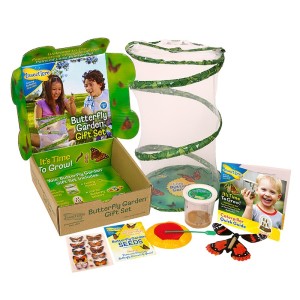 If you have a child curious about nature or science (or just butterflies), then Insect Lore has sets to watch the transformation of caterpillars to butterflies. The sets include the mesh habitat, chrysalis station, pipette and feeding station, and manual. After using the voucher to have the caterpillars sent to your home, your children can watch these little caterpillars. As they consume the food they will go through metamorphosis and emerge from the chrysalis as Painted Lady Butterflies. Also in the set is a rubber band butterfly and stickers. Priced on Amazon for under $30, it is one of our favorite activities.
Creativity for Kids Camp Crafts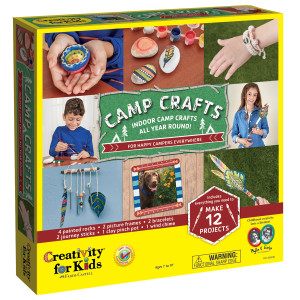 If your kids are at home this summer and you want to bring in some fun from camp activities, then check out Creativity for Kids Camp Crafts. Within this one box are twelve projects that includes all the materials needed to make painted rocks, picture frames and more! Designed for children ages 7 and older, it is priced on Amazon for $20.
Light Racer Kit (Tech Will Save Us)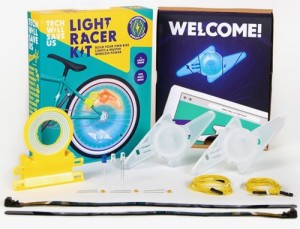 Kids can bling up their bikes this summer with the Light Racer Kit! Using the kit, kids can put together circuits to build bike lights that flash when they ride them. While building with capacitors, led lights and wireless coils, they will learn about wireless technology. What a fun way to encourage a love of science while also fostering creativity. The Light Racer Kit is also under $15 on Amazon.
Foldable Lights Kids Scooter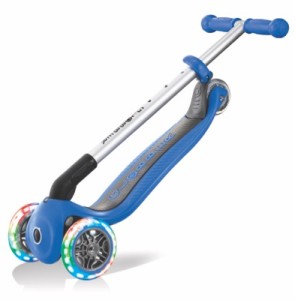 Get the kids outside this summer with this awesome light up scooter. This 3-wheel scooter has an easy push button folding system, and the wheels light up. It also offers wide-integrated brakes and an extra long deck design allowing for greater comfort and safety! The Foldable Scooter retails for under $70 at Buy Buy Baby, Dick's, and Target.
Creativity for Kids Hide & Seek Rock Painting Kit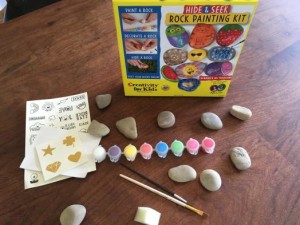 Since safe at home, we have had so much fun painting rocks and secretly dropping them off at our friends' houses. It is a fun way to stay connected while bringing happiness to someone's day. The Hide & Seek Rock Painting Kit is available on Amazon for less than $15 and includes all the supplies needed to participate in this project.
Squirrel Picnic Table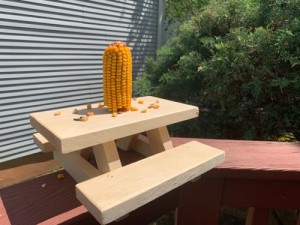 This may sound funny, but hear me out! How fun would it be to feed the squirrels (and chipmunks) all summer? The kids can observe these everyday animals and learn more about them. You can expand their learning by having them keep a journal of their activity and/or draw pictures of them. The fun is endless. You can purchase your own squirrel table on Etsy.
Jumbo Checkers Rug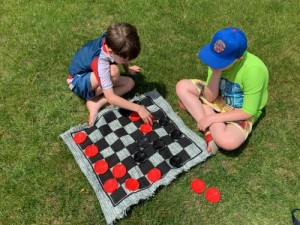 I just bought this for my boys, and we love it so much that I had to add it to this list. This reversible game rug offers outdoor game play for entire family all summer long. It comes with one rug and 24 checkers pieces (12 black and 12 red). One side is checkers while the other side is Tic Tac Toe. This rug is perfect for a day at the beach, park or campground. You can find it on Amazon for under $20.
Fubbles Bubbles (Little Kids Inc.)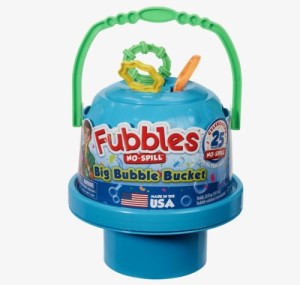 I have been a huge fan of Little Kids Inc. bubble buckets for a long time. Not only are they the perfect size for kids to carry, they also DON'T SPILL! You heard me correctly! If your little one drops it, throws it or dumps it over, none of the bubble solution comes out. The set comes with 3 wands perfect for playing with siblings and friends. This bucket can also be purchased with other designs such as PAW Patrol, Dora, Sponge Bob and Ninja Turtles. All Fubbles Bubbles products can be found on Amazon and Buy Buy Baby.
PARA'KITO

PARA'KITO are refillable bands and clips that use natural essential oils to keep mosquitoes from ruining a fun day or night outdoors. Just insert the pellet into the band or clip for 15 consecutive days of mosquito free adventure. The pellet releases a pleasant smell which helps mask human odors that normally attract mosquitoes. The DEET-free repellent works in all climate zones and is waterproof making it perfect to bring on tropical vacations. The band is also comfortable to wear and stays on well making it great for outdoor adventures like hiking, fishing and camping. The clip easily attaches to a backpack, belt loop, diaper bag and stroller making it very versatile and perfect for all family activities. PARA'KITO can be purchased on their website.
What outdoor toys do you want?
You may also enjoy: