As a mom-to-be or new mom, it is so hard to narrow down the list of must haves, and then once you do, the amount of brands that make the same thing is overwhelming. I remember staring at a wall of bottles in the store and just walking out because it was too much pressure. Buying what you need for your little one shouldn't be that stressful. That is why I put together a list of must haves that new moms can get right at the Just Between Friends Consignment Sale. It is your one-stop shopping dream!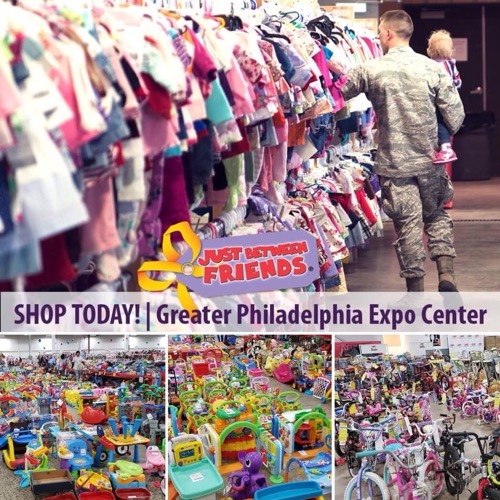 For those that don't know, Just Between Friends (JBF) is Philly's largest resale event. It takes place March 19-22, 2020 with a presale held on March 18. It is located at the Greater Philadelphia Expo Center (100 Station Ave, Hall C) in Oaks, Pennsylvania. Tickets are required for the presale which can be ordered on the JBF website. Prime Time shopping takes place 2pm-9pm and admission is $10/person. First time parents and grandparents can shop from 4pm-9pm while teachers and homeschool parents can shop 5pm-9pm.
The first day of Public Shopping (March 19) has an admission price of just $3 (or get your FREE ticket here) then the event is FREE for the remaining 3 days. Just Between Friends takes place 9am-8pm March 19-20, 8am-5pm March 21 and 8am-3pm March 22. There is also a Half Price Public Presale on March 21 7pm-9pm (tickets are $10) and Half Price Sale all day March 22 where many items are on sale for 50% off! Just Between Friends accepts cash, Visa, MasterCard and Discover as payment.
Just Between Friends Consignment Sale is perfect for moms-to-be, new moms and grandparents. You can get everything you need at affordable prices. Plus, since the prices are amazing, you can get more then one brand so you can see what your little one likes the most. This is also your chance to stock up on a ton of MUST HAVES. In this post, I wanted to share with you my list of items new moms should definitely pick up at the sale!
5 MUST HAVES for New Moms
Books
As a mom and an educator, I believe one of the most important things to have for your children is books! At the JBF Consignment Sale, moms (and grandmas) can start or add to your little one's at-home library. From nursery rhymes to touch-and-feel to classic stories about princesses and pirates, JBF has it all (and then some). Plus, don't miss their book deals towards the end of the sale!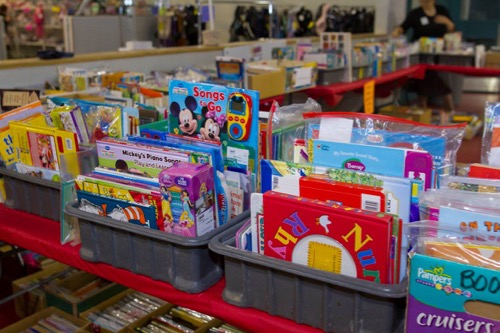 Clothes
You can never have too many onesies and bibs!! Stocking up on clothes is easy at JBF because they have thousands of options to choose from. With rows and rows of clothes, moms can stock up for next 5 years or more! I recommend getting onesies, jackets, pajamas and even a Halloween costume.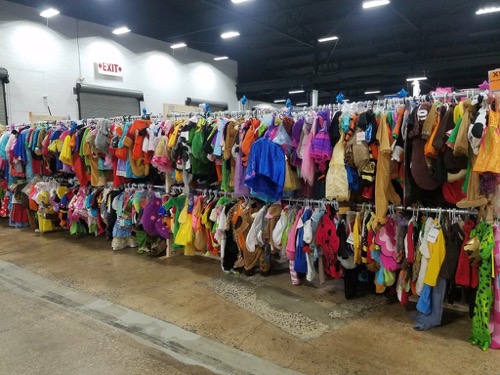 Learning Toys
There is no shortage of learning toys at JBF but what do you get? If you are looking for long-lasting educational toys then I highly recommend picking up some from Leapfrog and Vtech. Both have toys for as young as infants that offer multi-sensory learning. I also LOVE Fisher-Price, Little Tikes and Step2. I recommend shape sorters, push/pull toys, interactive books and activity centers (to name a few).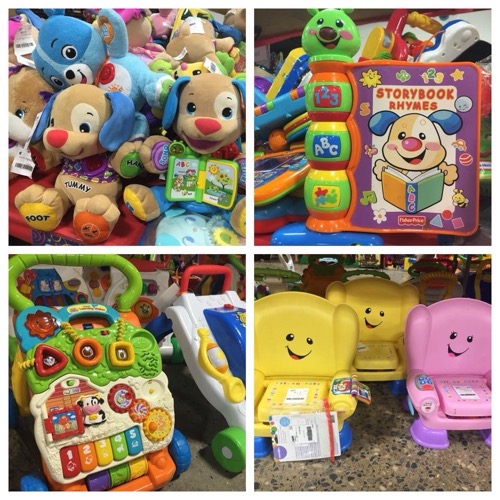 Strollers
Double, jogger, umbrella…what do you get? There are so many options to choose from which makes stroller shopping very overwhelming. At JBF, you have a choice of any stroller you want but the best part is you don't have to pay crazy retail prices. That means you can get that jogger you really wanted AND the more traditional Graco one. You can even pick up an extra one to leave at grandma's house! I recommend getting a Snap-n-Go (or any equivalent) as well as a sturdy umbrella with a basket underneath. I also owned a Graco stroller for years and LOVED it!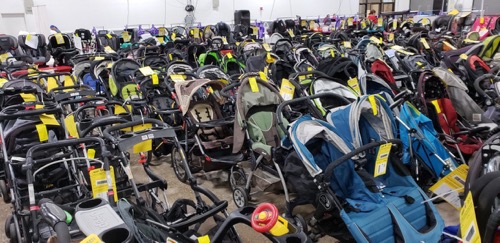 Activity Centers, Bouncers and Walkers…Oh My!
Bouncers and/or activity centers are a MUST HAVE for little ones because they let kids play and explore while mom can get some things done. They also start to give children greater independence. Although you won't need it right away, it is definitely something you want to pick up at the JBF sale. I recommend getting one that offers a variety of sensory play activities such as music, bright colors, various textures and movable pieces. Also, make sure the bouncer or activity center is adjustable so it can grow with your child. I also highly recommend picking up a walker. Even if your little one is not walking yet, they are still increasing motor skills, balance and coordination as they are trying to stand.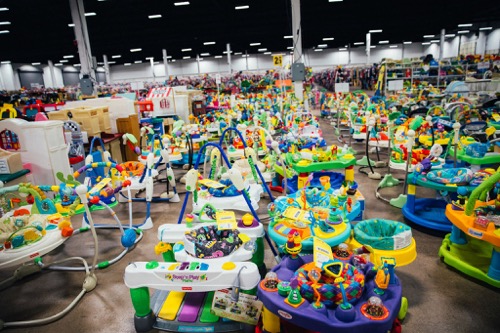 So what are you waiting for? Get your ticket to the Just Between Friends Consignment Sale today! Learn more and order your passes on their website!