No Talkie Before Coffee
When I was stranded home in my house with my infant child and we couldn't leave the house for some illness or another, I desperately called a friend asking begging her to go to Starbucks and get me a Venti Caramel Machiatto. Admittedly, I drove with my second child several towns over when the kids were babies. They had fallen asleep in the car and I dreaded waking an infant and toddler to go inside for a cup of coffee. With drive thru Starbucks, moms of little ones can pick up that jolt of coffee, latte or frapuccino while driving around.
Seven years later the machiatto is still my go to drink, but now there are drive thru Starbucks throughout the state which would have enabled me to enjoy that little bit of peace. This is a cheat sheet for those of us that need a quick kick of caffeine to make it through the next day, hour or minute. You can use our guide to find a store near you, and make sure to check out the helpful tips at the end!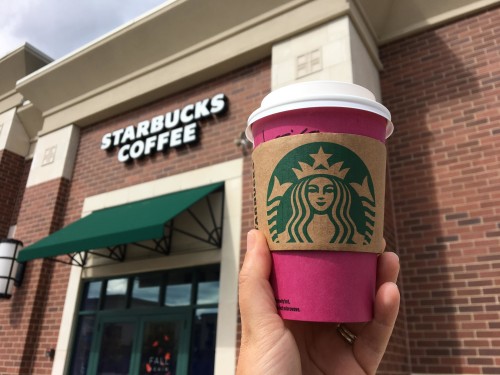 Atlantic County
6801 East Black Horse Pike, Egg Harbor Township
68 West Jimmir Leeds Rd., B1, Galloway
Bergen County
10 State Rt. 17, East Rutherford
2215 State Rt. 4 East, Fort Lee
1616 Bergen Blvd., Fort Lee
300 Rt. 46 West, Little Ferry
380 Route 17 South, Mahwah
411 Ramapo Valley Rd., Oakland
177 Rt. 17 S., Paramus
121 Franklin Ave, Ridgewood
96 Meadow Rd., Rutherford
Burlington County
282 Dunns Mill Rd., Bordentown
2601 County Rd. 541, Burlington
1251 Route 130 South, Cinnaminson, NJ 08077
1340 Fairview Blvd, Delran
597 RT 38, Maple Shade, NJ 08052
930 W Rt 70 100 Marlton, NJ 08053
513 Route 541, Medford
550 Fellowship Road, Mount Laurel
Camden County
1192 East Route 70, #12, Cherry Hill
600 Route 38, Cherry Hill
1490 Blackwood-Clementon Road, Clementon
611 Berlin Cross Keys Road, Sicklerville
148 Route 73, Voorhees
Essex County
288 Eisenhower Parkway, Livingston
Gloucester County
1215 Hurfville Rd, Deptford, NJ 08096
304 Greentree Rd., Sewell
5340 Route 42, Turnersville
Hudson County
7301 River Road, North Bergen
Hunterdon County
240 Route 202, Flemington
Mercer County
2673 Main Street, Lawrenceville
2325 Route 33, Robbinsville
Middlesex County
300 Rt. 18 North, East Brunswick
50 Racetrack Road, East Brunswick
939 Route 1, Edison
49 Route 27, Edison, NJ 08817
23 Route 1, New Brunswick, NJ 08901
522 Shoppes Blvd., North Brunswick
3804 Rt. 1 North, South Brunswick, NJ 08852
1400 Centennial Avenue, Piscataway, NJ 08854
957 Rt. 9 N., South Amboy
Monmouth County
1109 Route 34, Matawan, NJ 07747
178 Rt. 35, Eatontown
621 US 9, Freehold
310 Rt. 9 North, Manalapan
1109 Route 34, Matawan
2301 Route 66, Ocean Township
1919 Route 35 101, Wall, NJ 07719
Morris County
640 Shunpike Rd., Chatham
450 Route 206, Chester
1730 Route 10 East, Parsippany
1429 Route 46, Parsippany
Ocean County
1865 Rt. 70, Lakewood
2360 Lakewood Road, Toms River
Passaic County
45 Wanaque Ave., Pompton Lakes
183 Hamburg Tpke., Wayne
1118 Hamburg Turnpike, Wayne
57 State Route 23, Wayne
Somerset County
287 Rt. 22, Green Brook
649 Route 206, Hillsborough Township
Sussex County
111 Rt. 23 South, Franklin
Union County
345 North Ave. East, Cranford
Warren County
1885 Rt. 57, Hackettstown
1198 US Highway 22, Phillipsburg
Helpful Tips
As a tired mom, don't forget to ask for water to help hydrate yourself or for the toddler in the backseat.
They do have a child size hot chocolate which is also made at a lower temperature but I don't suggest trying this for the first time in the drive thru.
Starbucks has snacks (besides the cake pops your kids will request) including healthier ones like egg bites, squeezable fruit sauces, fruit cups, and yogurts.
You can download the app and build points to earn free drinks and receive a free one on your birthday.
Don't feel guilty about grabbing a drink, we all need a treat once in a while.
If you have a child that enjoys Pokemon Go, then check out the drive through Starbucks as it is usually a Pokestop and has lots of Pokemon.
No kids? Maybe just your dog is accompanying you then ask Starbucks for a pup-a-cino.
Did we miss a drive thru Starbucks in NJ? Mention it in the comments below and we will add it to the list!
If you like this post, you might like: