If you are looking for adventure, then Mountain Creek Waterpark is a MUST DO experience for you and your family this summer! With so many adventures to choose from, there is something for everyone to enjoy from the littlest to the oldest member of your family. Located in picturesque Sussex County, Mountain Creek Waterpark is open every day through Labor Day allowing for never-ending summer fun!
My family and I were recently invited to Mountain Creek Waterpark to experience all the adventures this amazing park has to offer. From easy to extreme thrill ride experiences, there was so much to choose from. Since my kids are ages 6 and 9, we stuck with mostly Easy with a couple High thrill rides thrown into the mix. We had so much fun stepping outside our comfort zone and enjoying new experiences together as a family!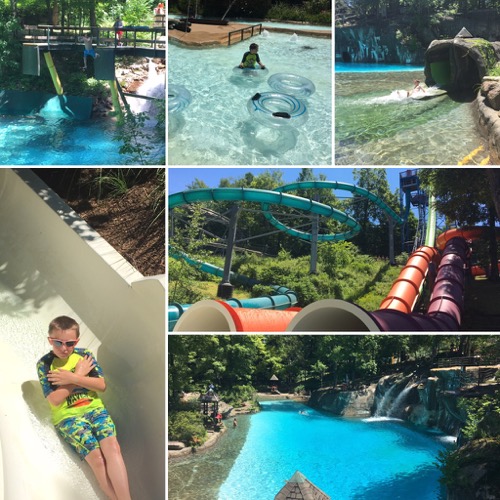 Don't let all the thrills fool you, however! There are multiple ways to relax and unwind at Mountain Creek Waterpark too! Scattered throughout the rolling mountains, guests can find lounge chairs, picnic tables and Adirondack chairs to sit in and relax. While at Mountain Creek Waterpark you never feel like you are just at a waterpark. The park is perfectly intertwined with nature so you feel as if you are spending a day exploring nature. From the rock stairways to observe various slides to the hills of green grass to the breathtaking views, guests will feel like they are enjoying a day on the mountain top.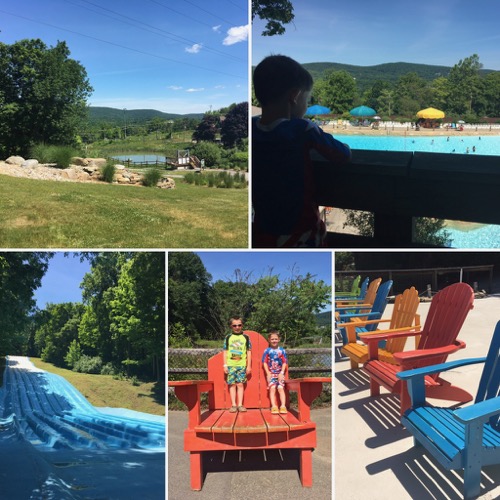 Mountain Creek Waterpark has over 15 rides/attractions to choose from. There are areas just for kids, spaces for thrill seekers, and attractions that offer fun for both! Here are some adventures you can enjoy during your stay at Mountain Creek Waterpark!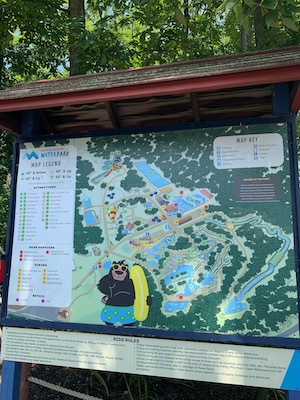 Choose Your Adventure at Mountain Creek Waterpark
Just for Kids
There are several spaces dedicated just to kids at Mountain Creek Waterpark. Once you enter the park and walk up the hill, you will find a wonderful play area for kids to the right. It houses a lazy river just for little ones, a sprayground and the Fishing Village that boasts 2 waterslides and spray jets. There is also a small waterslide that even mom and dad can enjoy with the kids. All 3 areas plus the slide are next to each other so kids can bounce around easily making for a fun and exciting day in the sun!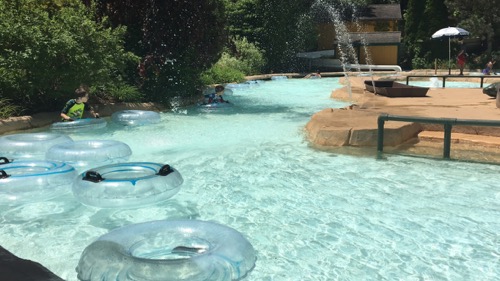 Up to the left after entering the park, families can sit back and relax as the kids explore the Lil' Dippers area. This adorable space offers a small slide, fountains and splash zone. The best part is the comfortable seating available for parents to unwind while the kids play and explore.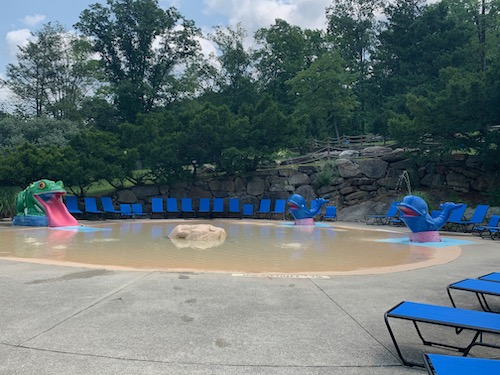 For Thrill Seekers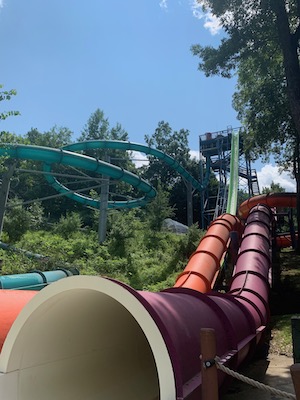 Mountain Creek Waterpark is well-known for their thrill rides as there are plenty to choose from! From H2-Oh-No which is a nearly vertical drop to Zero-G where riders are dropped out of trapdoor below them allowing them to zip through the world's tallest double looping thrill slide to cliff jumping, guests will have the opportunity experience intense thrills!
Behind the kids area mentioned above guests will find exciting waterslides nestled in the side of the mountain. Slides like Thunder Run, The Gauley, and Colorado River will make you feel like you are rafting and riding through a real river found in nature. They are truly unique experiences! For an even bigger rush of adrenaline, try Bombs Away or Canyon Cliff Jump.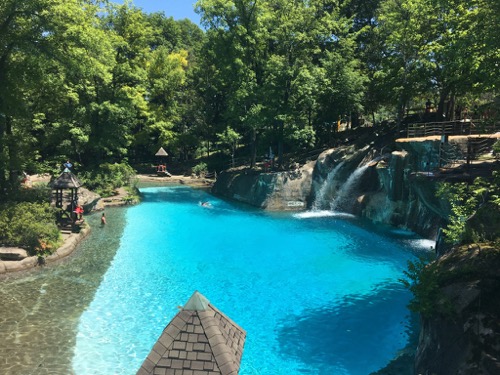 For the Entire Family
Bringing the kids and thrill seekers together is what Mountain Creek Waterpark does best! That is what makes it a great family park. There are several attractions that the entire family can enjoy together. Our favorite was the High Tide Wavepool. With over 45,000 gallons of water, it is one of the largest of its kind! Kids and adults will have a blast floating in the calm waters then riding the waves. (Tip: Life jackets are available for all ages.)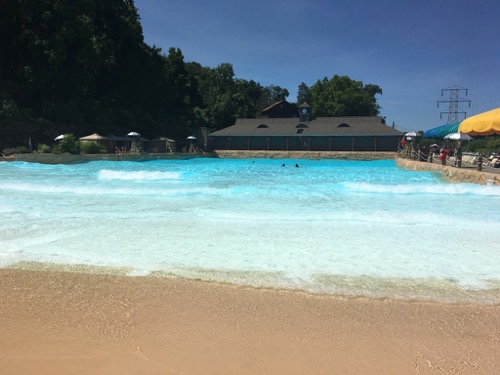 Rogue River is a slide in the Easy category and a fun experience for guests 42" and above. It is the first step to the more adventurous slides for kids. It is important to note that this ride does not allow any shirts or shorts so kids cannot wear rash guards. Surf Hill is the next step in adventure as it is in the High category. Guests 48" and above can race down the hill on this action packed slide.
Although found in the High thrill category, my boys LOVED the Vortex (48" and over) and Vertigo (42" and over with those under 48" having to wear a life vest and MUST ride with an adult). These slides are located at the top of the hill, and the tubes hold 2 people making it perfect for one parent and one child. The slide consists of twists and turns in dark tunnels so make sure your child is ready for the thrills.
To get a closer look at all the adventures at Mountain Creek Waterpark, check out our video tour:
Mountain Creek Waterpark is open daily through Labor Day with special night time events offered for adults over the summer. For more information and to purchase tickets, please visit their website.
You may also enjoy: