Fintastic Learning Opportunities are in the Ocean!
We are fast approaching our favorite time of summer which is the legendary, educational and fun celebration of Shark Week! While my son has always been captivated by sharks and ocean creatures, he and his sister are finally approaching an age where they can appreciate the television show aired during Shark Week. As we wait to see what sharks are highlighted during Shark Week, we will be checking out the following toys and games that reinforce their interest in marine life especially in this misunderstood creature. Here are some cool learning toys we found that have a shark theme!
Mommy University Presents
Shark Week Learning Toys
Shark Bite, Pressman Toys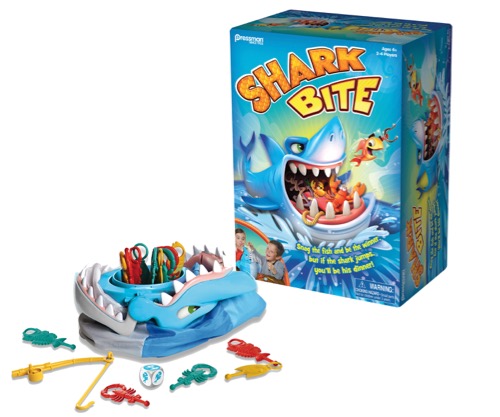 We are huge fans of games that bring the family together with laughter. Shark Bite is fun, engaging and will keep everyone guessing throughout the fast paced game. Each player is provided a fishing rod to capture fish but be careful because as you pull the fish up, the shark might bite you! Designed for 2-4 players, ages 4 and older, this game is a fun addition to Shark Week toys priced less than $20 on Amazon.
Ride-On Hammerhead Shark, Intex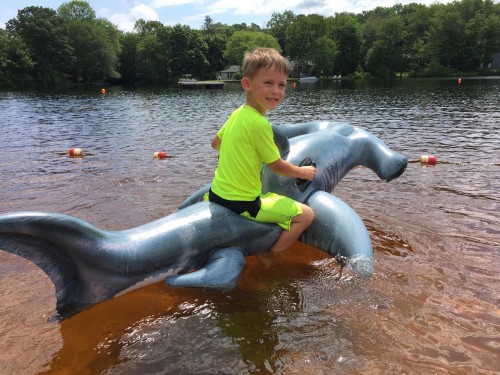 If you are hitting the pool or lake, you may want to bring along a shark for a jawsome time! My kids love floating on the lake on the back of a hammerhead shark. Not only does the Ride-On Hammerhead Shark encourage children to get outdoors, it also promotes being active! Priced on Amazon for less than $40, you can have your own hammerhead!
Shark Backpack, Bixbee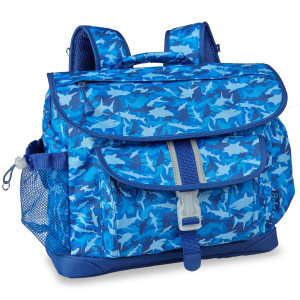 For the shark fan in your life, check out the cool camouflage pattern on these quality and stylish backpacks from Bixbee. This pattern also comes in lunch boxes and duffel bags. For the preschooler in your life, check out their backpack shaped like a shark! Bixbee knows how to use the current trends and interests to make going back to school something to look forward to!
Micro Boats Shark Attack Challenge, Zuru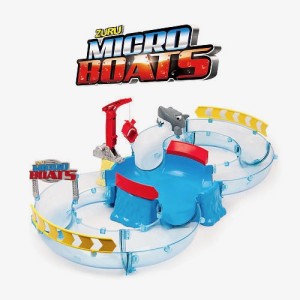 This water-activated playset is perfect to bring outside on a nice sunny day! The motorized speed boats race at 200+ mph scale speed in 4 different directions. The Shark Attack set comes with 6 feet of boat track, a working crane, a wave-making attack shark and one micro boat. There are 5 additional boats you can also purchase to add to the racing experience. The set is available on Amazon for under $35.
Shark Toob, Safari Ltd.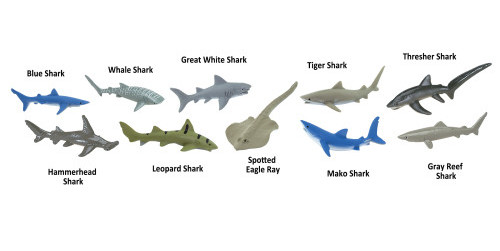 TOOBs is a container filled with miniature figures that focus around themes. Safari Ltd. has dinosaurs, farm animals, butterflies and our favorite sharks! They are perfect to include in sensory bins. They add texture and a pretend play aspect to sensory learning. They also help increase vocabulary and general knowledge.  Priced at $12.99 the Sharks Toob is wonderful many different types of learning which you can read about our post on Toobs!
 Cuddlekins Sharks, Wild Republic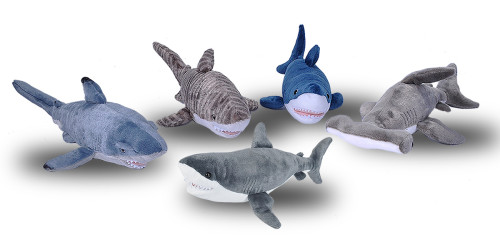 Sharks are awesome creatures no matter what time of the year, but for this Shark Week your budding marine biologist may want to cuddle with a Great White. Cuddlekins from Wild Republic are a line of ultra-plush toys that are designed to have a realistic appearance while still being extra soft and squeezable. The sizes range from 8" to 15" but the coolest feature is that you can get the coolest sharks such as Hammerhead, Mako or Tiger! The price on Amazon ranges from $10 to $15 which makes it the perfect addition to the shark collection.
Living Ocean Sharks, Wild Republic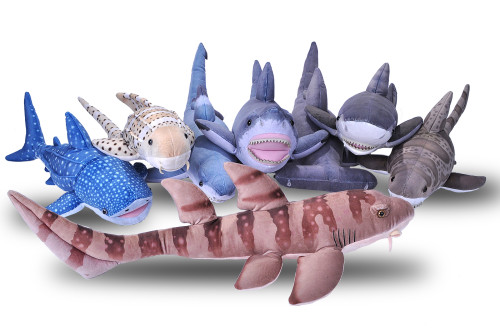 If your child is a Shark expert, they may want an ultra realistic looking shark which makes the Living Ocean Sharks a great find! The fabric is meticulous since it utilizes a fabric printing method that achieves stunning details and designs. As always, the fabric is super soft. Children can choose from Zebra, Leopard and Bamboo to name a few (and definitely check out the cool Narwhal which is not a shark but beautiful). Living Ocean sea creatures are 20-25" in length and the size varies by species. Priced on Amazon from $15-20 the creatures are a nice addition for children who engage in pretend play.
DIY Knot-A-Shark, Alex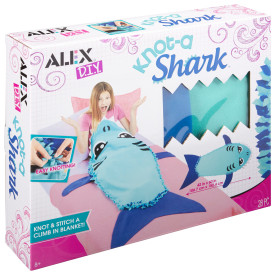 A creative and tactile project for children is to make their own shark blanket to snuggle in and the best part is that no sewing is needed. The Alex DIY Knot-A-Shark includes all the supplies you need to complete such as: 5 precut fleece shapes, 15 precut polyester felt shapes, 3 colors of cotton embroidery floss and more. The best part is that you can use for naps or watching your favorite television show on Sharks! The finished blanket measures 42" by 60" and is recommended for children eight years old and older. Priced at $30.99 on the Alex website.
Gigantic Beach Blanket (BigMouth Inc.)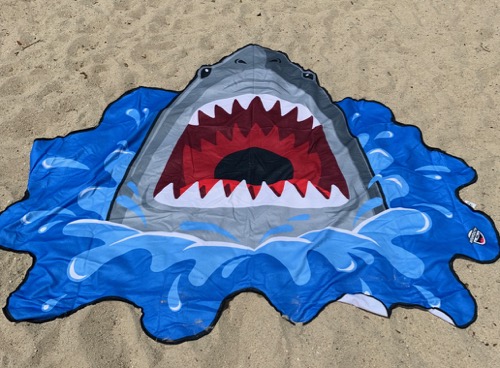 Encourage pretend and imaginary play at the beach this summer with the Gigantic Beach Blankets from BigMouth Inc. They come in a variety of designs such as a shark, donuts, pizza, an avocado, rainbow and much more. New this year are Stranger Things themed blankets too! The blankets are light and soft making them perfect not only for a day at the beach, but also a day at the park or a night at an outdoor summer concert. The Gigantic Beach Blankets can be found on Amazon.
What is your favorite shark toy?
 If you like this post, you might like: