A Review of the Simplay3 In & Out Activity Table

There are many instances in life when a simple product or a clean design thrills you! Simplay3 is a toy company that produces clean and straight forward toys that meet the needs of your children and, strangely enough, your home. I say strangely because we don't always put a statement of play and home together but in this instance it absolutely applies.
The In & Out Activity Table is a toy that has four configurations so it can be a sensory table, an art table, a snack table, a water and sand table, and the list expands with each imagination. After removing it from the box, it takes minutes to assemble. The focus of the In & Out Activity Table is for children to play. At Mommy University, we believe that one of the best methods for children to learn is through play.
Mommy University Presents
Five Ways to Play with Simplay3
Building on Learning
I love when my kids play with building toys; however, some of these beneficial toys can be small and thus easily lost. It is easier for them to play with them when there is a defined space. Since you can set up the In & Out Activity Table to have two separate containers, this works perfectly with Lego bricks, wood blocks, Magformers, Shape Mags and other toys. Children can use the two bins to separate the toys by groupings or, like my children, they can each select a bin to hold their preferred toy.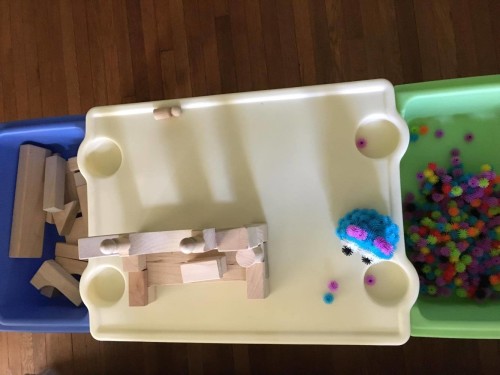 Sensory Bins
We are big fans of sensory bins in my household, and my immediate thought was how this would be wonderful for sensory play. You can place the sensory bin filler in one container while little figures or molds can go in the other bin.  We have tried Kinetic Sand with Toobs, however, you can use other variations as well!
Enhance Story Time
While you can use the In & Out Activity Table for a child sized coffee table, I actually found it is an invitation for play. On one side put in books focusing around one theme and in the other bin place figures or toys related to the theme of the books. For Dinosaur books, we placed some of our favorite books accompanied with my son's most popular toys.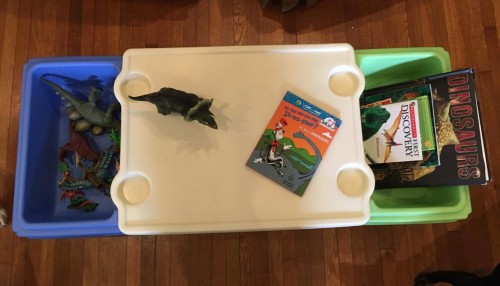 Get Outdoors
Since the In & Out Activity Table is easy to put together, lightweight and is easy to clean, I think it would make a fun outdoor table. Children can have one bin hold sand while the other holds water. If you are a family that doesn't like mixing the two, then just use water, soap and throw in some boats!
Art Station
My kids love to draw and color so it was no surprise I found them with crayons and sheets on the table. With cup holders molded on the table, it can serve the function to hold cups for crayons, watercolor paints or even just drinks and snacks.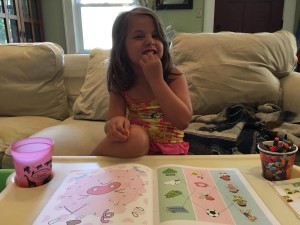 These are just a few of the ways that my children played with the Simplay3 In & Out Activity Table; however, there are so many opportunities available for this fun toy. Priced at $69.99 on Amazon (affiliate link), this item offers diverse invitations for children to play while being designed to be easy clean up for parents.
If you like this post, you might like: