Encouraging my children to develop an appreciation of the outdoors has just been made easier with a visit to the Arboretum at Penn State.  Located walking distance from the roaring sounds of the crowd at the Beaver Stadium and the divine ice cream of Berkey  Creamery, this secluded space has a tranquility that is surprising considering it is one of the most densely populated college campuses.  While the Arboretum covers over 300 acres, it contains one of the most fascinating outdoor spaces I have visited for little ones called Children's Gate.
In 2014, the Arboretum expanded to include a place for children ages 3-12 to promote an interest in nature, spark curiosity, and foster an appreciation of the science and history of Central Pennsylvania.  Walking underneath the translucent canopy you will be greeted with two pools of water.  Filled with native plants, spaces that represent the different terrain of the surrounding area, and touches of whimsy, my children were enthralled with this garden.  From building rock sculptures to exploring the limestone cavern (and discovering actual baby birds), they did not want to leave!  Here are some amazing features we want to highlight at Children's Gate!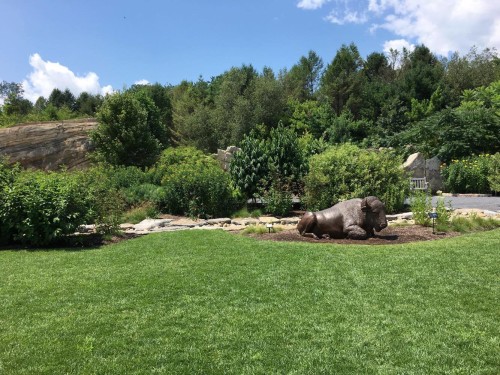 Amazing Features at
Children's Gate at Arboretum at Penn State
Draw on the Outdoor Chalkboard
We are drawn to outdoor chalkboards, no pun intended! An oversized chalkboard is next to the limestone cave where children can draw what they want as you sit by watching on the nearby bench.  It is recommended for children to draw on a vertical surface so take advantage of this space by asking them to draw flowers they have seen or just play Tic-Tac-Toe.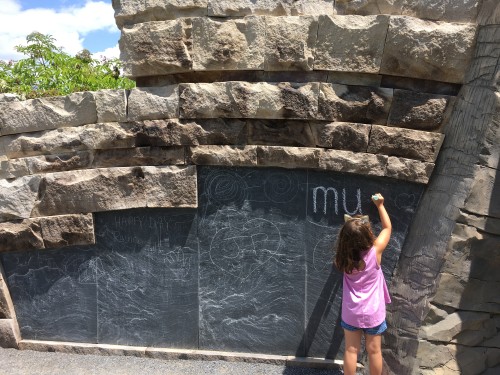 Look at a Fauna Kaleidoscope
This can easily be overlooked because the Kaleidoscope looks like a garden sculpture but if you look through the eye piece you will be treated to a virtual delight.  The lens creates a beautiful pattern off the succulents.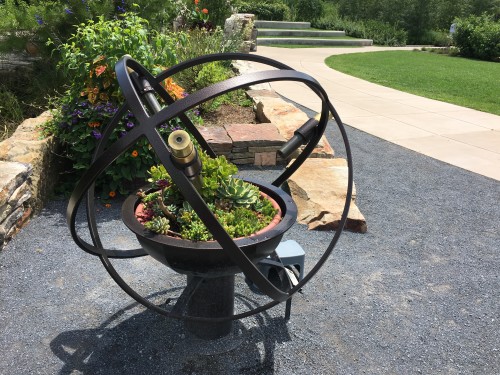 Water the Plants
The day we visited it was pure sunshine.  Next to a well, children could fill water cans that they use to water the plants.  The physical activity helps with kids that have some extra energy but it also helps kids learn about caring for plants.  My son was very thorough with this activity.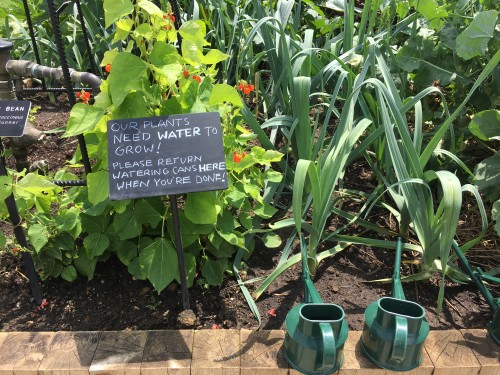 Create a Story Time
Within the children's garden there is a caterpillar that kids can climb and is considered a great space for story time.  You may not have a book on you, but don't worry there are two Little Free Libraries that are filled with books.  Since you are reading this post you may want to bring a book to donate to the space!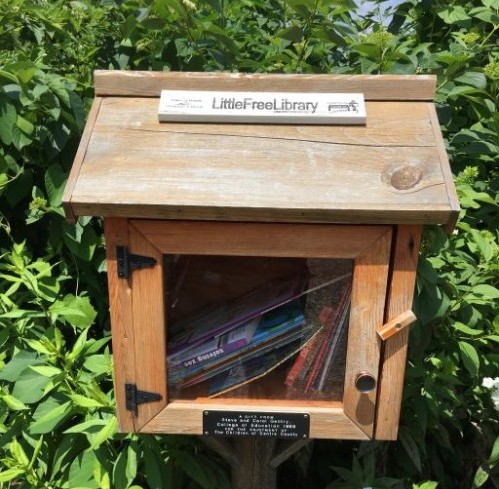 Spark Curiosity
During the day volunteers are typically on hand to help guide different activities that boost learning opportunities through play.  The day we visited the children were able to make a snake out of toilet paper rolls as well as play with painted rocks which they could use to make stories or spell their names!  Also available was an animal scavenger hunt so that visitors could seek the animal sculptures that are placed throughout the garden.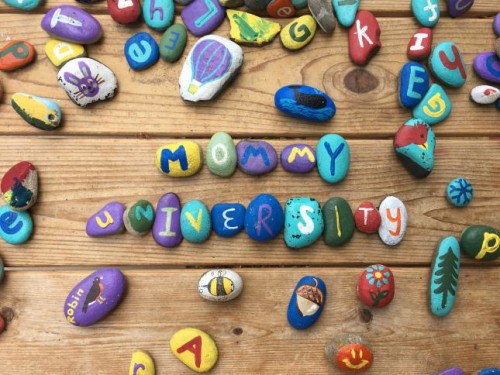 The features listed here are just a handful of what is available at Children's Gate.  Plan on spending a significant amount of time in this stunning garden as your children will uncover fascinating nooks and corners (we didn't even mention the sandbox in the cavern!).  In addition to Children's Gate, encourage your children to enjoy the remainder of the arboretum that has bright flowers, sculptures, and meditative spaces.
The H.O. Smith Botanic Gardens, The Arboretum at Penn State is located at Corner of Park Avenue and Bigler Road, University Park PA 16802.  It is open from dawn to dusk and is FREE.
If you like this post, you might like: