As a Sussex County resident, a trip to the Poconos is a quick and easy getaway for my family. We love visiting anytime of year as there is so much to see, do and explore. Recently, we have fallen in love with the new Kalahari Resorts located in the heart of the Poconos in Pocono Manor, PA.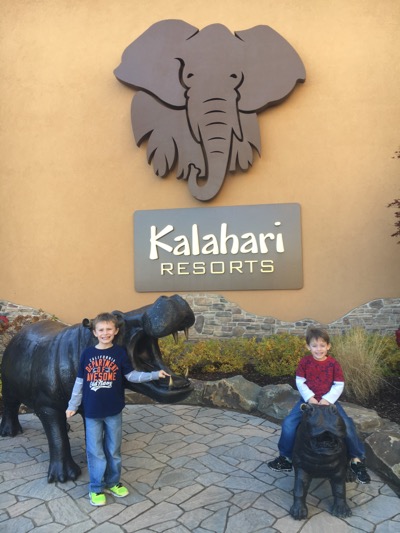 We have visited Kalahari Resorts in the Poconos twice since its opening. During each visit, we enjoyed new and exciting experiences for the entire family. The rooms are spacious and comfortable, the food is amazing (especially at the buffet) and the adventures are endless. Here are some reasons to make Kalahari Resorts your next family vacation!
5 Reasons to Visit Kalahari Resorts
Fun for All Ages
Kalahari Resorts offers fun for all ages. Whether it's exploring the water park, enjoying the amenities or participating in the daily activities, there is something everyone in your family will love no matter their age. That is one of the things I LOVE about Kalahari. From the moment you arrive, it feels like a vacation for all ages. The decor is warm and inviting. I love relaxing by the fireplace while my kids look out the window at the waterpark. The atmosphere appeals to the young and young at heart.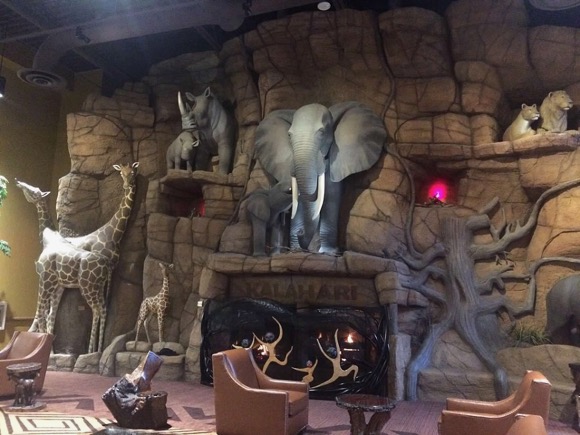 The waterpark offers thrills for all ages as well. My kids' favorite area is Tiko's Watering Hole which offers a number of small slides, water play activities and a small lazy river. I love that it offers a variety of multi-sensory experiences that allow kids to learn through play. There is also an adorable water table that provides chairs for babies allowing for the smallest of guests to play too.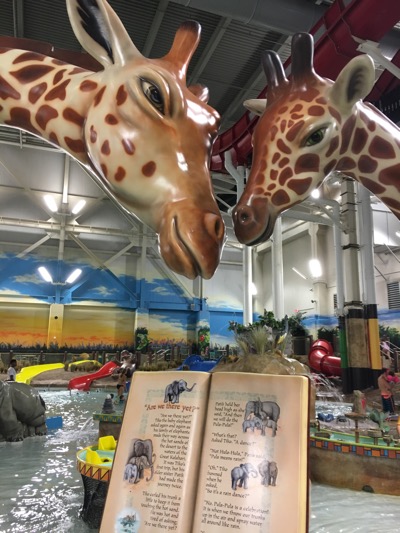 The older kids (and adults) will LOVE the exciting water slides that will take your breath away. From the Wild Wildebeest to the Tanzanian Twister to the Zimbabwe Zipper, families will zip, swirl and slide into action at Kalahari Resorts. If those slides are a little too much, then head over to the big, but tamer, slides found at Splashdown Safari. This multi-level water playground for all ages is an awesome place to splash and play. There are plenty of slides and fun water features to stay busy for hours!
Indoor Family Adventures
In addition to the waterpark fun, Kalahari also offers dry adventures as well. One of favorite indoor adventures is glow-in-the-dark mini golf. It is located next to the arcade (another favorite family experience) and near the XD Dark Ride. The artwork on the walls is amazing, and the animals around the course are beautifully made making the experience fun and whimsical. If you like the mini-golf, then will also love the Mini-Bowling which is also located near the arcade.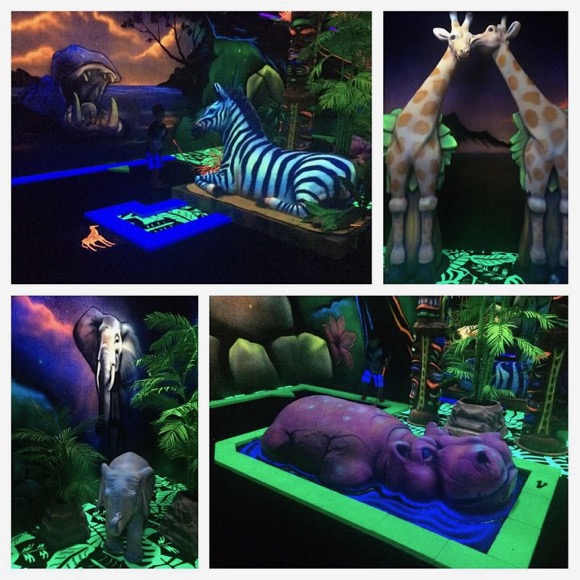 Outdoor Family Adventures
Outdoor adventures are also available at Kalahari. We absolutely loved our morning hike which took us passed beautiful greenery to a gorgeous waterfall. My boys loved exploring nature and finding creatures of all sizes and colors. It was a fun way to exercise and bond as a family. Another fun outdoor experience is Gorilla Grove Treetop Adventure, an adventurous ropes course consisting of 87 elements. From swinging log steps to tightropes to zip lines to rope net climbs, the adventures are endless.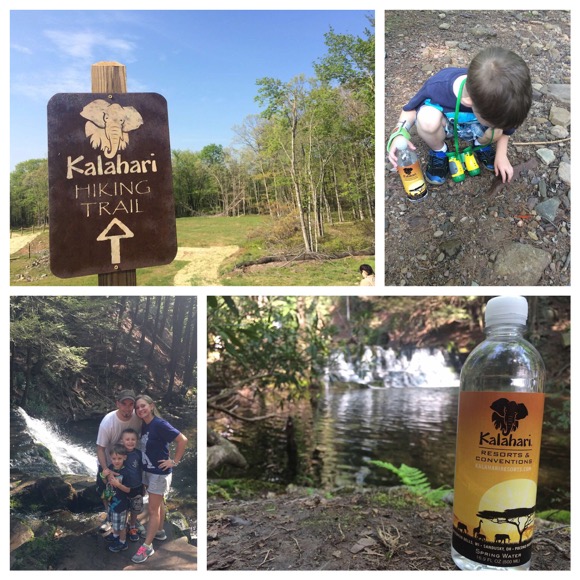 Time to Relax
Even though there are tons of indoor and outdoor family adventures, there are also plenty of ways to relax and unwind at Kalahari Resorts. The indoor and outdoor pools offer lounge chairs where guests can sit and relax while the kids play in the pool. My favorite place to relax in the summer is on a lounge chair by the zero entry outdoor pool while my favorite place in the winter is the swim out whirlpool. Don't forget about the adults only hot tub that not only offers a swim out option but also has a swim up bar! For even greater relaxation, check out Spa Kalahari that offers indulgent experiences such as massages, facials, wraps and more. Guests of the spa can also enjoy the sauna, steam room, multi-sensory shower and jacuzzi.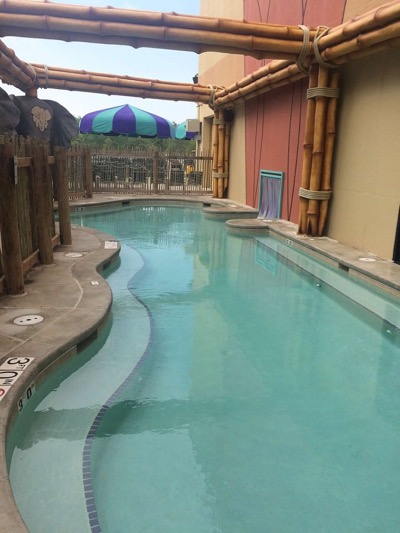 Even More Waterpark Fun
In March 2017, Kalahari Resorts in the Poconos will be opening Phase II making it the largest indoor waterpark in the country! The waterpark will offer 220,000 square park of endless fun and excitement for the entire family. The new area will have 8 new slides, a wave pool and expanded lazy river. Guests can also rent gorgeous island cabanas, some with their own whirlpools.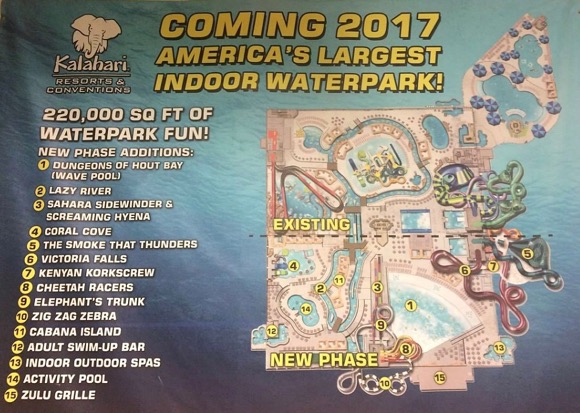 The new expansion will also increase the number of gorgeous rooms to almost 1,000 as well as provide a 30,000 square foot virtual reality experience called The Arena. Three new and delicious dining experiences will also be added: Double Cut Charcoal Grill, Sortino's Italian Restaurant and Marrakesh Market. It is safe to say that Kalahari Resorts will appeal to ALL your senses on your next family vacation!
So what are you waiting for? Book your next family getaway at Kalahari Resorts in the Poconos today. Live too far? Don't worry! Kalahari Resorts also has locations in Wisconsin and Ohio!
Why do you want to visit Kalahari Resorts?