Updated for 2019!
My family loves visiting Philadelphia. There is so much to see and do that each trip is a new learning adventure. One of our favorite places to visit is The Franklin Institute. Located in Center City, Philadelphia, at the intersection of 20th Street and Benjamin Franklin Parkway, The Franklin Institute is the perfect place to have a family adventure. Founded in 1824 to honor "America's First Scientist," Benjamin Franklin, the Franklin Institute is one of the top tourist attractions in Philadelphia and a leading science center in the country. It offers hours of hands-on learning fun for individuals of all ages allowing them to connect with the world of science and technology in fun and exciting ways. With 3 floors of exhibits, there is plenty of places to explore and discover.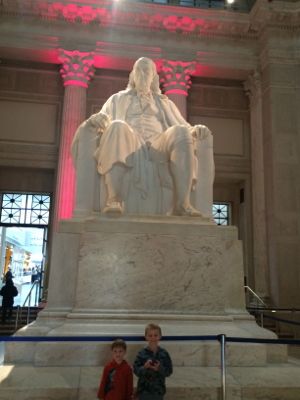 At Mommy University, we love museums, and we especially love science museums. The Franklin Institute is a unique museum as it truly immerses visitors in the learning experience. Guests don't just walk around and see artifacts or works or art which, don't get me wrong, is still really cool, but The Franklin Institute takes things to entirely new level. Ever want to know what the inside of a heart looks like? Do your kids want to go inside a real locomotive? Ever imagine what the inside of a brain looks like? The Franklin Institute truly takes you INSIDE the world of science!
4 Ways to Go Inside the World of Science
Go Inside a Human Body (well sort of)
The Giant Heart is an exciting and interactive 5000 square foot exhibit takes guests inside the fascinating worlds of anatomy, physiology and cardiology. Kids and adults will learn all about how the heart functions, what it looks like and how to keep it healthy. Our favorite way to go "inside" the world of science at this exhibit is walking through a replica of a giant heart. Guests of all ages will have fun walking through, exploring and learning about all the parts of the heart and understanding how it works. It is the perfect way to immerse kids in the learning experience!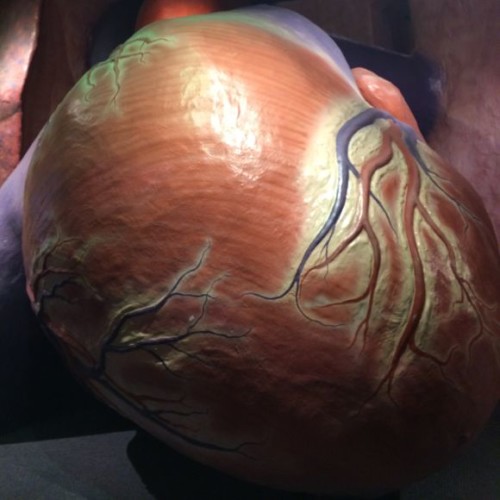 The Brain exhibit allows kids to explore the interconnected and complex neural network found in the brain. Kids will enhance gross motor, visual-spatial and problem solving skills while making their way through this amazing 2-story climbing structure. With visual and sound effects triggered by footsteps, the excitement is never-ending. What a fun way to go "inside" the worlds of anatomy and neuroscience!
Trains and Planes, Oh My!
Kids love trains. They love hearing them, seeing the steam, learning how they work and, of course, riding them. Now imagine being able to climb inside a 350-ton Baldwin steam locomotive! Just standing next to this engineering marvel is enough to take your breath away, but being able to climb aboard and see how it works is a learning experience you will not soon forget. The Baldwin 6000 arrived at The Franklin Institute in 1933 and has been a must-see exhibit ever since. The Train Factory exhibit is an exciting way to go "inside" the worlds of physics, engineering and mechanics.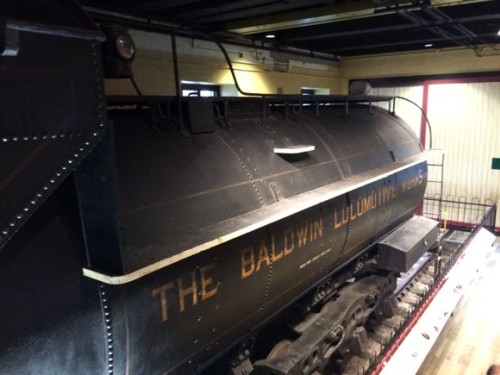 Guests of The Franklin Institute can get behind the controls of a Wright Model B Flyer when they explore The Franklin Air Show exhibit room. Kids and adults can climb to new heights and go aboard a real airplane which is a dream for many kids (and parents). What a fun way to go "inside" the world of aeronautics. Kids can also literally step inside the world of aerodynamics when they enter a small room and stand in front a fan wearing foam wings. Kids learn how the air impacts the wings depending on which way they are held in the air. Now that's a fun interactive experience!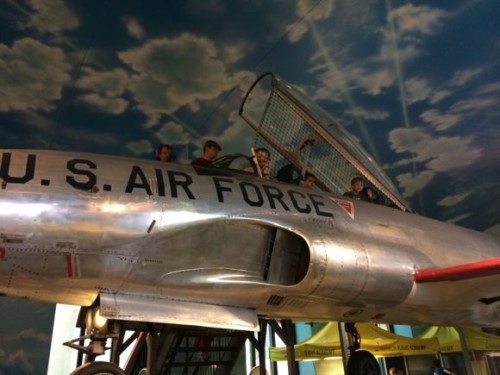 Space Command
In celebration of the 50th anniversary of the moon landing, families should definitely visit the Space Command section at The Franklin Institute where there is an actual moon rock on display! Guests will also enjoy 4 displays of LIVE data from the International Space Station including its current position. After exploring the Space Lobby, filled with antique microscopes and telescopes, make sure to check out the STS-135 launch video and the Reflections of Greatness mural. Kids will also love all the hands-on experiences like touching a real meteorite and building a Mars Rover out of K'nex.
Marvel: Universe of Super Heroes
Calling all Marvel fans! This is the exhibit for you! Step inside the world of super heroes at Franklin Institute where fans can see over 300 artifacts including costumes, props and comic books. This exhibit brings the Marvel Universe to life with set pieces, soundscapes and more. Take a picture with your favorite super hero (well, his costume anyway) like Captain America, Iron Man and Black Panther. For more interactive fun, you can also enjoy the mysterious mirror dimension of Doctor Strange. This exhibit is an extra charge and runs through September 2, 2019.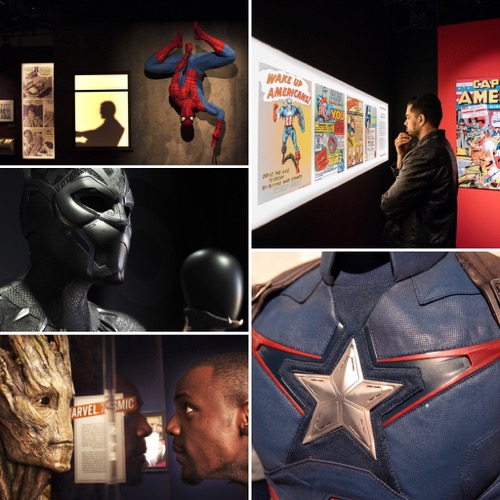 These 4 ways to go inside science are just a taste of what your family can enjoy at The Franklin Institute. We cannot wait to return to discover new learning adventures and, of course, share them with you!
The Franklin Institute is open daily from 9am – 5pm with evening hours on Thursday through Saturday. General admission is $23/adult and $19/child (ages 3-11). There is an additional fee for special exhibitions such as Marvel: Universe of Super Heroes, IMAX and Escape Rooms. For more information and to purchase tickets, visit their website!
You may also enjoy: