From the moment the weather got nicer and the parks reopened, my family was out the door and ready for adventure. Despite all the fun places we have been, hiking was not something we had done much of, until now that is! Being a Sussex County resident, a drive to Pennsylvania is a fun and easy road trip. After reviewing the All Trails app, I found a great waterfall with a short trail that I knew my boys would love so we were off to Dingmans Falls for the day.
Located in Dingmans Ferry, PA, Dingmans Falls is a spectacular day trip experience for the entire family. Found within the heart of the Delaware Water Gap Recreation Area, Dingmans Falls is the second highest waterfall in the state. At 130 feet tall, it is a sight to see and admire. Guests take Dingmans Creek Trail to access the falls. It is a boardwalk style trail that is about half a mile one-way. The end of the trail consists of a climb up several levels of stairs to the top of the waterfall. 
Before reaching Dingmans Falls, guests will walk past the spectacular Silver Thread Falls first which is a multi-level waterfall that flows from 80 feet high. It is amazing! As you continue your hike, make sure to admire the trees, tall hemlock, babbling creek, and dense rhododendron shrubs. My family and I loved taking pictures and looking for wildlife in the woods. There are also plenty of benches to rest and take in the views. 
Here are some activities you can enjoy on your hike!
3 Activities to Dingmans Falls
Read the Signs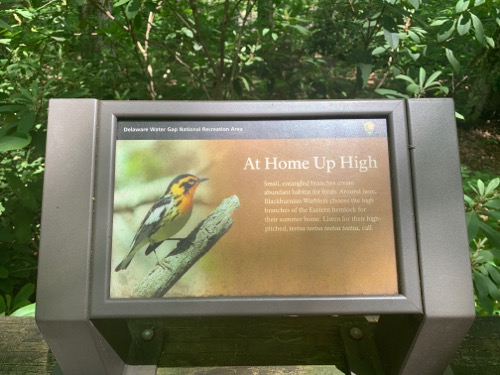 As you walk along the trail, there are several signs that explain the falls, wildlife, and plant life. We even learned about Hemlock Woolly Adelgid, an insect that feeds on hemlock trees.  There are a lot of interesting facts posted making for a great learning experience. 
Climb to the Top
If you are able, make sure to climb to the top of the falls. It is an experience you don't want to miss. There are a lot of stairs but you can take breaks along the way to admire the view. At the top, you will see where the falls originate which is quite a sight!
Take Pictures
Both Silver Thread Falls and Dingmans Falls are breathtaking and definitely picture worthy. Make sure to pack a camera or just use your cell phone to capture the moment. 
Things to Know
Construction is taking place on the Dingmans Ferry bridge so plan accordingly.

When I visited, the Welcome Center and road to the center were both closed. We parked near the road, and then walked about a mile to the beginning of the trail. (Part of this additional walk is featured in the video above.)

On nice days and weekends, Dingmans Falls gets very busy. I recommend going early in the day.

There are restrooms at the entrance to the trail; however, they are not open at this time. A park ranger shared that they are expected to open the weekend of June 13.

Since it is a boardwalk style trail, it is stroller and wheelchair accessible; however, be aware that there are stairs to the top which are not suitable for strollers or wheelchairs.

Fishing and swimming are NOT permitted on this trail.

Dogs (and other pets) are not permitted according to the website; however, I did see several families walking their dogs.

With any hiking experience, make sure to wear bug spray and a hat to protect yourself from ticks.
Bonus: Green Valley Farms Market and Creamery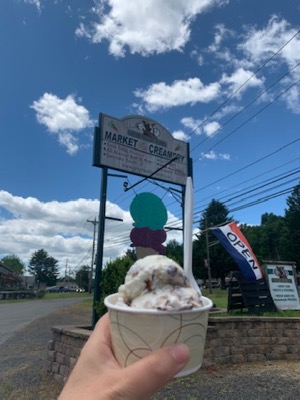 After a long hike, treat yourself with some delicious ice cream at Green Valley Farms in Milford, PA. This creamery offers several delicious flavors of homemade ice cream. You can also enjoy fresh baked breads, homemade jams, and homegrown fruit and vegetables.
You may also enjoy: