Updated for 2019!
Established in 1956, Wild West City was created with authentic details from history.  As soon as your feet hit the town, you might notice how wide the streets are and the design of the buildings. That's because an architect from Dodge City was flown in to create a genuine Wild West feel in the heart of the East Coast.  Shortly after, a dozen attractions similar to Wild West City emerged across the east coast; however, this location is one of the only ones still open today!
Open from May until Columbus Day, Wild West City offers families nonstop action and excitement. The park is open on the weekends from the beginning of May through mid-June as well as Labor Day through Columbus Day. From Memorial Day through Labor Day, it is open daily from 10:30am – 6pm. There are shows every fifteen minutes from the reenactment of the gun fight at OK Corral to rope and lasso demonstrations. This means there are abundant opportunities to watch and/or participate in the programming at Wild West City!
At Wild West City, there are many places for kids to visit like the barber shop, jail and bank. Then there are places like the school house which has a teacher who explains how school was run in the Old West.  Our favorite stop was at the jail where we talked to the Marshall extensively about law and order.  From the stagecoach, train or pony rides to a round of mini golf to a visit to the barnyard, your children will have plenty to see and do. Wild West City didn't just entertain us, it included us in many of the shows and performances allowing our kids to enjoy a hands-on learning experience!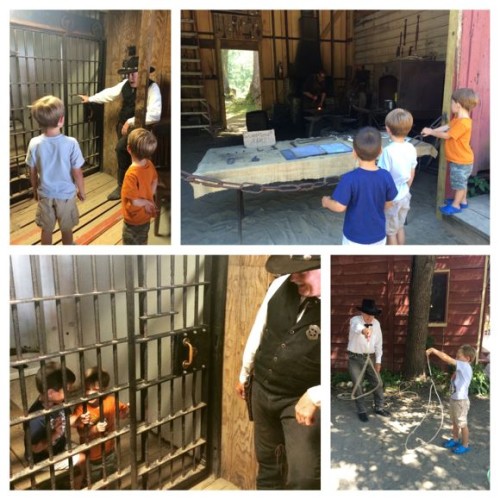 Mommy University Presents
2019 Upcoming Brain Boosting Events at Wild West City
May
4-5          Wild West City 2018 Season Opener Celebrating 63 Years!
11-12       Mother's Day Weekend, Mom admitted free with paying child
18-19      Armed Forces Day, Members of the Armed Services free with paying child
25-27      Native American Intertribal Dancers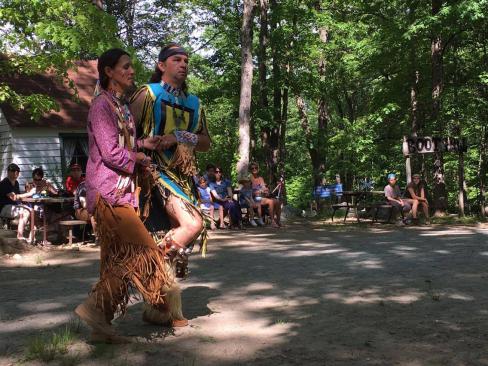 June
2-3         Scouts Weekend, Scout admitted free when in uniform and with paying adult.
15-16     Father's Day Weekend, Dad admitted free with paying child. Plus, special guest Larry Storch on June 16!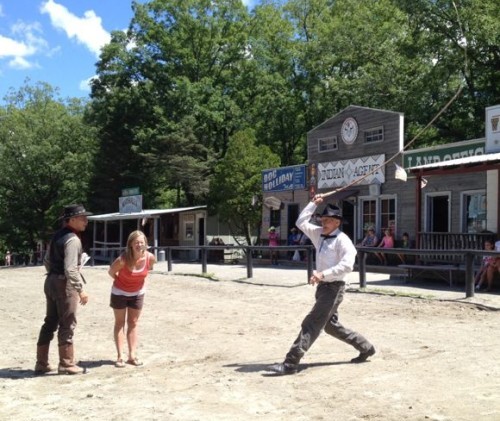 July
5-7       Native American Intertribal Dancers
27        National Day of the Cowboy, Featuring Cowboy Larry and his Wild West Show!
August
10-11       Magic Stephen and his Medicine Show
16-18       Chuck Wagon Camp Cooking
30-September 2   Native Americal Intertribal Dancers
September
7-8            Grandparents Day, Grandparent admitted free with paying child with family of four admission.
14-15         Scouts Weekend, Scout admitted free when in uniform and with paying adult.
21-22        Wild West Dress-Up Day, Dress as your favorite western legend (i.e. the Lone Ranger, Jesse James, Annie Oakley) and receive $5 off family of four admission.
October
12-14            Columbus Day Weekend, Enjoy the final weekend of Wild West City's 2019 season!
Besides the events listed above, each day Wild West City offers fun and exciting shows and performances the entire family will love. During our visit, our kids became deputies and were enlisted to beat the outlaws. There are also Can Can Dancers, reenactments of historical events, lasso shows and so much more. Since there are shows about every 15 minutes, you will always be entertained during your stay at Wild West City!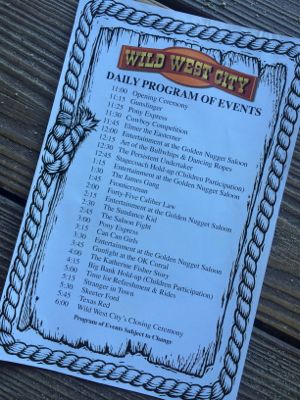 Wild West City is conveniently located at 50 Lackawanna Drive in Netcong. Admission is $18/adult, $16/children ages 2-11, $13.50/seniors and children under the age of 2 are FREE. There is an additional fee of $4/person for the train, stagecoach, pony ride and mini golf.
You may also enjoy: