I am beyond excited to share all of the sweet fun coming to Hersheypark in 2021! Although 2020 was not the year we all expected, Hersheypark still offered BIG fun and amazing new experiences. In 2021, Hershey promises to give fans even more sweet adventures. Before getting into all that 2021 will offer, first let me share what 2020 gave us!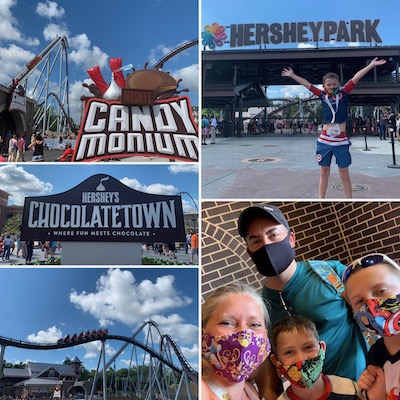 In 2020, Hersheypark opened Hershey's Chocolatetown! This incredible 23-acre space redefines how guests experience Hersheypark. The new entrance offers ample space for guests to walk around and wait for the park to open. Guests can also read and admire plaques on the ground offering insight on the history of this great town and park. While waiting, make sure to enjoy a sweet snack from the new Chocolatown Treats. They sell the most delicious cinnamon bread EVER!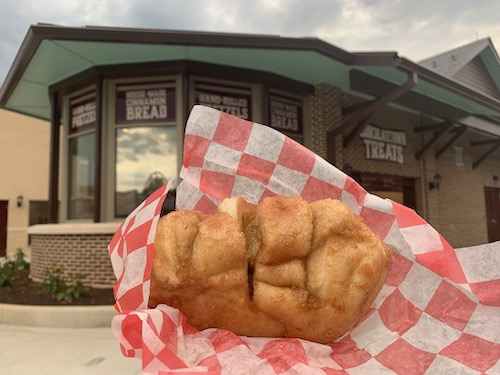 Hersheypark also introduced a new Tram Circle and Ticket Center. The Tram Circle is not only spacious but quite beautiful!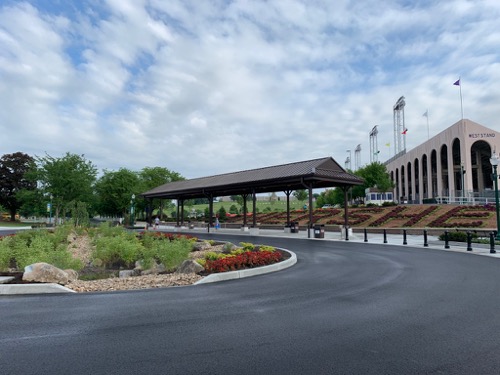 Another fun addition is the new Measure Up space. Before entering the park, guests can see where they measure up on the Hersheypark height chart. It's important to see what height category your child is before entering so you know what rides they can go on. This space also makes for great photo opportunities!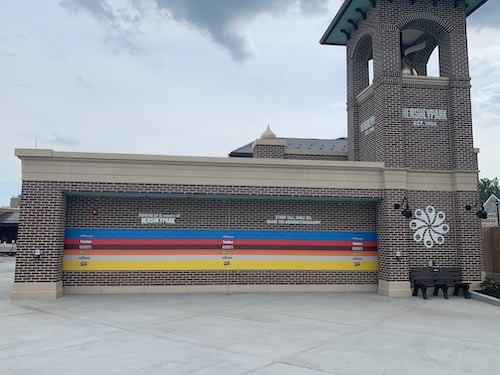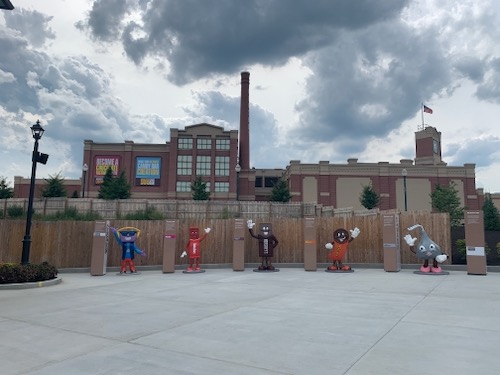 If you forget to get measured here, don't worry. There are plenty of spots to get measured in the park including a new space just beyond the entrance near Candymonium.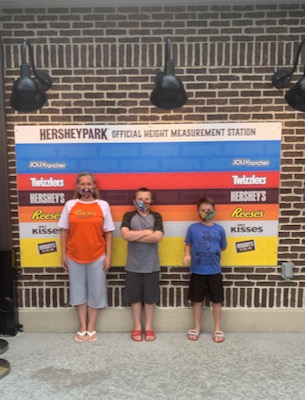 Once inside the park, guests will be in awe of the gorgeous views that include the new Kisses Fountain and 100 year old carousel with the backdrop of the new Candymonium roller coaster, the tallest, fastest, longest coaster at Hersheypark. Make sure to check out the fountain at night too!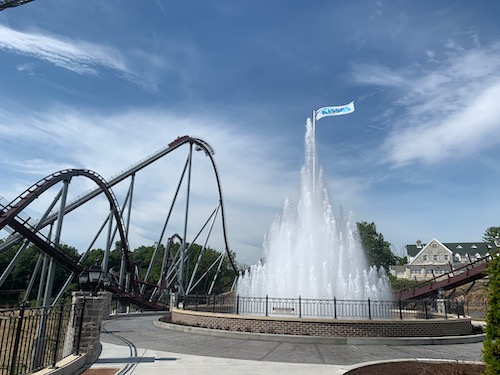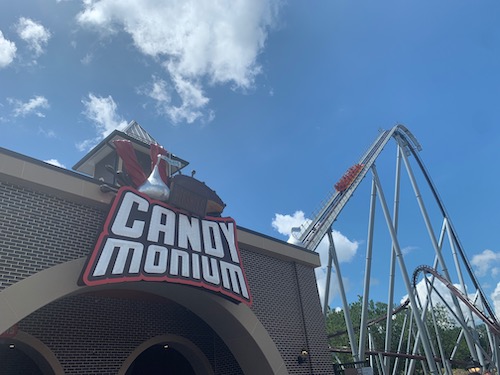 Before or after riding, in my opinion, the best coaster EVER, make sure to stop at the new Starbucks for a caffeine kick.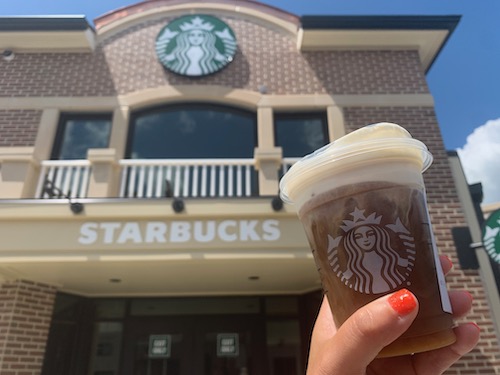 If you're looking for another thrill, then check out the new Hyperdeck, a unique immersive virtual reality experience. This experience is an additional fee.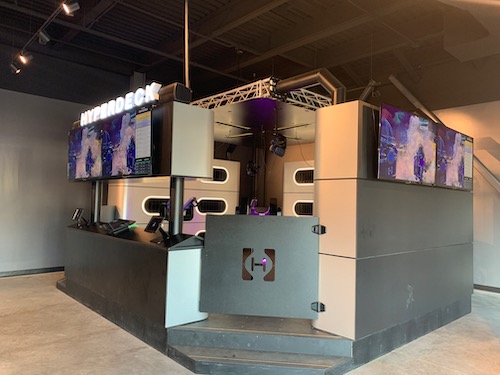 Need souvenirs? Hersheypark has you covered with new shopping locations including HP Collections and Hersheypark Supply Co.
Get Ready for Some Fun in 2021
With all that fun, you are probably wondering what Hershey could possibly introduce in 2021 to top all that! Well, I am so excited to share that Hersheypark will be opening 3 long awaited new dining establishments. Each one offers a unique experience that you won't want to miss!
The Chocolatier
I am beyond excited for this new restaurant and bar that will feature a patio with gorgeous views of the park. Guests will also get to admire past and present pieces from the Hersheypark ride collection. This is going to be the MUST DO experience in 2021, especially for longtime Hershey fans!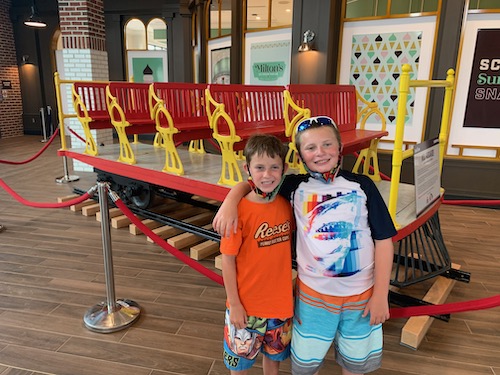 The Sweeterie
The Sweeterie is a Confectionery Kitchen led by Chef Cher Harris, Corporate Pastry Chef. If you have a sweet tooth then this will be the place for you. This unique dining experience will offer hand crafted fudge, delicious desserts, chocolate-dipped treats, and much more. YUM!
Milton's Ice Cream Parlor
On a hot summer day, make sure to leave time to visit Milton's Ice Cream Parlor for some house-made ice cream. Made by expert Ice Creamologists, these sweet treats will be ones you won't soon forget!
2021 Schedule
The 2021 Hersheypark fun starts April 2 and lasts through January 2, 2022. From April 2 – May 23, Hersheypark is open on the weekends, and beginning Memorial weekend through Labor Day weekend, the park is open daily. During the summer months, guests can also enjoy The Boardwalk daily (weather permitting). The park is also open weekends in September. Hersheypark in Dark kicks off October 15, and takes place every Friday, Saturday and Sunday through October 31. The last season, Christmas Candylane, starts November 12 and ends January 2, 2022. Don't forget that all Hersheypark tickets also include admission to ZooAmerica!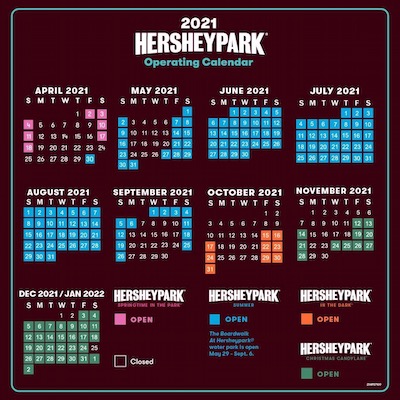 2021 Season Passes
With all this fun to be had, a Hersheypark season pass is a MUST! For 2021, Hersheypark passes will continue to be offered in 3 categories: Bite Size, Full Size and King Size. Here are some of the details:
Bite Size Pass: This pass is the smallest of the passes but stills packs in a lot of fun! Bite Size Pass Holders will have unlimited visits each season, unlimited visits to ZooAmerica and 50% off general parking.
Full Size Pass: This pass offers everything the Bite Size Pass has plus FREE parking, access to the Season Pass Holder parking lot, 15% off drinks, food and retail, BOGO games, Hersheypark Sweet Start (1-hour early access to the park) and year round events. Full Size pass holders will also get monthly rewards and 20% off on up to 20 additional tickets.
King Size Pass: This pass is the ultimate pass for the ultimate Hersheypark fans! King Size pass holders receive everything Bite Size and Full Size pass holders get plus much more. King Size pass holders also get a FREE all-year drink plan and Christmas Candylane hot beverage plan as well as 2 FREE park tickets (1 for Springtime or Summer and 1 for Halloween or Christmas). Other perks include 35% off additional park tickets, an appreciation bag and 15% off the 2021 All-Year Fast Track Program.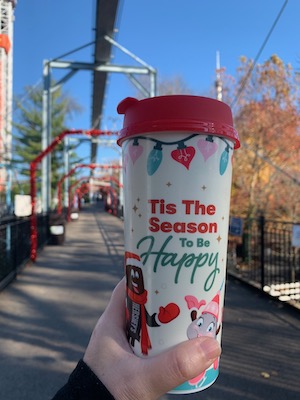 Know Before You Go
Before heading to Hersheypark this year, make sure to read about all their safety measures. You can read all about them in my post below!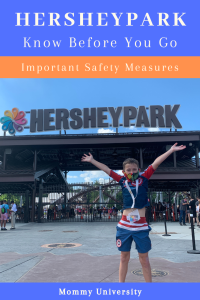 This is going to be a SWEET year at Hersheypark so make sure to get your tickets now! Make sure to follow Mommy University on Facebook and Instagram too so you never miss the latest Hershey news, updates, and sweet family experiences!
You may also enjoy: