This holiday season, pack up the family and head to Liberty Science Center in Jersey City, NJ. All year long LSC offers endless opportunities for kids and adults to learn through play, and the holiday season is no exception. Now through January 3, families can enjoy some extra magic sprinkled around the science center. From sock skating to live shows to hands-on learning activities, there is endless fun to be had by all!
MUST DO Holiday Adventures at Liberty Science Center
Stack the Presents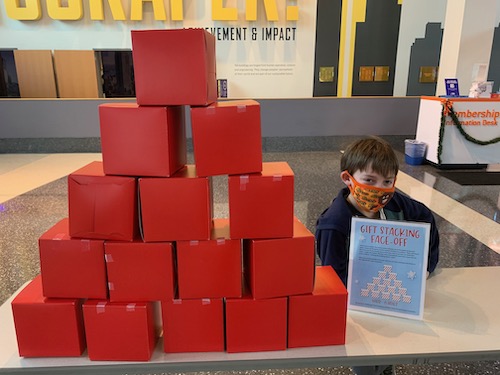 In the main lobby of LSC, you will find tables with stacked presents. Each table offers a more challenging experience. Guests can unstack the presents then time themselves recreating the design. You can also compete against your friends and family in a Stacking Face Off. It is a fun activity that helps build fine, gross, and visual motor skills.
Sock Skating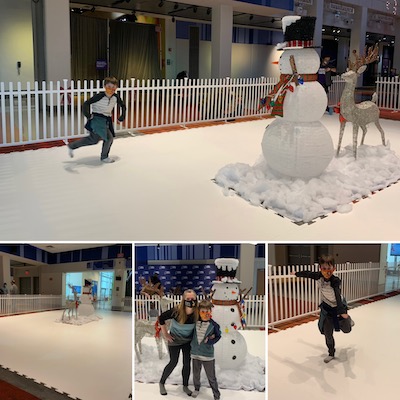 Located on the 2nd floor is a Sock Skating Rink that can be enjoyed by guests of all ages. Just slide and glide across the synthetic ice in your socks (or shoe nets provided by LSC) for endless fun. Skating is included with admission and there is no time limit. We went back several times during our stay and had a blast. Not only was it fun, but it was also a great workout!
Snowflake Maze
Outside the entrance to LSC, you will find a fun Snowflake Maze. It is similar to the maze families enjoyed during the fall season. As guests make their way around the maze, they will learn all about snowflakes. NOTE: The maze is closed during inclement weather.
Snowflakes in the Wind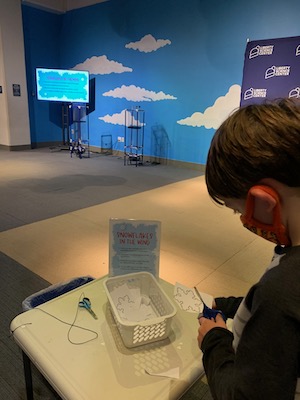 Snowflakes in the wind is a fun activity that helps kids learn about various scientific concepts. Guests have to cut out snowflakes and then let them go over a fan that is placed on the bottom of a plastic tube. Watch as they fly out of the tube. Experimenting with the size and shape of the snowflake is encouraged!
Snowman Riddle Hunt
Located throughout LSC are snowmen, each with a clue needed to solve a riddle. This is a fun scavenger hunt that gets kids exploring the entire science center while building problem solving skills. There are 5 snowmen to find in all. Once the riddle is solved, tell the secret word to someone at the Information Desk to receive a prize!
Planetarium Show

Did you know that LSC houses the largest planetarium in the Western Hemisphere? The Jennifer Chalsty Planetarium's dome has a diameter of 89 feet with 588 perforated panels that are seamlessly joined together. It has 8K resolution (which is six times more crisp than what you see at the movie theatre) with 88 million pixels as well as a speaker system that boasts 30,000 watts. In addition, while our eyes can only detect 10 million colors, the Jennifer Chalsty Planetarium has the power to produce over 281 individual trillion colors which enables us to understand outer space through stunning visual representation. This holiday season make sure to check out one of the amazing planetarium shows. We absolutely LOVED the NEW show Planets Tonight but you can also enjoy shows like Black Holes, Deep Space Tour, and Laser Wonderland: A Holiday Lights and Music Show.
Live Shows
LSC is known for their live science shows and animal encounters. They offer a multi-sensory experience that adds to the learning fun. This holiday season, guests can enjoy exciting animal encounters as well as explosive science experiments. Even though guests cannot touch the animals or be participants in the shows right now, they are still incredible experiences that you won't want to miss during your next visit!
Check Out the Exhibits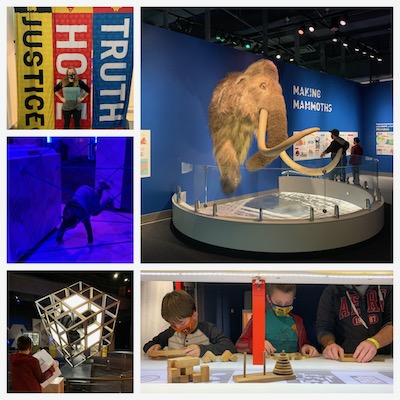 In addition to all the holiday fun, LSC has several wonderful exhibits open for exploration. New exhibits include DC Superheroes, Making Mammoths, Beyond the Rubik's Cube, and Storyland. Each exhibit offers hands-on learning fun and adventure. My boys LOVED seeing if they could run as fast as the Flash and solve crimes in the DC Superheroes exhibit. We also really enjoyed solving unique puzzles and other problem solving tasks in Beyond the Rubik's Cube. Storyland is an exhibit for ages 6 and under that brings your favorite storybook characters to life while Making Mammoths introduces guests to these massive creatures. Each exhibit is included with admission except Beyond the Rubik's Cube.
 Check out some highlights of Holiday Adventures at LSC in my Youtube video:
Know Before You Go! 
Before heading to LSC for some holiday fun, there are some things you need to know. Tickets should be purchased on the website in advance and reservations should be made to secure entrance. Masks must be worn at all times by guests 2 years old and up while exploring the center. Bandanas, gaiters, and masks with air valves are not permitted. Temperature checks will take place at the entrance and social distancing is encouraged. Hand sanitizer is located all throughout the center. It is important to note that the cafe is not open for food sales; however, you can bring food in and eat in the cafeteria. When we visited, there was an amazing food truck in the parking lot.
So what are you waiting for? Get your tickets today! Visit the LSC website for more information.
You may also enjoy: