There is nothing like encountering a waterfall during a hike to perk your spirits and energize you for the remainder of the adventure. Schooley's Mountain offers a two tier waterfall that can be found through a calm stroll starting from Lake George or, for those who want a challenge, you can scale the rocky terrain. In other words, this area allows hikers at different levels to enjoy the outdoors!
Schooley's Mountain County Park is located in beautiful Washington Township in Morris County. Within it's over 800 acres of recreational space, guests will find woodlands, an 8 acre lake, hiking trails, picnic areas, and more. With four different parking lots, you can take a leisurely stroll on the Falling Waters Trail or pursue the more rugged Boulder Gorge Trail. You can also combine trails to make your own unique experience. Trails will vary in length so we recommend using the All Trails app to choose what's right for your family.
Our family loved this area. Along our hike, we encountered several different frogs with one even hiding inside a tree. We also loved climbing the rocks and exploring the water. Our dogs loved it too! Here are some more activities you can enjoy on your hike!
3 Activities to Enjoy at Schooley's Mountain
Climb to the Top of the Mountain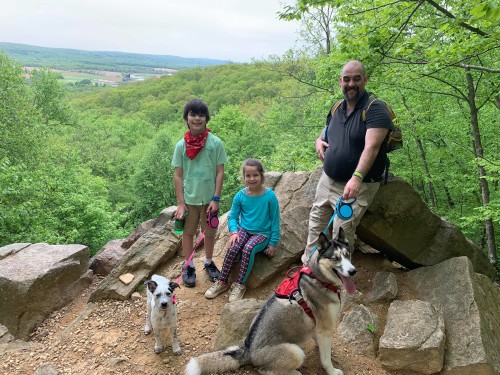 We opted for a slightly more challenging hike with the Boulder Gorge Loop which brought us to the top of the mountain overlooking the area. Bumpy and rugged is certainly the right words to describe this walk, so if you opt for this one make sure to bring sturdy shoes. The view with the mountain at the top is worth the effort. It's a great spot to relax, breathe, and absorb the moment.
Cool Off by the Falls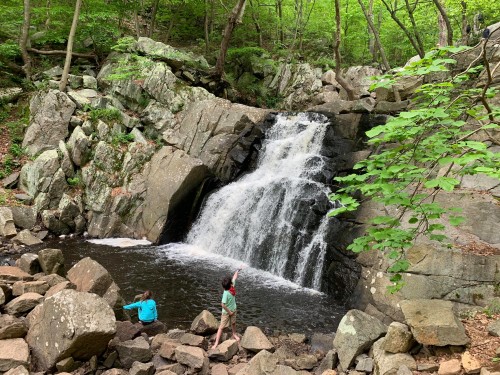 Multiple waterfalls cascading is not only beautiful but also tranquil. Be careful how close you get to the pool as the rocks are quite slippery (as admittedly one of our family members took an unexpected splash in the water).
Build a Rock Tower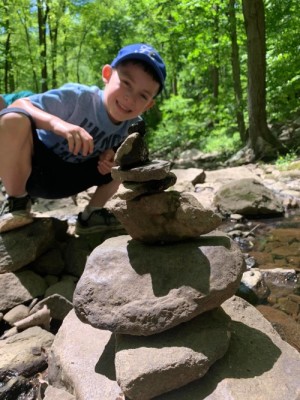 This area is filled with rocks so challenge your kids to make a rock tower or sculpture! You will find several creations along your hike. This is a great activity by the waterfalls but also helps distracts kids who might be struggling with the walk. It gives kids a break but also helps build fine motor, problem solving, and visual motor skills.
Things to Know:
The rocks can be slippery so we recommend wearing either sturdy sneakers or water shoes.
Dogs are allowed but must stay on leash. Our dogs usually accompany us and we ran into several other happy hounds.
There are four public parking lots. Before heading over, know which trail you want to take as it impacts where you may want to park.
With any hiking experience, make sure to wear bug spray and a hat to protect yourself from ticks. This park is known to have ticks.
There are picnic tables in the county park.
Fishing along Lake George is allowed.
Public bathrooms are available at the park.
There is a 470-foot floating bridge that provides access to Lake George from the Lodge.
The park is open sunrise to sunset.
Schooley's Mountain is located at : 91 E. Springtown Rd., Washington, NJ 07853
Bonus:
Grab a Bite to Eat
Schooley's Mountain General Store has existed in the same building since the 1830's and is considered the oldest general store in New Jersey. History aside, it is well known for hearty sandwiches and is a great place to stop for a quick lunch!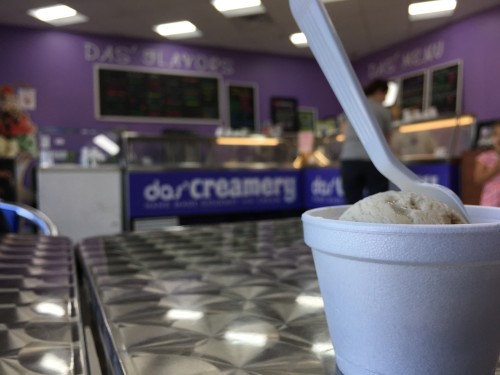 In keeping with our theme of recommending ice cream places, four miles from here is one of the top ice cream parlors in Morris County, Das' Creamery!  Das' Creamery has received multiple awards for their delicious refreshments. They are well known for unique flavors such as Kulfi (toasted coconut almond), Colombian Cookies and Cream, and Sweet Cream Blueberry. If you are traditionalist, don't worry they have chocolate, vanilla and other flavors!
You might enjoy!