We can't stop this feeling!
Trolls burst onto the scene a few years ago with its bold colors and bright music that had everyone dancing. The surreal imagery and happy go lucky characters had everyone imagining unique characters as we watched the transformation of the Bergens. The return of Trolls arrived in April 2020 as we were all under lock and key. Their cheerful disposition as they discovered other Trolls that listened to a different beat was what our family needed to bring some sunshine in a cold Spring. With that in mind, we thought, let's explore activities to encourage us all to "Get Back Up Again" and keep that positive attitude! (This post includes Amazon affiliate links to make planning and shopping easier.)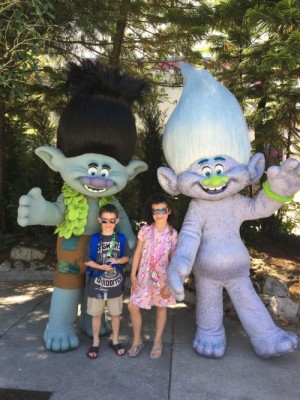 Trolls Activities for Kids
Make Glitter Slime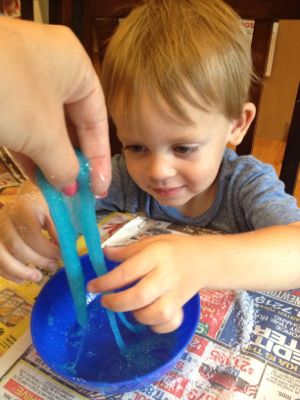 In honor of Guy Diamond, make some glitter slime! This activity is wonderful because it introduces skills like reading, measurements, and math. The end product is that kids have a sensory toy that they can play with for hours afterwards. For this activity, you will need a plastic spoon, measuring cup, warm water, bowl, borax, and glitter glue. First, put glitter glue in bowl. Then, in 1 cup of warm water, add 1 tablespoon of borax and mix together. Next, pour the water and borax into the bowl of glitter glue and sit for 30 seconds. Use your hands to mix the slime together and then knead until the slime sticks to itself. Now you are ready to play!
Karaoke Dance Party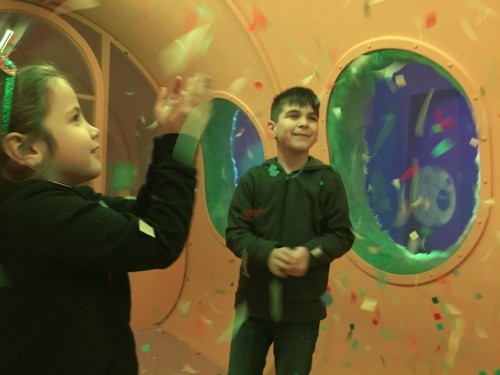 When we think of Trolls, music immediately comes to mind. They love to sing and dance. With the Trolls World Tour, a variety of music is showcased. Get your kids moving by putting on the soundtrack and dancing! Make it even more fun by playing freeze dance or doing Karaoke.
Bake a Rainbow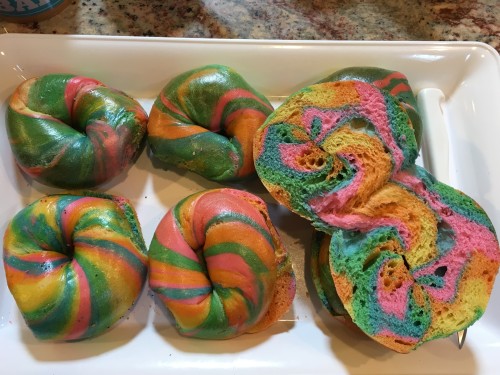 There are so many options to make Trolls inspired treats; however, the key is to remember to include bright colors! You can make krispie squares made from Fruity Pebbles or even simple sprinkle cookies.  Also check with your local bagel shop to see if they can make psychedelic bagels also known as rainbow bagels (our shop actually could customize which colors to put in the bagels).
Hug Time!
Central to Trolls culture is Hug Time! Trolls mark off this moment when their watches signal it's time for everyone to hug. During stressful times, we can forget to cherish and appreciate each other. Set aside time in your day for cuddles. Pull out some favorite books, sit on the sofa, and enjoy quality time together.
Trolls Painted Rocks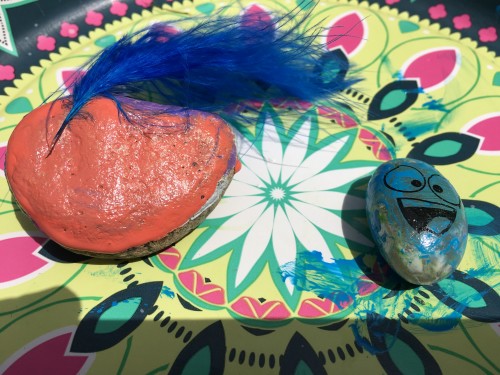 Grab some rocks, paint, glue, and feathers (for hair) and paint some new characters from the Trolls universe. No one paints an ugly rock! Drop your Troll off at a friend's house to brighten their day. 
Glitter Calming Bottles

If you are feeling like Branch, try using a glitter calming bottle! You will need warm water, a container (we used plastic water bottles), clear glue, glitter, food coloring, and super glue. First, add the warm water into the bottle leaving room at the top. Then, squeeze in some glue and stir (or shake) until it is completely dissolved. Instead of clear glue, you can also use glitter glue (or you can use both). Next, add fine glitter and food coloring. You can add as much or as little as you prefer. You can also add beads and/or confetti to make the bottle even more unique. When finished, shake it all up (the kids love that part). Once finished, put super glue around the lip and seal the top on it until it dries. The best part of calming bottles is that each one is unique!
Make Your Own Microphone
Let your voice be heard! Grab a toilet paper roll, paper, aluminum foil, construction paper, paint, and other items to help decorate. First, paint the toilet paper roll the color you would like. Next, roll some paper into a ball, then wrap aluminum foil over it. Then, secure the ball with a rubber band to the end of roll. Last, cut a piece of construction paper to cover the rubber band and glue to secure in place. Decorate the microphone and sing! 
Color Scavenger Hunt
A color scavenger hunt is a fun activity for the entire family! To play, get some paint chips from the local hardware store or cut up small pieces of colored construction paper. Have your kids pick paint chips/colored paper from a hat, then see how fast they can find something of that color in the house. Keep going until you are out of chips. You could also give them a stack of chips, set a timer and see how fast they can find something to match each color.
Rainbow Science Experiment
With all themed activities, you can easily introduce scientific concepts that are easy. For Trolls Day, you can do the Skittles experiment where you place Skittles in a large circle on a white plate. Just add some warm water and watch the colors of the rainbow blend. The kids will be amazed!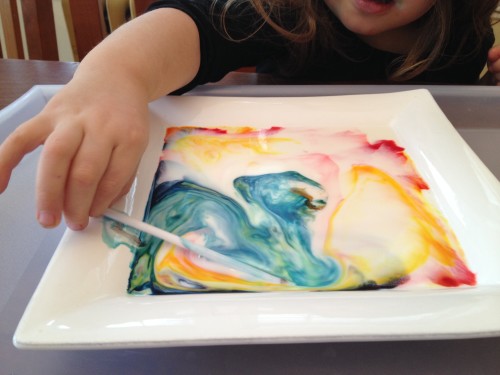 Another idea is to use milk, soap, a q-tip, and some food coloring. First, add milk to a shallow bowl. Then, put drops of food coloring in the center. Dip your q-tip in the dish soap directly into the food coloring and watch the colors scatter and spread across the bowl. Before placing the q-tip in the bowl ask your children to guess what will happen and what pattern might emerge.
Design a Troll
In The Trolls World Tour, Poppy learned that other Trolls existed. These trolls were not fans of pop music but rather appreciated country, classic music, rock, funk, and techno. What surprised me is the music that didn't appear. As a massive Jazz fan (and no not Kenny G) I began to wonder if I designed a Trolls World focused on Jazz music what that would look like? Ask your kids what Trolls they would invent. What would the world look like? What music would they listen to and perform? What would their homes look like?
Color a Rainbow!
If you have a struggling writer, think about using Trolls themed printables to encourage them. Word searches and worksheets with their favorite characters can often times encourage a resistant child to try and sometimes even forget they're holding a pencil in their hand. Check out our Trolls Pinterest Board for more ideas as well as printables and coloring pages!
Tour The Trolls Experience
If you were unable to visit the Trolls Experience in New York City, check out our video below to see all the crazy fun or click on our review!

Read, Read, Read
No Trolls Day would be complete without reading some fun Trolls books. Here are some we recommend:
Those are just some of our favorite Trolls inspired activities. What are yours?
If you like this post you might like!