At Mommy University, we believe that to encourage a love of reading means reading to our children every day; however, there are times you need to pass the torch (at least to grab a cup of coffee). Why not listen to the author of the books instead? Virtual story times are popping up left and right as we are in the beginning of social distancing, so take a look at the options compiled below and finish that mug of caffeinated goodness!
Authors Live and Streaming Story Time
Emily Arrow
Need a musical break? Then join Emily Arrow who will be hosting videos on her YouTube channel. The inspiration for her music are the books she loves!
Alice Aspinall
According to Alice Aspinall, Everyone Can Learn Math! Check out her LIVE reading on Facebook.
Mac Barnett
Mac Barnett, The author of The Mustache, Oh No, and various Jack books will be reading books on his Instagram!
Ben Clanton
Ben Clanton, the bestselling author of the Narwhal and Jelly series and more books, will be LIVE on Mondays at 9:30am!
James Dean
Pete the Cat is a family favorite and now your kids can catch a special story time on Pete the Cat's Instagram with creator James Dean.
Dan Gutman
Dan Gutman is a favorite in our house as my kids love the Weird School series! He will be reading hisbooks LIVE on his Facebook page. During each session, he will read a few chapters.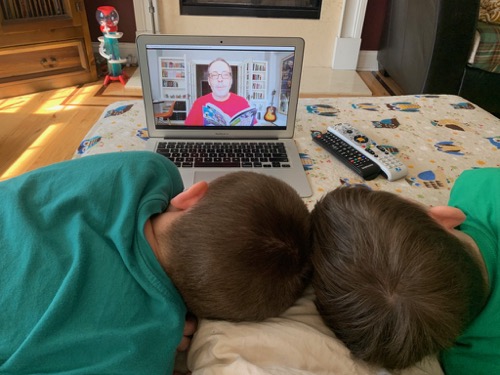 Oliver Jeffers
Oliver Jeffers goes LIVE every day at 2:00 pm on Instagram. This popular author and illustrator of The Day the Crayons Quit and other popular books will certainly be a hit.
Jarrett J. Krosoczka
New York Times bestseller Jarrett J. Krosoczka who has brought the character of The Lunch Lady to life, will be hosting free webcasts and drawing with Jarrett opportunities every week day at 2:00pm from March 16-27, 2020.  If you missed the videos, you can still watch them!
Jeff Kubiak
The author of One Drop of Kindness, Jeff Kubiak, was LIVE on Facebook reading one of his books.  Check his facebook page for other learning opportunities.
Tara Lazar
Check out Tara Lazar's YouTube channel which includes her reading and sharing writing tips. The author of The Monstore, 7 ATE 9, and Three Ways to Trap a Leprechaun will surely delight.
Grace Lin
The author of Dim Sum for Everyone and Where the Mountain Meets the Moon will be reading. Grace Lin will be sharing stories and drawings, so don't miss it!
Jerry Pallotta
If your kids love the Who Would Win? Series then definitely check out Jerry Pallotta's YouTube channel where he is reading his books.
Todd Parr
Check out Todd Parr's YouTube channel which has story time videos posted. He is going to post more! So far he has The Goodbye Book, The Don't Worry Book, and more!
Dav Pilkey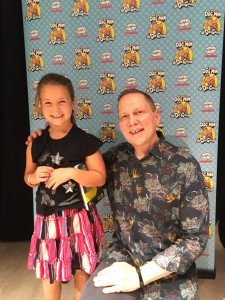 If your kids are as obsessed with Dog Man or Captain Underpants as mine, this this will really be a treat!  Dav Pilkey will be creating weekly videos to teach drawings, how to create a character or act out a part.  Starting April 1 and then each Friday at 8 am a new video and activities will be available.
Peter H. Reynolds
The author of The Dot and Ish, Peter Reynolds, will be going LIVE around noon during select days when schools are closed. Follow his Facebook page to not miss the live reading.
Susan Verde
Susan Verde, the author of the I Am series, will be going LIVE on Facebook on March 19, 23 and 31 at 1:00pm.
Mo Willems
Whether it's the Pigeon or the adventures of Elephant and Piggie, Mo Willems is a favorite author amongst many children. Each weekday at 1:00pm through the Kennedy Center website, Mo will have Lunch Doodles!
Virtual Story Times
Atlantic White Shark Conservancy
Follow the Atlantic White Shark Conservancy as each day March 16-20 they will be sharing an aquatic themed story time at 10:00 am on their Facebook page.  You can click on their LIVE videos.  They are continuing to go LIVE with lessons on anatomy and shark trivia.
Astronauts in Outer Space
Astronauts on the International Space Station have been making story time videos for years and this is a fun way to open the topic about space and STEM topics! (You can even follow along to see where the ISS is flying over.)
Goodnight with Dolly Parton
Starting on April 2 for ten weeks, Dolly Parton will be sharing her love of reading by offering story times each night at 7 pm.
Josh Gad Reads on Twitter
Our favorite snowman, Josh Gad, has taken to Twitter to read books! How cool is it that one of the most well known voices is reading to your children a story?
KidLit Videos
KidLit has put together a wonderful and diverse selections of not only authors reading their books like Bello the Cell and Game Changers but also videos on how to draw characters like Pip from the A Normal Pig.
Language Sprout
The Language Sprout Facebook page is offering a unique opportunity for families everywhere. Each day they will be offering FREE story times in different languages: Spanish, Mandarin, English and French.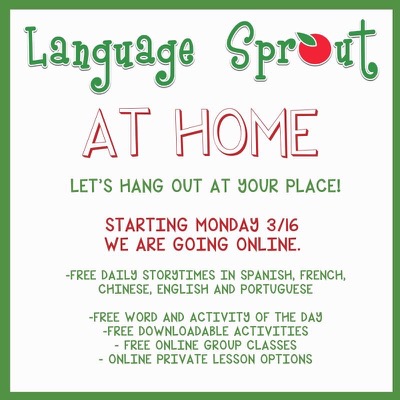 LeVar Burton Reads
A lot of us grew up listening to the tranquil voice of LeVar Burton as he read stories to many generations on Reading Rainbow where he was the iconic host.  LeVar is now back offering story times of favorite stories!  Play his videos to your children so they can develop a love of stories as well!
Michelle Obama
First Lady Michelle Obama will be reading her favorite books on the PBS Kids Facebook page on April 20th at noon!
#SavewithStories
Jennifer Garner invited celebrities to read books on Facebook to not only entertain families but also to raise money for children who rely on free and reduced lunch.
Storyline Online
If you need a few minutes or a quick break from story time, check out Storyline Online where various celebrities are reading different children's stories. From Dule Hill to Kristen Bell, you might be surprised by the variety of books.
Tenafly Nature Center
Nature Centers are a favorite place to visit. Sadly, that is not possible at this time. However, the Tenafly Nature Center is offering virtual story times on their Facebook page.
You might also like: