A little over twenty miles outside New York City is the bustling community of Montclair. This suburban town is known for its thriving art community which is reflected in restaurants, shops, and recreational programs. One gem that deserves to be highlighted is the Montclair Art Museum (MAM) which embodies the significant roles that museums play in our community.
Since its inception in 1914, MAM has been dedicated to collecting American art especially Native American art. The Rand collection has now reached over 4,000 pieces which makes it a notable location to visit. Quickly, MAM had a focus to bring art to the community through classes and workshops from children to senior citizens. Celebrating over 100 years, this cultural hotspot still remains true to its origins while also serving as a host for concerts, Building LEGO event, and more! On a recent tour, we discovered four amazing spaces that offer families hands-on learning while having fun. Here are some highlights of our trip.

4 Amazing Spaces at the Montclair Art Museum
Federico Uribe's Animalia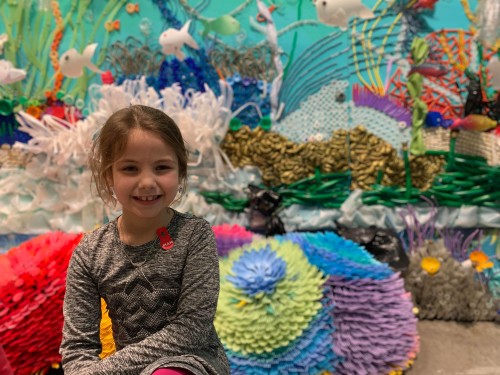 The beauty of nature is brought to life using found objects transforming our trash to artistic treasure. Colombian born artist, Federico Uribe, weaves together animal sculptures using briefcases, tires, and more! In one dedicated corner, you will think you are walking under the ocean and from afar it distinctly looks like the coral reef. As you step closer, you will notice the fish are cut from laundry detergent bottles and reef is colorful plastic utensils. This exhibit is mesmerizing and immersive. Little ones will marvel at finding all the different objects converted to their favorite creature while older kids may want to discuss the hidden message about respecting our environment and wildlife.
Permanent Collection
Located on the first floor is a changing exhibit that focuses on pieces from the permanent collection and in this case we were able to admire Uncaged: Animals in the Collection. Uncaged pulls pieces from MAM's permanent collection that features how artists engage with animal imagery in their artwork. From William Wegman's photography to the role of the coyote in Navajo culture, there is a wild mix of art represented with one common theme.
Rand Gallery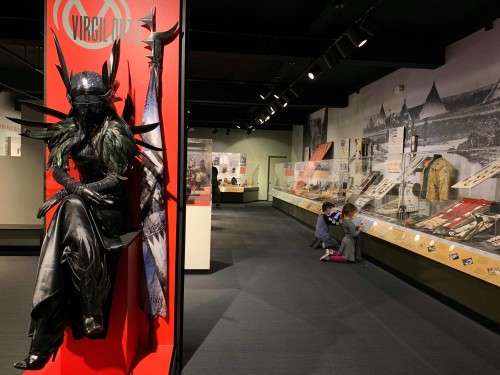 Dedicated to the indigenous art of the United States and Canada, the Rand Gallery is a must do experience at MAM. My son was fascinated with learning about the different nations represented while my daughter had fun recreating motifs she noticed in the traditional clothes using magnetic shapes. While most of the exhibits have focused on history, a new exhibit called Virgil Ortiz: Odyssey of the Venutian Soldiers has transformed and created a storyline using Pueblo Indian history.
Learning Lab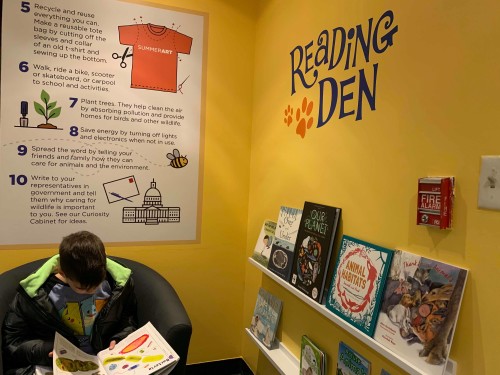 On the third floor of MAM is the child centered Learning Lab. The lab is intertwined with the Animalia as parents are invited to the Reading Den with books that coincide with the main exhibit. Children can also do animal rubbings or origami as well as decorate cards that will be mailed to advocate for the care of wildlife.
As guests of MAM, we were able to taste a sampling of the benefits of membership. We were able to tour all of these amazing spaces as well as experience part of the art programming that takes place in this engaging location. While my children challenged themselves to make animal sculptures with various beads and items, we enjoyed listening to them discuss what they had absorbed.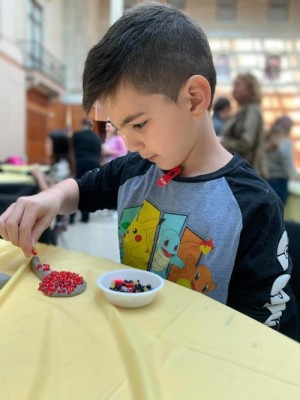 The cost of a family membership is $95 which includes two adults and all children in the household under the age of 18. Members also receive discounts on the Yard School of Art and SummerART camp as well as free admission for 12 months and free access to the Drop in Studio and member mornings! Mommy University readers can now use the code MOMMYU15 for a 15% discount on family memberships!
The Montclair Art Museum is located at 3 South Mountain Ave. Montclair, NJ 07042. MAM is open Wednesday to Sunday during the week
Mommy University Suggestions
Parking is FREE and located next to the museum!
Montclair is a town filled with parks, restaurants and shops. I recommend making a day out of the trip. For instance, check out my favorite donuts at Montclair Bread Company, the best French toast is at Raymonds, or grab some Irish food at the pub Egan & Sons.
MAM participates in Museums on Us as well as Blue Star Museum.
There are diaper changing stations in the women and men's bathrooms.
The museum is wheelchair accessible.
While it is a small museum, they host a robust schedule of activities and events.
You might also like!