With 14 distinctive specially themed areas, Six Flags Great Adventure has transformed its reputation from thrill rides to a holiday destination! Now entering its 5th season, Six Flags keeps expanding their offerings for Holiday in the Park. Stroll through Deck the Halls through Polar Point to Holiday Heroes, admiring the festive lights as you listen to the soundtrack of the season as screams of excitement echo in the air.
What does Holiday in the Park have? The larger question is what doesn't it have – there are our favorite roller coaster rides, character meet and greets, musical shows, and acrobatic seasonal shows. So slow down and take a trip to Holiday in the Park where you can escape the bustling stores and chaotic noise for hot cocoa by firepits and quality family time.

Holiday in the Park Tips & Suggestions
Be Amazed
Great Adventure still offers rides we love like Battle for Metropolis and Skull Mountain but during the holidays they also offer music, shows, and experiences that will warm your heart (even if it's chilly outside). With DJ Tinsel Tunes on Saturday nights playing upbeat music in the Deck the Halls area of the park to Holiday Harmonies on the Holiday Memories Stage, there is so much going on that it is best to grab the Map & Guide and create a plan!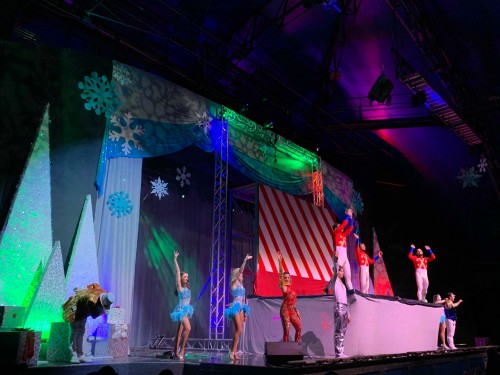 For us, the "must-do" show is Frost! Performed later in the day in the Showcase Theatre, you will be sitting for part of the show wondering how did they do that? From acrobats twisting and turning on the rope to juggling to dancing, it has a bit of everything. Don't worry if you see a long line outside before the show starts, it is quite surprising how many people this theatre can accommodate (and it's a great place to warm up).
Fun for Everyone!
Holiday in the Park still offers the rides your thrill seekers are looking for at Great Adventure while simultaneously offering families seasonal fun each one can enjoy. I recommend picking up a Holiday Passport at one of several locations (North Pole Village, Sweet Treats, Merry Marketplace) that offer activities for children 10 and under. As some in your group are tackling Cyborg or Wonder Woman Lasso of Truth, little ones who are not old enough to ride can earn a stamp. Once they get each stamp, they can turn in their Passport for a prize!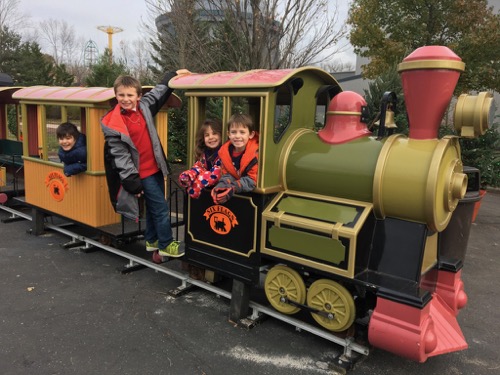 If you are looking for a fun activity that everyone can enjoy then definitely buy passes to the Holiday Craze Mirror Maze! Check out our video to get a glimpse of the silliness and laughter we experiences when walking through this puzzling maze.
Keep Warm
Even though we visited during the second weekend of Holiday in the Park, it was a chilly 40 degrees in the sun which means that as soon as the sun sets or you hop on a ride in the air it will get colder. Primarily this is an outdoor experience, so there are a few things to know.
Dress in layers! Bring gloves, scarf, and a hat. Make sure that you are bundled enough to stay warm but also easily get on and off the rides. Six Flags does a wonderful job of hosting spaces to warm up!
Visit a S'mores Station! There are so many S'mores Stations at Holiday in the Park that are managed by a staff member. Indulge in a s'mores kits which have delicious chocolate covered graham crackers and the sticks you need.

Enjoy a meal! Stop by the Yum Yum Holiday Mornings for biscuits and gravy or to Granny's Holiday Feast to warm up and enjoy classics like Pot Roast and Meatloaf. During Holiday in the Park, there are seasonal options.
Sip Hot Chocolate! Pick up a Holiday in the Park mug for $10.99 and enjoy unlimited refills on that day. The hot chocolate warms you up from the inside and is delicious.
Stroll through the 14 themed areas! Walking around will definitely warm you up as you get to appreciate the stunning lights.
Have your camera ready!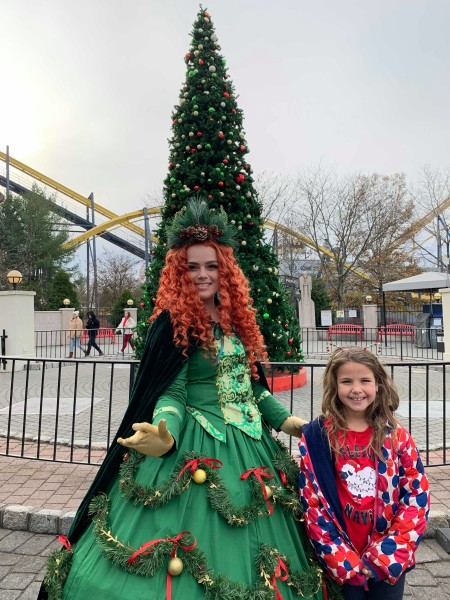 Most of us use our phone as a camera so make sure it is charged and there is room to add photos and videos. There are so many opportunities to take photos such as character meet and greets and holiday lights which can be found in each themed spaces. They still have our favorites like the Poinsettia and Peppermint Princess, Snow Queen and King, but Great Adventure also added Reindeer and the Evergreen Queen.
Don't Forget!

During Holiday in the Park, a massive 52′ tree takes the place of the iconic fountain on Main Street. Each night at 5pm the magic begins. The tree is lit up with changing lights coordinated to the music played overhead, but MY favorite part takes place every half hour when there is a six minute show.
Visit The Claus Family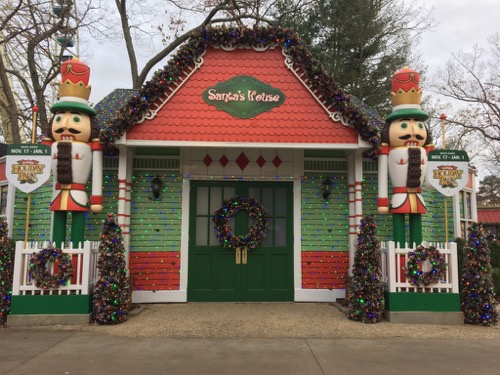 Santa has been living in at Six Flags Great Adventure during the Holiday in the Park, but starting this year you can also visit his better half! Mrs. Claus can be found at the Bugs Bunny National Park Wilderness Theater.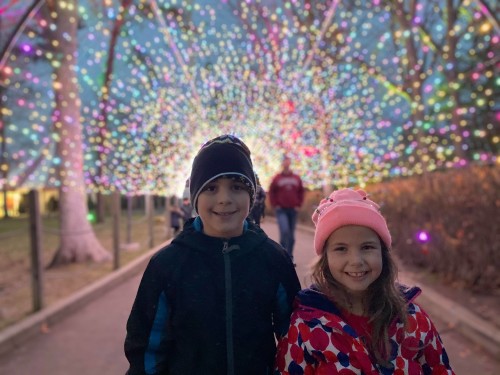 Holiday in the Park takes place on select dates November 16 – January 1 and features more than a dozen shows and activities which will appeal to the young or older family members. The best part is the memories created that the whole family will cherish.
To learn more, please visit the Six Flags Great Adventure website!
If you like this post, you might like!