We are so excited to partner with some amazing toy companies including Little Kids Inc., Kess, Crayola, Creativity for Kids, MindWare, Peaceable Kingdom, Big Mouth Inc. and GAZILLION BUBBLES to bring you these incredible outdoor learning toys!
Get outside and get active this summer with some exciting brain boosting toys!
Kids learn so much by exploring the outdoors and having fun in nature. They engage all their senses and learn life lessons they can't get from staying inside all day. Sure, a good book is great for learning, but being actively engaged in the learning experience helps kids truly grasp concepts in all subject areas.
At Mommy University, we love toys that offer opportunities for learning through play. This spring and summer, we are really excited about all the toys that offer learning experiences OUTDOORS! We have come up with a list we are sure you and your children will love! (Amazon affiliate links are included to make your shopping experience easier.)
Play & Learn Outdoor Toy Guide 2019
Crayola Sidewalk Chalk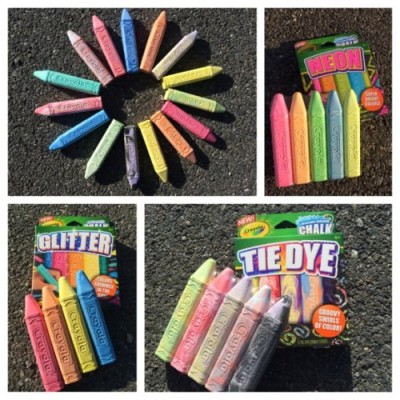 Sidewalk chalk offers so many benefits such as enhancing fine motor skills, increasing academic knowledge and encouraging an appreciation of art. This season, explore the benefits of sidewalk chalk with your children by using the Crayola line, Special Effects! It takes everyday chalk and adds even more spark and creativity. Available in Tie Dye, Neon, Glitter and Color Core, this chalk will offer new and unique ways to color and create! Neon, Glitter and Tie Dye can all be found on the Crayola website and Amazon.
Drop Dots (Kess)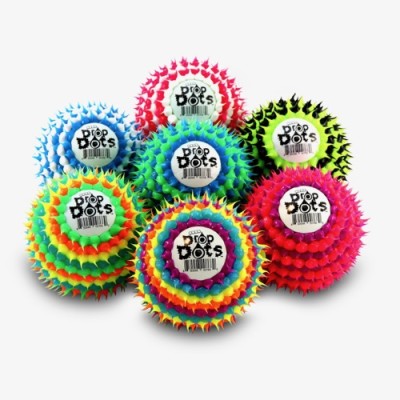 Drop Dots are bright and colorful bounce balls that offer a sensory twist! They have a spikey texture offering tactile input. The spikes also help kids better grip the ball making them easier to throw and catch. Drop Dots are perfect for playing at the beach, playground, park, campground and more. They can even be played with indoors during a rainy day. Drop Dots can be purchased at Target, Kmart, Party City and Amazon.
Fubbles Bubbles (Little Kids Inc.)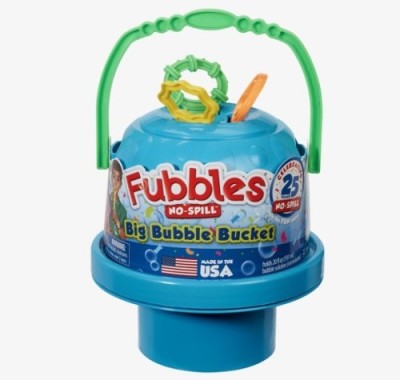 I have been a huge fan of Little Kids Inc. bubble buckets for a long time. Not only are they the perfect size for kids to carry, they also DON'T SPILL! You heard me correctly! If your little one drops it, throws it or dumps it over, none of the bubble solution comes out. The set comes with 3 wands perfect for playing with siblings and friends. This bucket can also be purchased with other designs such as PAW Patrol, Dora, Sponge Bob and Ninja Turtles. All Fubbles Bubbles products can be found on Amazon.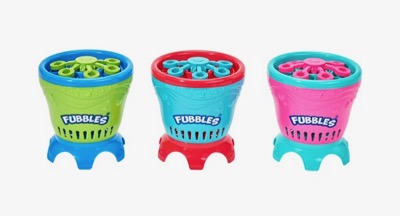 Fubbles Bubbles also offers the Sky High Bubble Machine that little ones will LOVE! With a continuous flow of bubbles, kids will be entertained for hours. Its small size makes it perfect to bring to the park, playground or beach. The Sky High Bubble Machine is recommended for ages 3 and up and is under $10 on Amazon.
Magic Bean Garden (Creativity for Kids)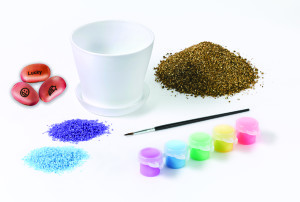 Children have an active imagination which is why the Magic Bean Garden from Creativity for Kids will inspire them to look for magic everywhere! First, they express their creativity by decorating the pot that will hold their plant. Then, children plant their magic beans just like Jack did but instead of taking them to find a giant, they will discover hidden messages when their bean plant emerges. This is an enchanting activity that sparks imagination and an interest in gardening. For $15 on Amazon, this is a wonderful project!
Paint Your Own Stepping Stone (MindWare)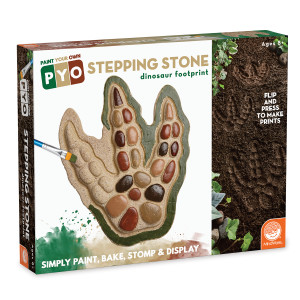 We are strong believers in the Paint Your Own Stepping Stone from MindWare. In fact, each year my children have requested to do this activity with gusto. From butterflies to mandalas, there are so many options and the collection keeps expanding. This year, Mindware added a dinosaur footprint to appeal to your budding paleontologist! Not only are children having fun while working on fine motors skills and creativity, but this activity also helps them develop an interest in gardening. This set can be found for $25 on MindWare's website.
GAZILLION Bubblecycle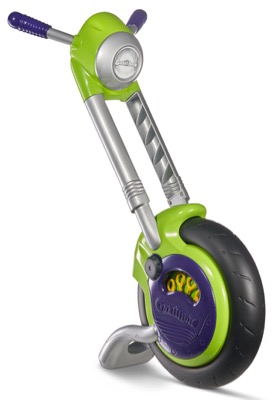 I absolutely LOVE this bubble toy. It is a new and unique spin on outdoor bubble fun. As the Bubblecycle is pushed over grass, the driveway or sidewalk, the motor spins and the engine rolls like a real motorcycle. This encourages hours of pretend and imaginary play. It comes with an 8 oz. bottle of GAZILLION Premium Bubbles solution. Bubblecycle is recommended for ages 3 and up and can be purchased for under $15 on Amazon.
GAZILLION Bubble Rush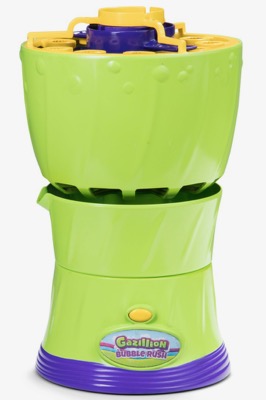 If you are in the market for a new bubble machine, then you have to check out the GAZILLION Bubble Rush! Set the machine up outside and watch the kids play for hours. It offers a no-spill, 3-sectioned design with a removable washable top, solution recycling tray and base where the batteries and motor are sealed. Bubble Rush is recommended for ages 3 and up and can be purchased for under $20 on Amazon.
Ice Hoop (Kess)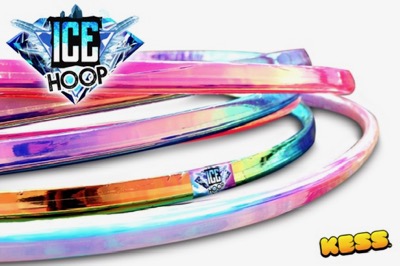 Kids will LOVE this one-of-a-kind hoop! Not only does it come in eye-catching colors, it offers patented Film and V-Grip Technology that allows for longer-lasting play. The shape is also made to enhance tricks and performance style. It is also available in a new light-up version. The Ice Hoop can be found at Target and BJs for under $5.
Paw Patrol Sea Patrol Water Backpack (Little Kids Inc.)
Take water play to the next level with the Paw Patrol Water Backpack! The pack holds over 33 oz. of water and blasts water up to 30 feet away. The straps are adjustable making it a great outdoor toy for all ages. What a fun way to engage in pretend and imaginary play outside! It can be purchased for under $20 on Amazon.
Reusable Sticker Totes (Peaceable Kingdom)
One of the best experiences in the summer is getting outside where children can run and play, but don't be surprised if they need some time to relax for a few minutes peacefully. The Reusable Sticker Totes are wonderful to keep in your travel bag, road trip bag or even beach bag. They give kids a few minutes to relax before embarking on more outdoor fun. The totes contain different scenes that they can decorate with the stickers. Priced under $15 on Amazon, they come in so many varieties that there is one perfect for your child. From Ninjas to Butterflies to Zoo, they can absolutely complement any summer learning projects as well.
Wicked Big Sports Shuffle Toss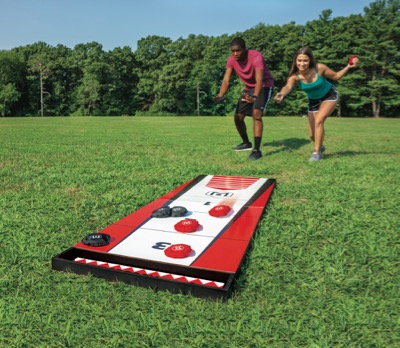 Last year, we brought you Wicked Big Pong, KickBall and Flip Cup. This year, we are so excited to share Wicked Big Sports Shuffle Toss. The set comes with a foldable board and 8 bean bags. Players just have to toss the bean bags to try and earn the most points. It is the perfect game for a day at the beach, a BBQ in your backyard or an afternoon at the park. Shuffle Toss can be purchased at Dick's Sporting Goods and Bed Bath and Beyond.
Pool Floats (BigMouth Inc.)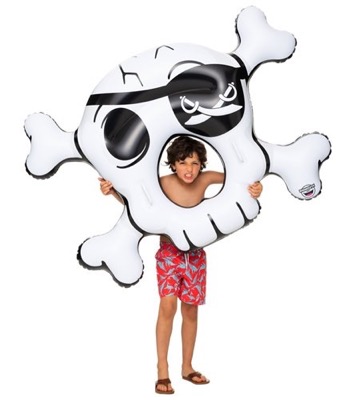 Get the kids even more excited for a day at the pool, lake or beach with the fun and unique pool floats from BigMouth Inc. Kids will have fun while feeling more confident each time they enter the water when they bring their floats with them. The Kiddo Floats are perfect for ages 4-8 and are designed to encourage play. The Skull and Crossbones float (pictured above) is 5 feet wide and equipped with handles. It is easy to inflate, deflate, clean and store. The regular pool floats, like the American Flag pictured below, are perfect for ages 8 and up. BigMouth Inc. floats can be found on Amazon or at your local store like Michaels and Christmas Tree Shops.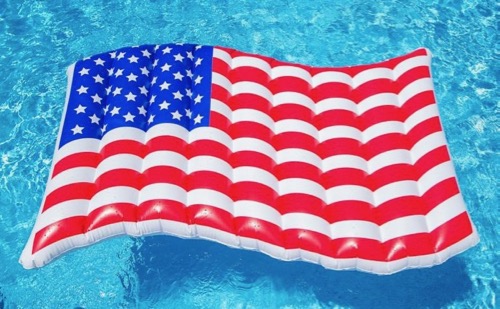 Gigantic Beach Blanket (BigMouth Inc.)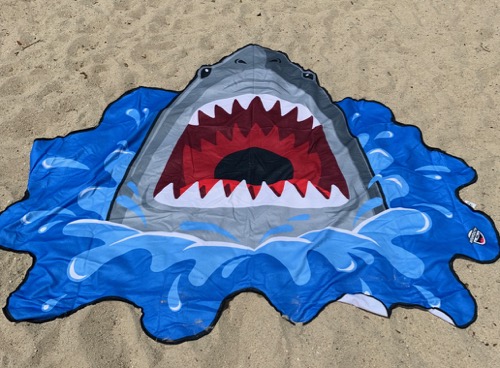 Encourage pretend and imaginary play at the beach this summer with the Gigantic Beach Blankets from BigMouth Inc. They come in a variety of designs such as a shark, donuts, pizza, an avocado, rainbow and much more. New this year are Stranger Things themed blankets too! The blankets are light and soft making them perfect not only for a day at the beach, but also a day at the park or a night at an outdoor summer concert. The Gigantic Beach Blankets can be found on Amazon.
Cute Riders  (Viking Toys)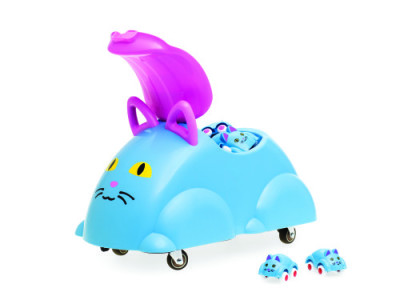 The adorable Cute Riders from Viking Toys offers the classic ride on toys we love with additional storage underneath the seat. Whether the cute kitty pictured above, panda or leopard, this toy is designed for children 1-5 years old. It can be used indoors or outside and encourages children to enhance motor skills as well as independent play. Priced on Amazon for under $65, this toy is perfect for a day of play outside!
We hope you have enjoyed our list of amazing outdoor toys! Keep checking back because we will be adding more brain boosting toys as we find them! Which one is your favorite?
You may also enjoy: