Shopping for little ones can be difficult sometimes. Either you are so overwhelmed with the selection that you want to get everything OR you can't find anything you like. Plus, at that age, they can't tell you what they want (although that may be a good thing). Over the years we have been introduced to some amazing brain boosting toy companies that help children start the learning process beginning at a very young age. From sensory toys such as rattles and teethers to walkers that teach cause and effect, toys for little ones offer amazing developmental benefits.
Since there are so many toys out there, I thought it would be helpful to put together a list of some of our favorites. We wanted to include toys that our kids have loved over the years along with some new innovative toys we have found at recent events. In this guide, we are focusing on toys recommended for babies through 3 years old. We hope this list helps you in preparing for your little ones arrival, purchasing birthday and holiday gifts or just showering the kids with learning opportunities! We have included Amazon affiliate links to make your shopping experience quicker and easier.
Play and Learn Gift Guide for Little Ones
Hudson Glow Rattle (PlayMonster)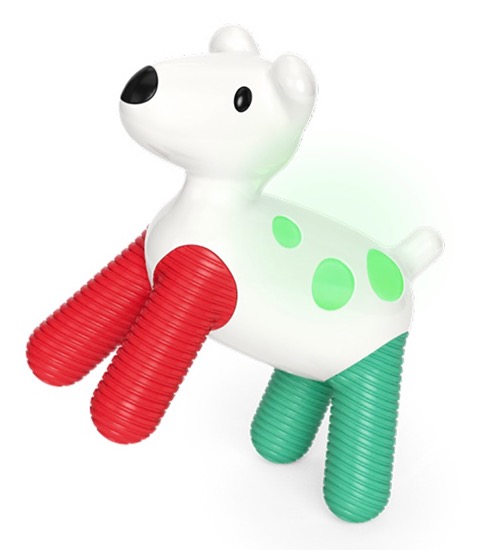 Engage all your baby's senses with the adorable Hudson Glow Rattle. He is a motion activated rattle so he also helps your baby learn cause and effect beginning at a young age. He glows both red and green depending on the direction he is moved. Hudson has textured legs making him perfect for teething too! Hudson is a perfect gift for a baby shower and baby's first Christmas. He can be found on Amazon for under $25.
Dolce Plush Teether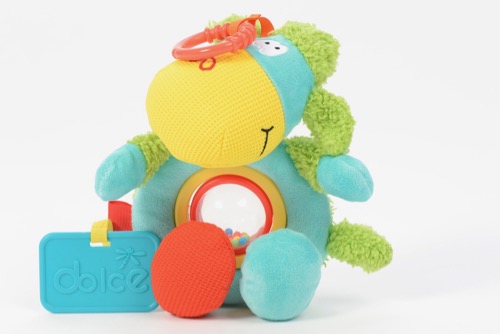 Engage all your baby's senses with the adorable Plush Teethers available from Dolce. This holiday, your little ones can snuggle with and chew on Santa, a Reindeer, Snowman and Penguin. They will also love other styles like the pony and the lamb. These bright and colorful toys help kids self-regulate while they learn through play. The teethers are available for a variety of prices on Amazon.
Sing and Snuggle Scout and Violet (LeapFrog)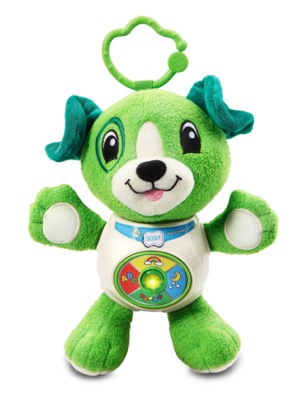 Get your kids excited about learning starting at an early age with Sing and Snuggle Scout and Violet from LeapFrog. These adorable plush interactive toys will engage your little one's senses with colorful buttons and lights as well as educational songs about shapes, colors and letters. It is perfect for playtime at home, but can also be clipped to your child's car seat and carrier for on-the-go learning fun! These adorable toys will become your child's new best friend. They cost under $10 on Amazon.
Eco-Friendly Teether (Lanco)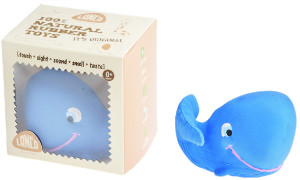 Teethers are a natural part of having a baby; however, Lanco has been producing eco-friendly ones that offer a wide variety of designs. Since teethers are made to be in a baby's mouth, it is good to know that these are 100% natural rubber that is non-toxic, BPA, PVC and Phthalate free and colored with food Grade dyes. You can have elephants, whales, hearts and teddy bears to name a few. Available on Amazon for under $25, these are always appreciated by moms (and babies).
BABU Roller (MindWare)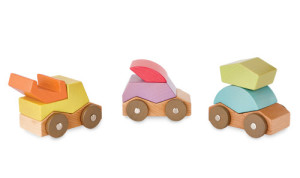 Even at a young age, babies six months and older can play with a toy that combines building with the joy of cars! With the soft colors, this gender neutral toy can be appreciated by all members of the family. The modular car set includes 3 bases and six tops so cars can be converted into a truck or camper. Priced under $25 on Amazon, this is the perfect gift for little ones!
Chat and Count Emoji Phone (LeapFrog)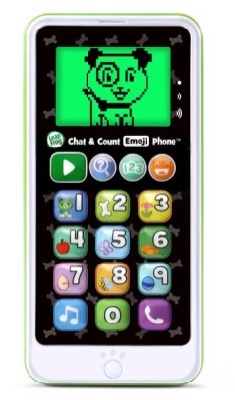 Let's face it, kids today LOVE playing with technology especially our cell phones. That's why LeapFrog created Chat and Count Emoji Phone for children ages 18 months and up. Now, they have their very own "phone" that helps enhancing learning! Little ones will enhance receptive and expressive language skills as they talk to Scout and engage in pretend conversations. While playing, children will also learn numbers and basic math concepts. This adorable Emoji Phone is under $15 on Amazon!
2-in-1 Light Up Music Maker (Playgro)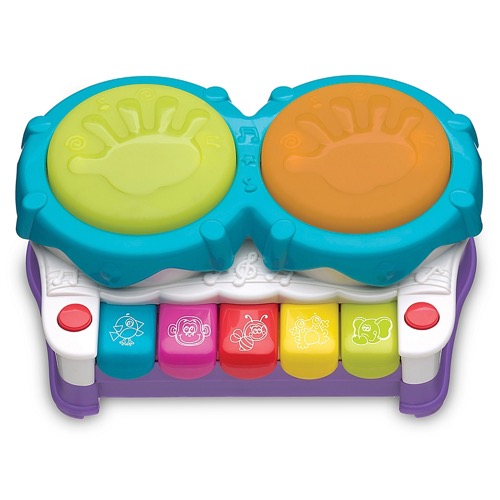 Let your littles artist express their love of music with the 2-in-1 Light Up Music Maker from Playgro. Recommended for ages 1 and up, this adorable toy offers a multi-sensory learning experience. With the bright colors, lights and sounds, kids will engage all their senses as they build motor skills. Little ones will also enhance their understanding of cause and effect. The Music Maker can be purchased Amazon.
Pull and Discover Activity Elephant (VTech)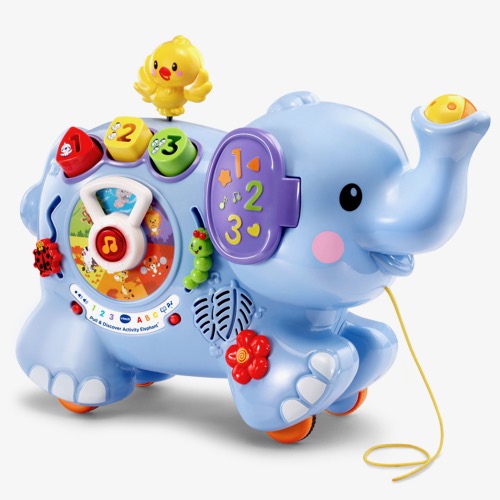 Little ones ages 12-36 months will love playing and learning with the new Pull and Discover Activity Elephant. This multi-sensory interactive toy encourages kids to get moving while enhancing important fine and visual skills. With the bright colors, fun music and exciting lights, your child will enjoy hours of learning through play. Kids can learn shapes, colors and animals with the shape sorter feature which also enhances motor skills. Cause and effect is also introduced as the elephant plays music when pulled. This adorable toy is available at Walmart and perfect for the little on your holiday list!
Go Go Smart Wheels Minnie's Ice Cream Parlor (VTech)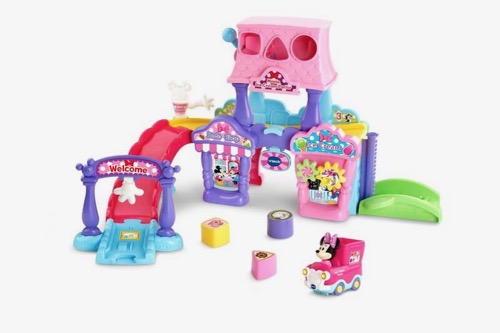 One of our absolute favorite toy lines is Go Go Smart Wheels. Each set encourages imaginary and pretend play while enhancing academic knowledge and fine motor skills. With VTech's partnership with Disney, this set has become even more amazing! Minnie's Ice Cream Parlor is perfect for little ones who LOVE Disney. As kids zoom Minnie along the tracks, the car activates SmartPoints that teach various skills such as letter and number recognition. This playset also includes a shape sorter, spinning gears and movable parts. This Ice Cream Parlor will keep kids playing for hours (without the sugar)! It is recommended for ages 1 and up and can be purchased on Amazon for under $30.
GearZooz Roll and Roar Animal Train (VTech)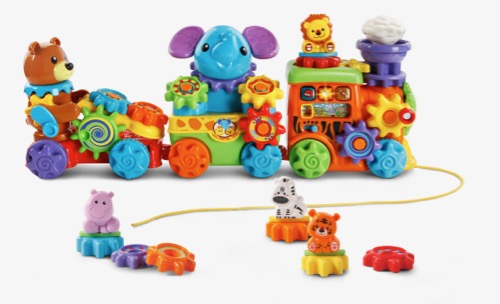 Introducing kids to STEM concepts beginning at a young age has amazing developmental benefits. As little ones play with the new GearZooz Roll and Roar Animal Train, they will gain an understanding of cause and effect as they push and pull the train as well as begin to build problem solving skills as they put the train together and take it apart. Kids will also enhance fine motor skills and academic knowledge such as colors, shapes and object identification. This fun toy offers a multi-sensory learning experience as it has different sounds, textures and colors. The Roll and Roar Train is under $30 on Amazon and recommended for ages 1.5-4 years old.
Learning Friends 100 Words Book (LeapFrog)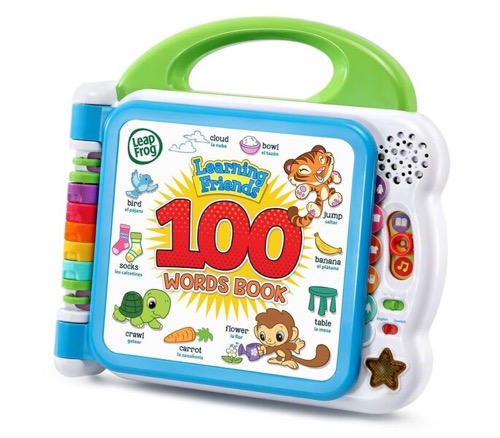 This exciting book from LeapFrog helps kids expand their vocabulary and word recognition skills in both English and Spanish. This book engages the senses as it also offers touch activated sounds including songs, sound effects and facts. The 100 Words Book is perfect for learning at home, in the car, on a road trip and more. It is also a great addition to any day care and preschool classroom. This book is for ages 18 months and up and is under $20 on Amazon.
2-in-1 LeapTop Touch (LeapFrog)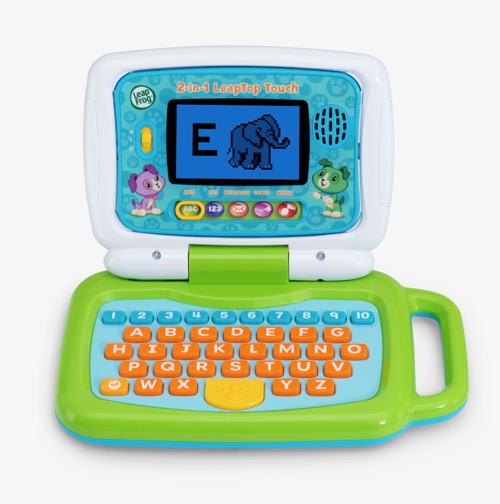 Kids love learning through play especially when technology is involved! The 2-in-1 LeapTop Touch lets kids play with their own laptop while learning letters and numbers. This toy features a keyboard with A-Z and 1-10 number buttons while also offering a touchscreen for more ways to play and learn. It can also be turned into a tablet just by swiveling the screen around. There are 5 modes of learning: ABCs, numbers, games, music and messages, all of which teach important academic and cognitive skills that prepare kids for school. This toy, recommended for ages 2 and up, comes in green and pink and is sold at Walmart for under $20.
Scoop and Learn Ice Cream Cart (LeapFrog)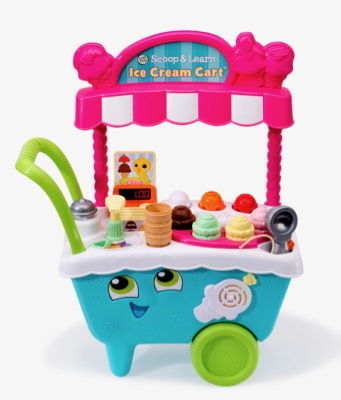 Whether it is to create their own ice cream shop, make dessert for the family or pretend to be the local ice cream man, the Scoop and Learn Ice Cream Cart is perfect for encouraging pretend play. We were introduced to this adorable new set at Toy Fair 2017 and instantly fell in love with it. Kids will enhance fine motor skills as they "scoop" their ice cream, but they will also build language, social and academic skills while playing. This toy is recommended for ages 2-5. This set can be found at Walmart for under $40.
Georello Junior (Quercetti)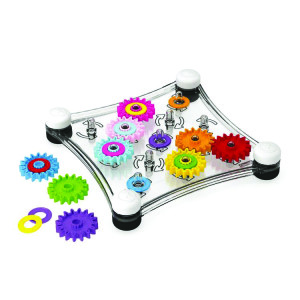 With the spinning gears, patterns will emerge as little hands turn the wheels. The Georello Junior is designed for children as young as age 2 and will keep them captivated and playing for endless time. They can match the gears' colors to the knobs which is great for building color recognition. Children can play with it laying flat or propped up, and due to its size it also travels well.  Priced under $30 on Amazon, this toy will is great for gross motor skills, pattern recognition, and entertainment.
Stack & Build Cups (KidSource)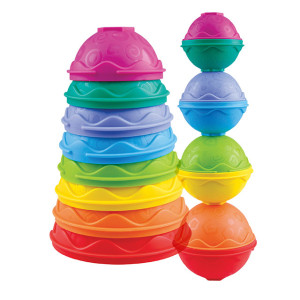 With bold colors, the Stack & Build Cups from KidSource includes eight cups where babies can explore different methods and strategies to build. They will learn about size and color as they interact with the cups but most importantly they will have fun as they make their own creations. As they are playing with the cups, they are developing their fine and gross motor skills and hand eye coordination. Priced on Amazon for less than $25, this is a great gift for babies 12 – 36 months.
Chugga Choo (Peaceable Kingdom)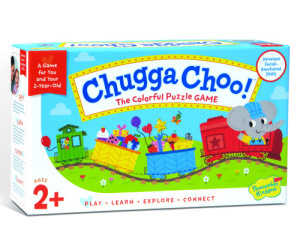 Peaceable Kingdom makes phenomenal cooperative games, and they have recently introduced board games for toddlers! Chugga Choo is a game that teaches two-year olds about color identification, spatial recognition and decision making skills Priced under $20 on Amazon, the little engineer in your life will enjoy chanting "Chugga Chugga Choo Choo" as they solve this puzzle.
Cute Riders  (Viking Toys)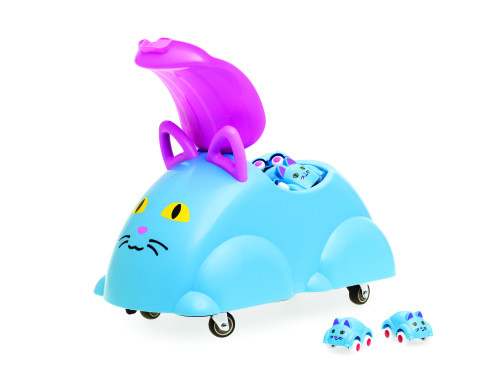 The adorable Cute Riders from Viking Toys offers the classic ride on toys we love with additional storage underneath the seat. Whether the cute kitty pictured above, panda or leopard, this toy is designed for children 1-5 years old. It can be used indoors or outside and encourages children to enhance motor skills as well as independent play. Priced on Amazon for under $65, this toy is a perfect addition to help celebrate a child's first birthday!
Baby Hand Print Gift Kit (Buttonbag)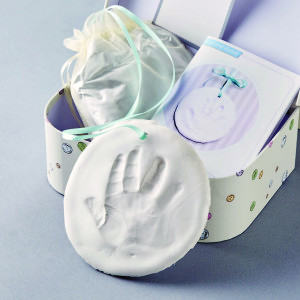 While most gifts on this list will be focused on developmentally supporting a baby, there is still gifts that help celebrate the arrival of the precious addition to the family. The Baby Hang Print Gift Kit includes all the supplies needed to make two prints. The print of a hand to decorate the Christmas tree or a footprint to decorate the nursery, there are so many options of how this gift makes a keepsake. Priced under $25 on Amazon, the set will make a thoughtful gift that will be cherished.
You may also enjoy: