We are so excited to bring you this year's Play and Learn Holiday Gift Guide. We are thrilled to partner with so many amazing and award-winning companies who provided many of the brain boosting toys on this list so we can share them with you this holiday season.
Since even before I was a parent, when I purchased a toy for a child, I made sure it had a purpose. For me, a toy has to encourage learning, development and growth in some way otherwise what is the point? Toys and games should stimulate the brain, make kids think and reason and/or spark the imagination. Children learn through play so we have to make sure that play is meaningful!
After careful consideration, and several Mommy University reviews, we have come up with a list of over 35 toys that you are sure to LOVE this holiday season. This list is broken down into 5 categories: Academic/Cognitive, The Arts, STEAM, Pretend Play and Motor. Since EVERY toy chosen also encourages growth in the area of language development, a separate category is not needed for this area. Amazon affiliate links are included to make your gift buying experience easier!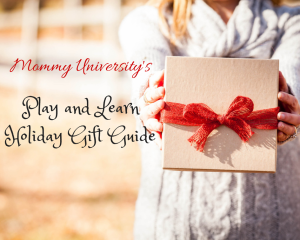 Academic/Cognitive
Storytime Buddy (LeapFrog)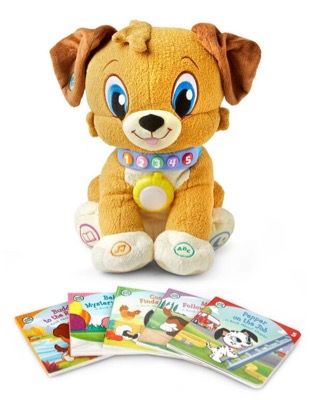 Encourage a love of reading in a unique and fun way with Storytime Buddy. This adorable dog comes with 5 books that he will read aloud. Beginner readers can also read along with Buddy. While reading, kids will also learn academic concepts such as shapes, numbers and colors as well as an understanding of emotions. Reading comprehension is also enhanced when Buddy asks kids to answer questions about the stories. Buddy will also read bedtime stories or play lullabies to help children fall asleep. Buddy is for ages 2 and up and can be purchased for under $30 on Amazon.
Go Go Smart Wheels Minnie's Ice Cream Parlor (VTech)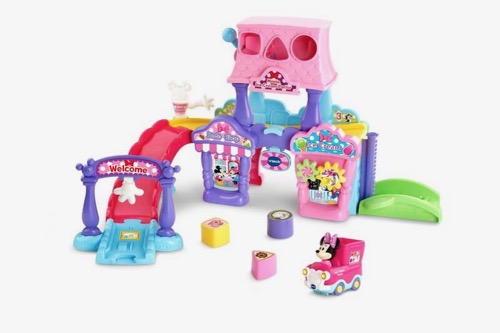 One of our absolute favorite toy lines is Go Go Smart Wheels. Each set encourages imaginary and pretend play while enhancing academic knowledge and fine motor skills. With VTech's partnership with Disney, this set has become even more amazing! Minnie's Ice Cream Parlor is perfect for little ones who LOVE Disney. As kids zoom Minnie along the tracks, the car activates SmartPoints that teach various skills such as letter and number recognition. This playset also includes a shape sorter, spinning gears and movable parts. This Ice Cream Parlor will keep kids playing for hours (without the sugar)! It is recommended for ages 1 and up and can be purchased on Amazon for under $30.
Dig it Up! Dinosaur Skeletons (MindWare)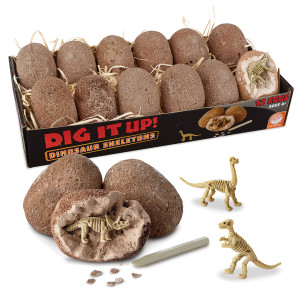 The budding paleontologist in your life will be fascinated with the MindWare Dig It Up! Dinosaur Skeleton set. It includes 12 eggs that contain various dinosaur fossils. After being soaked in water, kids can chisel out the dinosaur. After the prehistoric creature has been revealed, children can compare it against the included guide to learn more about it. The Dig It Up! Series is a family favorite because it requires patience, promotes fine motor skill development and enhances academic knowledge. Priced at less than $25 on the MindWare website, this toy is designed for children ages 4 and older.
Learning Friends 100 Words Book (LeapFrog)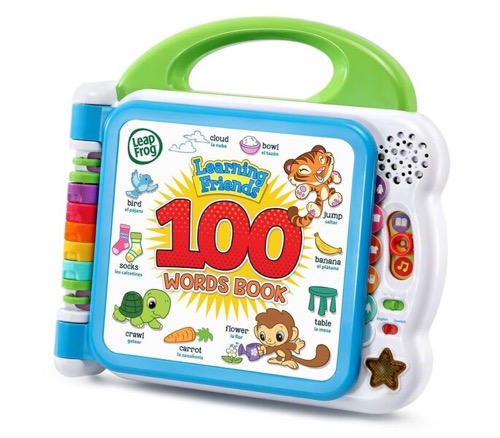 This exciting book from LeapFrog helps kids expand their vocabulary and word recognition skills in both English and Spanish. This book engages the senses as it also offers touch activated sounds including songs, sound effects and facts. The 100 Words Book is perfect for learning at home, in the car, on a road trip and more. It is also a great addition to any day care and preschool classroom. This book is for ages 18 months and up and is under $20 on Amazon.
Q-Ba-Maze 2.0 Starter Lights Set (MindWare)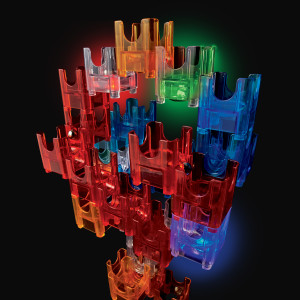 We are massive fans of Q-Ba-Maze 2.0 which is a marble run that your children build, innovate and redesign however they want. This STEM toy enhances critical thinking and problem solving skills, and the best part is that after it is built, kids just want to keep putting marbles through their creation. MindWare enhanced their own design by adding rotating lights in the Starter Lights Set. When the marble hits a section with a light, it will flash a different color. This adds a fun twist. You can buy this as a standalone set or to add to your growing sets. You can read our review about Q-Ba-Maze from last year here. Priced at less than $35 on Amazon it is a toy that will keep everyone entertained.
The Incredibles Save the Day Game (Wonder Forge)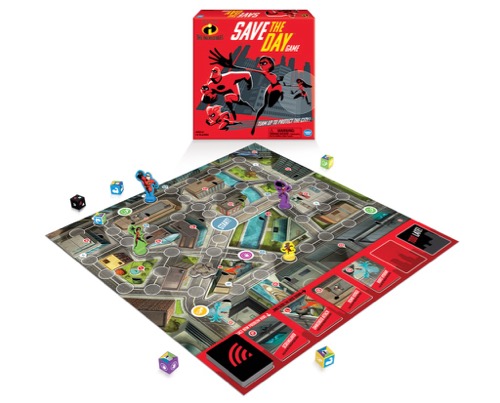 Save the day just like The Incredibles in this new game of strategy and critical thinking by Wonder Forge. Like other Wonder Forge games, this is a cooperative game that can be played with up to 4 people. Players have to work together to solve a problem which enhances teamwork, communication skills, social skills and reasoning skills. This game is recommended for ages 6 and up making it a perfect choice for family game night. The Incredibles Save the Day is available on Amazon.
Dropt It (Thames and Cosmos)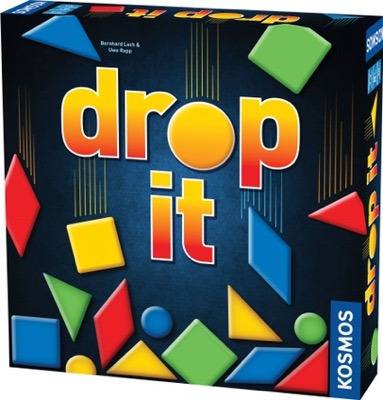 Drop It is a unique game that offers endless learning fun. As players drop the shapes into the drop zone, they are using problem solving, spatial reasoning and visual-perceptual skills. For little ones, it can focus on more basic concepts such as shape and color recognition. Players earn points as they build which can also help enhance basic math concepts. This game is recommended for ages 8 and up and is available for under $30 on Amazon.
Laser Chess (ThinkFun)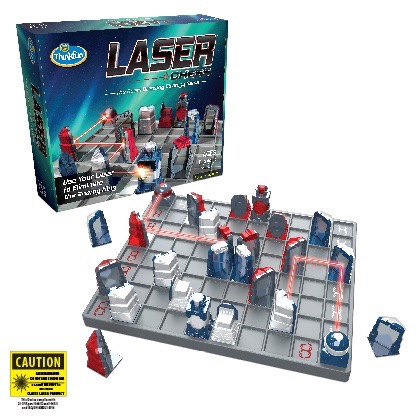 If you are looking for a game full of strategy and STEM learning, then Laser Chess is the game for you! It is a 2-player game for ages 8 and up that helps players enhance spatial organization, perceptual reasoning, visual perception and problem solving skills all while having fun. To play, you move a mirrored piece around the game board then fire a real laser beam from your laser. If the laser bounces from mirror to mirror and then hits a non-mirrored surface, that piece is removed from the game. If you light up your opponent's King, then you WIN! Now that is a fun way to play chess! This game is under $30 on Amazon.
Smash Talk (MindWare)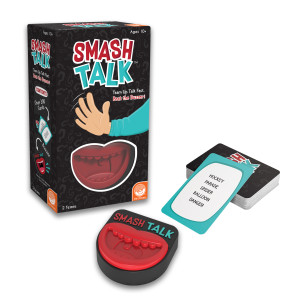 Smash Talk will not only challenge your kids to think fast on their feet, but it will get them thinking about their vocabulary too! Recommended for children ages 10 and older, players are given a card that consists of five words. Teammates give clues but each turn the buzzer moves more quickly. Two teams are competing to win the game but have to be prepared to move or rather think quickly. Available on MindWare for less than $25, there will be plenty of laughter on family game night.
Cat Crimes (ThinkFun)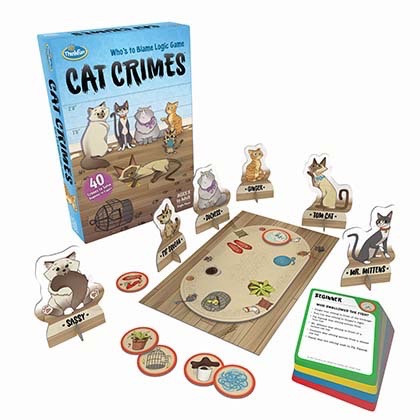 If your family loves cats, then you will love this new interactive game from ThinkFun. Players have to figure out which sneaky cat was responsible for the crime. This game enhances problem solving, critical thinking and reasoning skills. It also helps children build important focus and attention skills. This game is recommended for ages 8 and up, and can be found on Amazon for under $15.
Disney Villianous (Wonder Forge)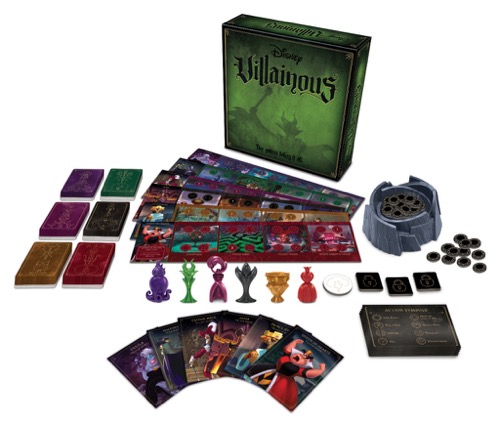 Disney families everywhere will LOVE playing Disney Villianous from Wonder Forge! This fun game of strategy features 6 of your favorite villians (Maleficent, Ursula, Jafar, Captain Hook, Queen of Hearts and Prince John) along with Fate Deck cards that feature beloved characters like Ariel, Peter Pan and Robin Hood. Villianous can be played with up to 6 people and is recommended for ages 10 and up. Players must use strategic thinking and problem solving to make sure their villian completes their objective. Disney Villianous is available for under $35 on Amazon.
The Arts
Crayon Melter (Crayola)
Get creative with the new Crayon Melter from Crayola. My son loves the original crayon melter which allows kids to make new crayons. This new and innovative melter gives an entirely new life to crayons. Artists insert an unwrapped crayon into the melter, and when ready, the melter is used like a pen to make new textured creations. Kids can decorate canvas, wood, pottery and more. It is perfect for school projects or even making crafts for a craft fair. The possibilities for creativity are endless. The Crayon Melter can be found for under $25 on the Crayola website and Amazon.
Young Artist Learn to Watercolor Set (Faber Castell)
Faber Castell has vibrantly bold and high quality art supplies that offer the youngest artists sets to get their creativity flowing. The Young Artist Learn to Watecolor Set comes in its own clear bag filled with tools and equipment to help children explore watercolor. This set comes with 12 bright watercolor cakes, two brushes, watercolor paper and tips to get your child to explore this style of art. Priced for less than $18 on the Faber Castell website, you can also find them at Michaels.
Dinosaur Stencils (Quercetti)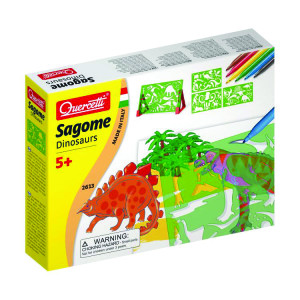 Designed for children ages 4 and older just when they are obsessed with learning about dinosaurs, the Dinosaur Stencil set from Quercetti makes a great set to encourage young children to draw. Included in the kit is 4 stencil sheets, 12 markers and an album. Your little budding artist or paleontologist will be building beautiful dinosaur images and stories. Priced for less than $10 on Amazon, this is a great set to promote creativity.
Pixel Photo Art Set (Quercetti)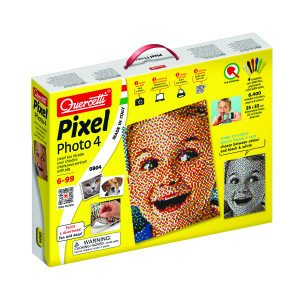 The concept has long existed in the art world where tiny images can create a larger image and Quercetti takes that concept from computer to frame. The Pixel Photo Art Set transforms a printed photo into a pattern sheet that kids can attach tiny pegs to in order to create a framed piece of art that can be placed on your wall. Recommended for children ages 6 and older, it is priced on Amazon for less than $35.
Finger Knitting Kit (Buttonbag)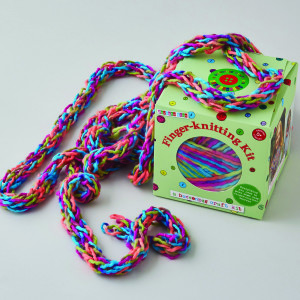 Introduce your child to knitting without needles! In fact, there are a lot of children that learn to knit using this method which is why Buttonbag put together a bright and bold set. Priced for $13 on Amazon, this is a great gift for the budding artist or a child that can improve their hand strength or fine motor skills. Designed for children ages 5 and older, it will keep kids busy as they are learning a new skill!
Real Cooking Mini Tarts (Skyrocket)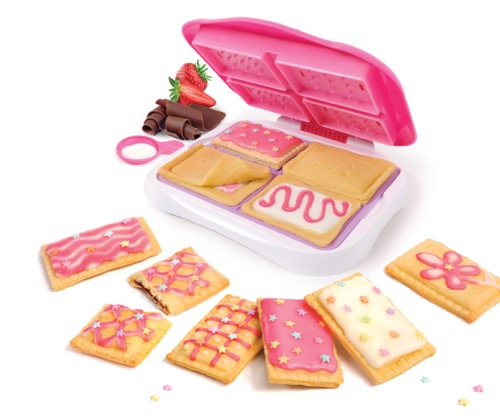 Get the kids cooking with their very own cooking set. This adorable set lets kids create their own delicious pastries. The set comes with the pastry maker and food ingredients to make several different treats. The baker just needs to add eggs and milk. This is the perfect gift for your budding chef. It is under $20 on Amazon.
Trink-A-Links Pet (MindWare)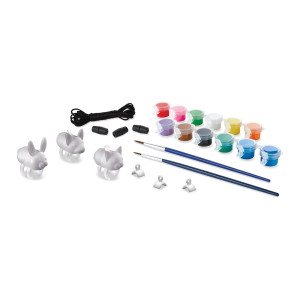 If you have a child who loves adorable animals, then the Trink-A-Links Pet set might be that crafty gift that keeps them engaged. Children can paint the several animals included (bunny, cat or dog) which can then be added to necklaces are standalone. They can also mix the animals up or mix the Farm Set. Priced at $12.95 on Amazon, this is an affordable set for children ages 8 and older.
Dragon Egg Surprise Bath Fizzies (Creativity for Kids)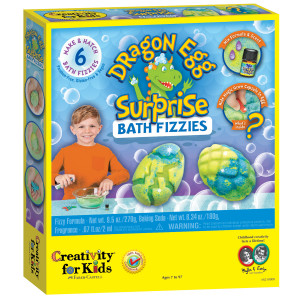 While bath fizzies have become very popular with teens and tweens and most of the designs have focused on feminine designs, there are a lot of boys who would love to play with this activity too! That is why Creativity for Kids has released the perfect set, Dragon Egg Surprise Bath Fizzies! This set contains all the necessary supplies to make 6 bath fizzie eggs. It is a wonderful set that can be given to any child in your life. This set is designed for kids ages 7 and older, and is priced at $16 on Amazon.
Tube SuperStar (ZURU)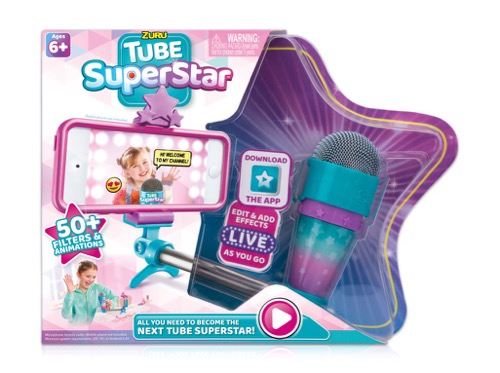 If your kids love to perform, then this is the gift for you! Tube Superstar allows kids to create exciting and unique videos using the included microphone and FREE app. There are filters, animations, special effects, editing features and more. Who knows? Maybe your child will be the next YouTube sensation! Tube Superstar is recommended for ages 6 and up, and can be purchased for under $10 on Amazon.
Mandala Spirogiro (Quercetti)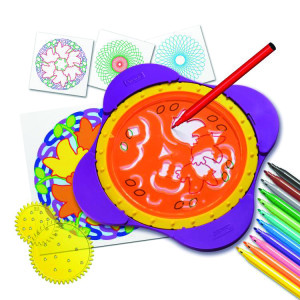 Similar to a spirograph, the Mandala Spirogiro from Quercetti introduces children to a new creative outlet! Budding artists move the different gears inside the central board to set up different patterns that resemble mandalas. Each pattern can be colored using the 12 provided markers. Children will create their own patterns and artwork while at the same time improving fine motor skills and hand-eye coordination. This set can be found on Amazon for under $25.
Motor
Chrono Bomb Night Vision (PlayMonster)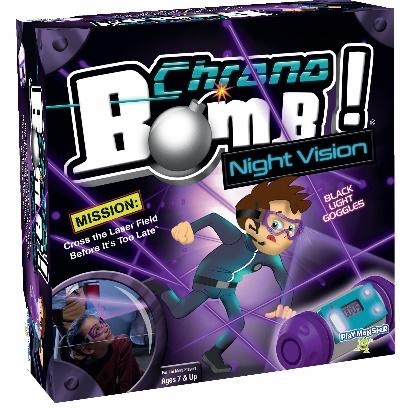 If your kids are like mine, then they love trying out those cool laser mazes where they crawl under and climb over lasers scattered throughout a dark room. Well, now with Chrono Bomb Night Vision, kids ages 7 and up can create their own laser maze right at home! Using a 37-foot string and clamps, players can make a laser field to creep and crawl through. Kids wear UV goggles to illuminate the string creating a laser beam affect. Since the maze is created using a string not actual lasers, Chrono Bomb can also be played during the day. This is an awesome game to help enhance fine and gross motor skills as well as problem solving, spatial awareness, visual scanning and critical thinking. Chrono Bomb is under $20 on Amazon.
Max Build More Blocks (ZURU)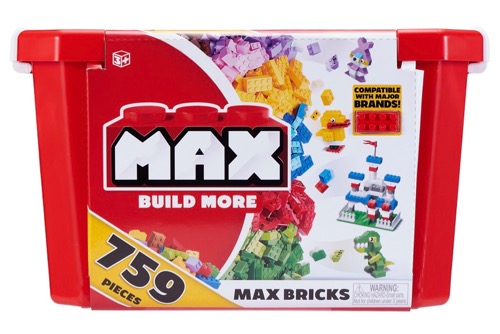 If your kids love to build, create and play, then they are going to LOVE Max Build More Blocks! These high quality building bricks will inspire hours of learning fun while building fine and visual motor skills, spatial awareness, creativity and problem solving skills. Max Build More sets come in a variety of sizes such as the 253 bricks pack, 250 piece accessory pack, 15 figures pack, 759 piece set and Max Blocks base plates. These sets can be purchased at Walmart and Amazon.
Don't Rock the Boat (PlayMonster)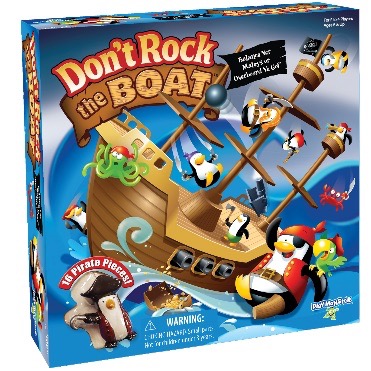 I love games that help improve important cognitive skills like spatial awareness, problem solving and visual planning and organization. I love a game even more when it also offers a fine motor component like building hand-eye coordination, visual motor skills and motor planning. Don't Rock the Boat helps kids improve all of those skills and more all while having fun! To play, players take turn placing pirate pieces on the pirate ship without knocking it over. The person who makes the boat tip over and all the pieces fall off loses. It is a fun game recommended for ages 5 and up and it can be purchased for under $20 on Amazon.
Lite-Brite Ultimate Classic (Basic Fun)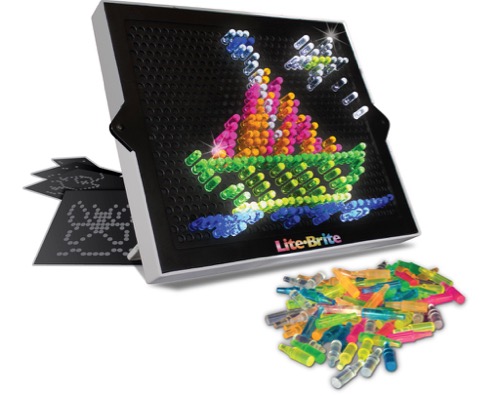 When I was a kid, I absolutely LOVED playing with Lite-Brite which is why I am so happy it has returned for my children to enjoy! This new version of Lite-Brite features a bigger screen, brighter pegs and more templates. Once the creation is made, it can be lit up in four different ways. This great retro toy that helps build fine motor skills while enhancing art skills is also affordable as it is under $20 at Amazon.
Magic Shapes (Edushape)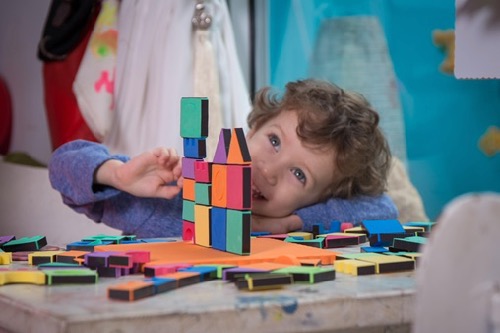 Kids (and adults) can enjoy hours of learning through play with this innovative playsest. Magic Shapes come in a variety of shapes and colors that can be used to help children enhance basic academic concepts. As they build, they are also enhancing fine and visual motor skills, problem solving skills and spatial awareness. Building also encourages pretend play. Each shape has a gentle magnetic receptor around the perimeter allowing them to easily attach to each other. The building opportunities are endless. This set also comes with a EZ clean-up jar. It can be purchased for under $20 on Amazon.
Disney Scrapbook Puzzle (Ravensburger)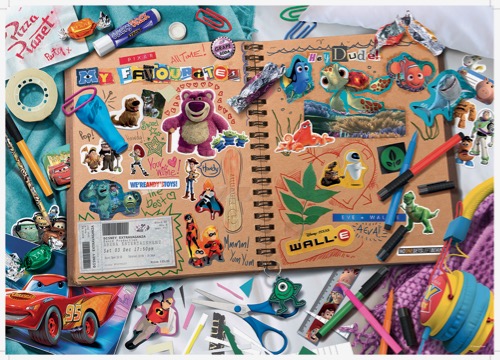 We all know that puzzles help build important cognitive skills but they are also wonderful for enhancing fine and visual motor skills along with spatial awareness. Ravensburger is well-known for there incredible puzzles and the Disney Scrapbook puzzle is no exception. Disney fans will LOVE this puzzle as it highlights some of the most loved characters from movies like Toy Story, Finding Nemo and Monsters Inc. This puzzle can be found on the Ravensburger website and Amazon for under $20.
STEM/STEAM
Shadows in the Forest (ThinkFun)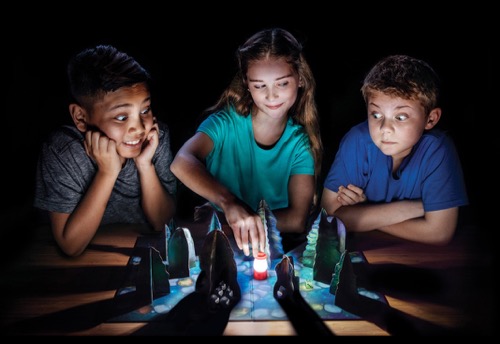 I love how creative and innovative ThinkFun is when creating brain boosting games. Shadows in the Forest is no exception. Players ages 8 and up have to work together to strategically hide their Shadowlings (mysterious creatures that avoid the light) while another player tries to find them by using an LED lantern. What makes this game really unique is that you play in the dark! The lantern causes the trees to cast real shadows on the game board where the Shadowlings can hide. What a fun way to learn important scientific concepts. This game is under $20 on Amazon.
Skyrail (Quercetti)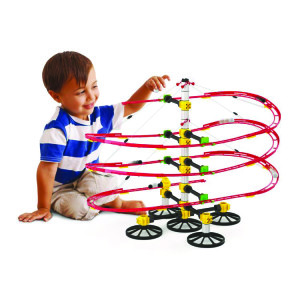 Children are inquisitive by nature and building sets help them to design as well as problem solve. The Skyrail system encourages children to build their own marble set on a suspension track. With 16 feet of track, they are observing physics in action. Priced for less than $30 on Amazon, the Basic Set is a great starter set for children ages 7-14 years old.
Color Chemistry Lab Set (Crayola)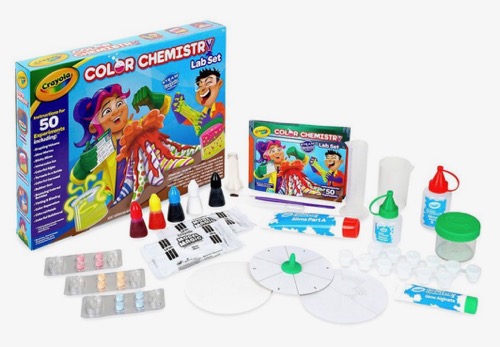 This exciting and innovative set from Crayola combines art and science for endless fun and learning. The set comes with materials to conduct 16 experiments right out of the box while the instruction booklet offers a total of 50 at-home activities the entire family will love! From an erupting volcano to gooey slime to colorful algae, your little chroma-chemist will love experimenting with color and science. The set is recommended for ages 7 and up and adult supervision is recommended. The Color Chemistry Lab Set can be found on the Crayola website and Amazon for under $25!
My Fairy Garden (PlayMonster)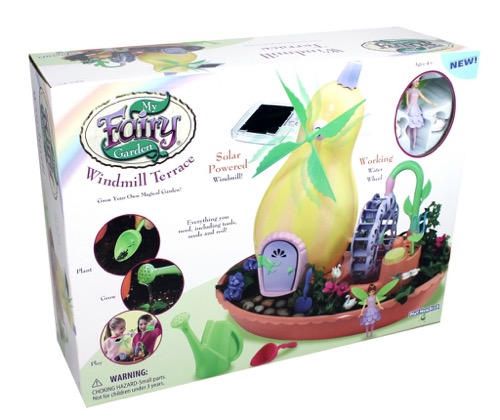 I love that PlayMonster combines art and science with their My Fairy Garden. Kids can use their creativity and imagination to create a real garden. This encourages a love and understanding of nature and science. Windmill Terrace enhances STEAM knowledge even more by offering solar power. It has a moving windmill that, when powered by the sun, activates a water wheel that scoops up water in the pond. My Fairy Garden sets come with seeds and soil along with beautiful decorations. It is recommended for ages 4 and up and sells for under $25 on Amazon.
Ooze Labs Chemistry Station (Thames and Cosmos)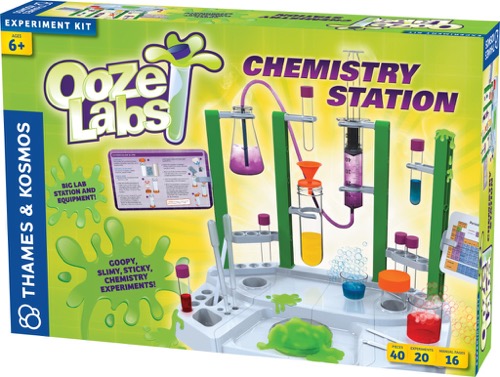 Your budding scientist will LOVE this new set from Thames and Cosmos. The Ooze Labs Chemistry Station will allow kids to experiment, discover and learn all while having fun. The set comes with various pieces that will make kids feel like real chemists. It also comes with instructions to complete 20 experiments. The Chemistry Station is recommended for ages 6 and up and is under $40 on Amazon.
Kids First Coding and Robotics (Thames and Cosmos)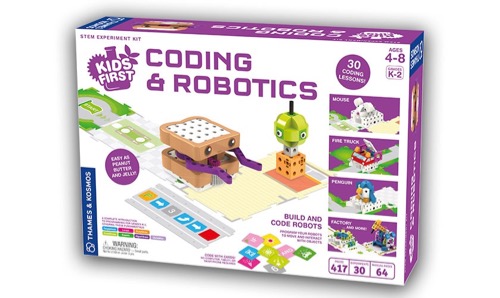 Children ages 4-8 years old will have blast learning to build and code their very own robot, Sammy. This adorable peanut butter and jelly robot teaches kids the basic principals of coding without the use of a tablet or computer. Code cards are layed down by the child, and when Sammy drives over the cards, an OID optical scanner is used to read the cards and load the program. Sammy can be programmed to make various moves as well activate lights and sounds. What a fun way to introduce physical engineering concepts and enhance problem solving skills! Sammy is under $130 on Amazon.
Magformers Sky Track Playset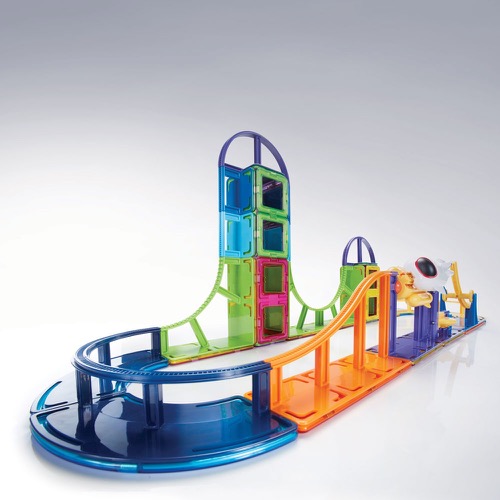 Kids will build, create and play for hours with this fun and exciting Magformers playset. This special edition set comes with 44 pieces including a sky shuttle which also makes it perfect for encouraging pretend and imaginary play. Kids can create various tracks that offer twists, turns and even loops. While building, kids will build important fine motor, visual-spatial and problem solving skills. This playset is under $130 on Amazon.
Pretend Play
Harry Potter Wizard Training Wand (Jakks Pacific)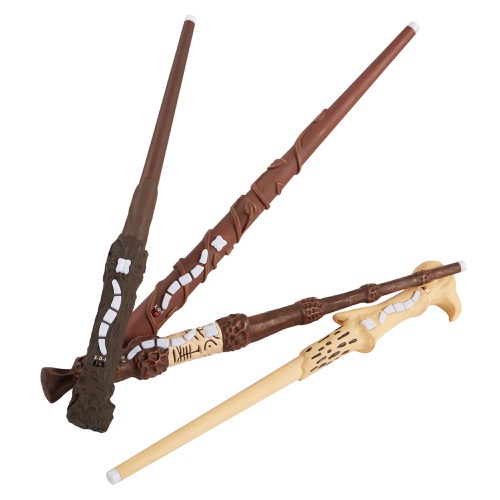 If you can't get to Hogwarts, then bring Hogwarts to your house! Harry Potter fans of all ages are going to LOVE these new interactive wands from Jakks. They come in 4 styles: Harry Potter, Dumbledore, Voldemort and Hermione (only at Walmart). Each wand comes with 11 spells that you can cast by performing the correct movements. When done correctly, lights and sounds will be activated. After you have mastered each spell, you can engage in the Spell Practice mode to compete with a friend with speed and accuracy. The most exciting mode, however, is probably Wizard Tag, where wand holders can "tag" each other using the power of their wands. These magical wands can be found at Target, Kohl's, Walmart and Amazon for under $25!
Gear Club Unlimited 2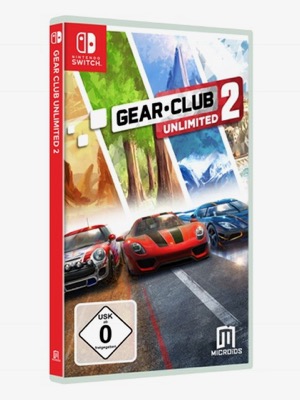 If your child loves playing with the Nintendo Switch, then are definitely going to want this new game this holiday season! Gear Club Unlimited 2, released December 4, brings even more action, excitement and adventure for players who love to race. With over 1800 miles to drive on and more than 250 races across 4 diverse and challenging environments, players will enjoy hours of racing fun! Gear Club Unlimited 2 also offers over 50 spectacular cars like Porsche, Viper, Lotus and McLaren (to name a few). Whether you are racing, engaging in story mode, personalizing your garage or customizing your own race car, players can engage in never-ending pretend play individually or with friends. Gear Club Unlimited 2 can be purchased on Amazon for under $50.
Yeti, Set, Go (PlayMonster)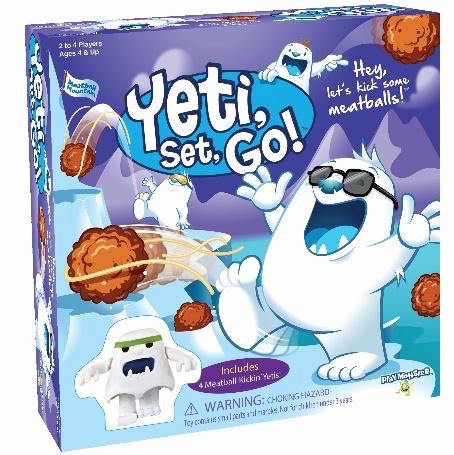 My kids absolutely LOVE the award winning game Yeti in My Spaghetti so it is only fitting that the new game Yeti, Set, Go would be their holiday wish list this year! In this fun game, players have to help 4 yetis kick their meatballs up the mountain. It is a fast-paced game for children ages 4 and up and can be played with 2-4 players making it perfect for a play date or family game night. It does not require batteries which is another PLUS for parents. It is under $20 on Amazon.
Hairdorables (Just Play)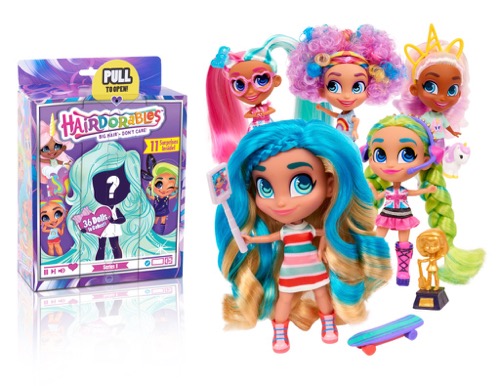 Unboxing toys has reached a new level with Hairdorables! Each Hairdorable includes several surprises that your child reveals before they find out which character they received. The Hairdorables collection consists of 12 unique characters each with their own personality reflected in their interests and tastes. Although there are a dozen characters, they have three options each which means there are actually 36 different dolls to collect! We currently own four of these and you can read about our review here. On Amazon they are under $15 but you can also find them at Target or Walmart.
Little Live Pets Rollie (Moose Toys)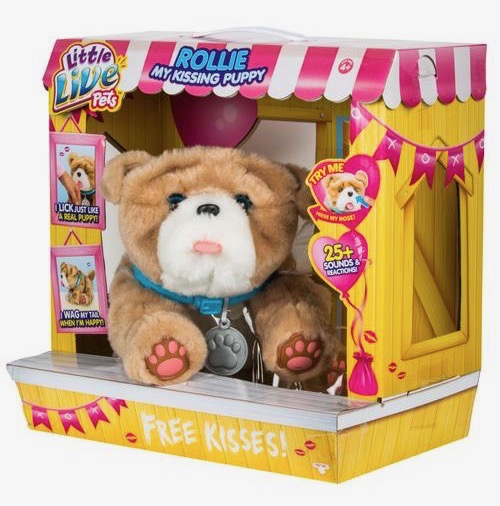 Has your child been begging for a pet but you are just not ready to take the plunge? Well, Moose Toys has saved the day with Rollie from the Little Live Pets collection. Rollie is an adorable and lovable stuffed dog that moves and sounds just like a real puppy! He wags his tail, gives kisses, sleeps and even snores. Rollie is a great way to help kids get ready for a real pet by teaching them responsibility. He also inspires pretend play and enhances the imagination. Rollie can be found on Amazon for under $50.
Rainbocorns (ZURU)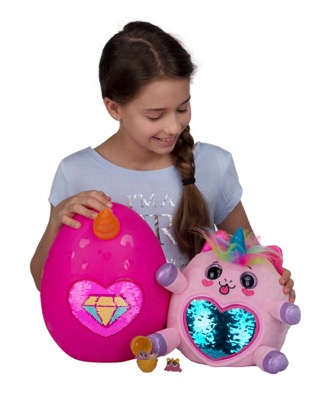 We love toys that encourage pretend play, but we love them even more when they also meet sensory needs. Rainbocorns are adorable plush characters with a sequin heart on its belly which is wonderful for meeting tactile sensory needs of children. Each Rainbocorn comes with a tiny collectible baby along with other fun surprises. This adorable new toy is recommended for children ages 3 and up and can be purchased on Amazon for under $25.
Giganotosaurus (Mojo)
Pretend play is when children engage their imagination to think about careers, stories and dinosaurs (of course). Having high quality figurines opens the door for them to think about what they are learning about these prehistoric creatures as well as incorporating their own creativity. Mojo produces hand painted figurines that are highly realistic and can be found on Amazon (prices vary).
Disney Junior Doc McStuffins Pet Rescue Mobile (Just Play)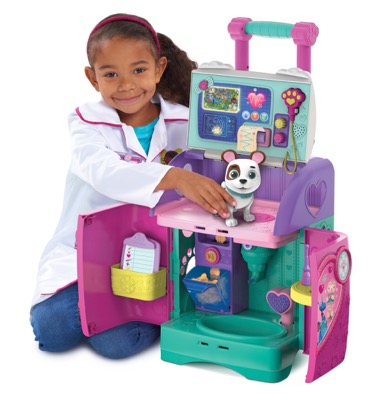 This holiday season, encourage imaginary play with the Doc McStuffins Pet Rescue Mobile playset. This adorable and unique toy offers a multi-sensory play experience children will love and want to enjoy for hours. Not only does this toy enhance language and motor skills, it also fosters life and social skills as kids learn to care for their "pets" which teaches empathy, compassion and responsibility. The playset comes with Oliver so kids can pretend they are a REAL doctor. This set is under $50 on Amazon.
Aloka Lights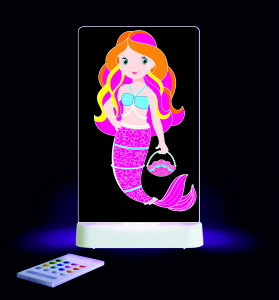 To help children drift into dreamland, projecting positive images helps them to think soft and sweet thoughts before they dream, and Aloka Lights can help them on their journey. The remote allows children to select which color (there are 12 options) and you can select between a light or a night light. For under $20 on Amazon, this is a wonderful option. Other varieties are also available such as dinosaurs, spaceships, unicorns and owls. There are over 30 designs to choose from!
Jurassic Park Danger! (Ravensburger)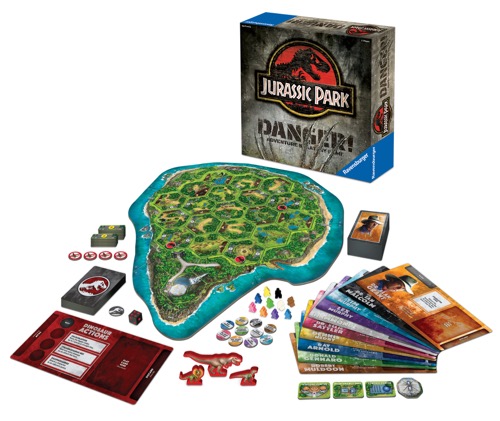 Go on a prehistoric adventure with the new Jurassic Park Danger! board game from Ravensburger. Players will head to Isla Nebular and try to escape the dinosaurs. One player controls the dinosaurs while the other players work together to make it to safe ground. Each character has unique abilities that will help him/her defeat the dinosaurs. This is a fun game that enhances strategic thinking, teamwork and dinosaur knowledge while encouraging pretend play. Jurassic Park Danger! can be purchased at Target for under $25.
We hope you enjoyed our Play and Learn Gift Guide for 2018! Keep checking back because we will be adding more amazing gifts soon!