The fall is a wonderful time to make crafts with kids. While the pie is baking in the oven, take out the paper, glue and scissors and start creating. There are so many fun arts and crafts projects kids can enjoy in the fall but in this post, I am going to highlight some of our favorite turkey crafts. These crafts are perfect for at-home fun as well as in preschool classrooms. They are also a perfect way to get kids ready and excited for Thanksgiving!
Turkey Crafts for Kids
Hand and Footprint Turkey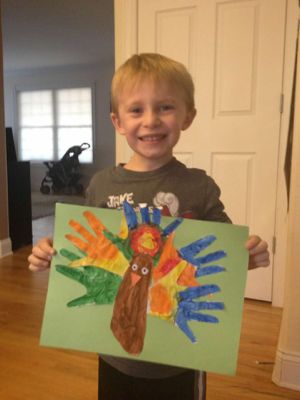 Nothing symbolizes fall quite like a turkey! Not only is this craft adorable, it is a great way to make a keepsake using your child's hand and foot print. All you need for this craft is glue, paper, paint and scissors. First, trace your child's foot and hand onto a piece of paper. Second, cut the foot out and have them paint it brown. Third, cut out 4 or 5 handprints and have them paint those as well. Lastly, glue all the pieces onto a piece of construction paper to resemble a turkey!
Toilet Paper Roll Turkey (with handprints/footprints)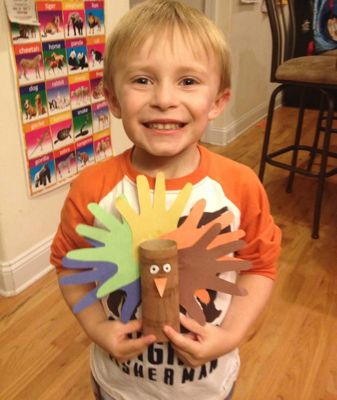 This adorable turkey is one of my favorite crafts! All you need is a toilet paper roll, multi-colored paper, scissors, glue and paint. First, have your child paint the roll brown. While it is drying, trace your child's hand and cut out 5-6 different colored handprints. Once the roll is dry, glue on the handprints. Lastly, make a beak out of an orange triangle and eyes out of the paper (any color you choose). Easy right?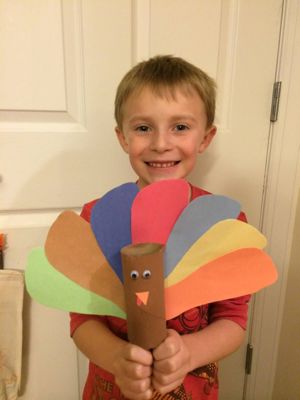 This craft can also be made using your child's foot! Instead of tracing your child's hand, just trace their foot onto construction paper and cut out the foot shaped feathers. Then glue them to the toilet paper roll. Now you have 2 unique crafts to place on the mantle or the center of your Thanksgiving table!
Thankful Turkey
Thanksgiving is a time to teach our children about giving back and being thankful for the things they have in life. I decided to create Thankful Turkeys one year to help encourage my kids to think about the things they are grateful for. We made turkeys out of toilet paper rolls like above, but instead of handprints, we just cut out traditional feathers out of construction paper. Then on each feather my son wrote one thing he was thankful for.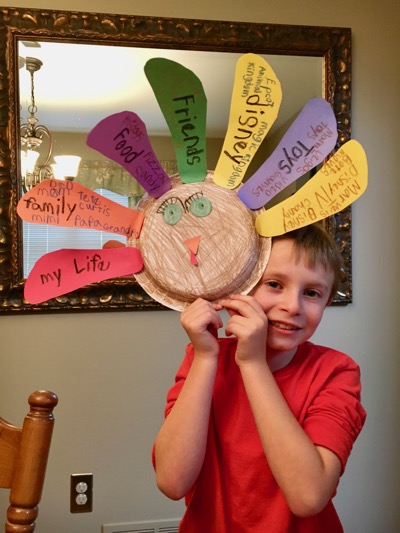 Another year, we decided to complete another version of this craft as my son was older and had a better understanding of what he was thankful for. For this Thankful Turkey, we made feathers out of footprints and glued them onto a paper plate turkey. To make the turkey, my son colored the plate with a brown crayon but you can also paint it or use markers. Then he cut out eyes and a beak out of construction paper and glued them on the plate. Last, my son wrote on each feather things he was grateful for having. It was nice to see what changed and what remained the same.
Paper Plate Turkey (with handprints)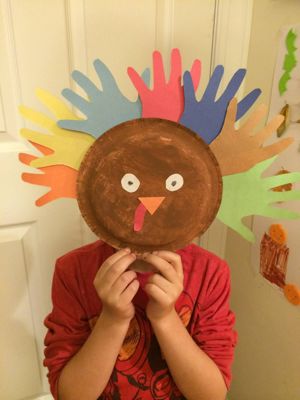 This is an easy craft to make at home or in the classroom. All you need is a paper plate, brown paint, construction paper, glue and scissors. First, have the child paint the plate brown. While drying, have them cut out white and black circles to make eyes as well as a triangle for a beak. (You can also use googly eyes instead.) Next, trace the child's hand (or have them trace their own hand) onto construction paper. Then cut out the handprints. Let the child cut out as many hands as they would like. Once all the pieces are cut, glue them onto the plate. That's it! These turkey plates also make adorable masks or puppets!
Turkey Treat Cups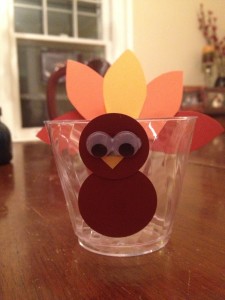 You will need a clear plastic cup, googly eyes, and construction paper. Cut out two circles on brown construction paper as well as feathers in different colored paper. You can tape or glue the circles on the cup. Cut small yellow triangles for the beak. Glue googly eyes on the top circle as well as the yellow beak. Glue the feathers on the back of the cup. These are great to hold snacks or chips on Thanksgiving or for a themed party at daycare.
All About Me Turkey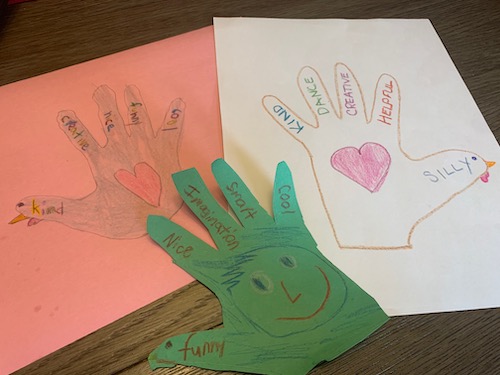 A unique spin on the traditional turkey craft is to make an All About Me turkey. Have your child trace their hand to make a turkey. Then have them draw a heart or happy face in the middle. On each finger, have them write a word that describes them. They can also write down things they are good at. This is a fun social emotional learning craft.
What turkey crafts do you like to make?
You may also enjoy: