"It was all started by a mouse!" ~ Walt Disney
When people hear the word "Disney," many iconic figures pop in their heads: Cinderella, Snow White, Aladdin, Donald…the list goes on. In fact, if you have a young child today, they may even mention Doc McStuffins, Vampirina or a character from Bunk'd. BUT Disney fans know that it really all started with a mouse, Mickey Mouse to be exact!
On November 18, 1928, the animated short film "Steamboat Willie" directed by Walt Disney was released. This black and white film was the first Disney cartoon to have synchronized sound. It also introduced the most iconic animated character of all time, Mickey Mouse! Since then, November 18 has been referred to as Mickey's birthday.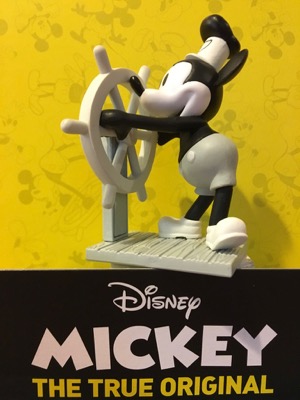 Over the past 90 years, Mickey has made a lot of changes. Besides adding color to his signature red shorts and yellow shoes, Mickey's facial features have changed over the years as well. For example, did you know that in 1939, Mickey went from having solid black eyes to white eyes with pupils? Then in the 1950s, he was given eyebrows which were later removed. From comic strips to animated shorts to his first full length feature (Fantasia) to television shows, Mickey has become a beloved household name. He is a character children and children at heart love and respect. So let's celebrate his 90th birthday with some fun family activities!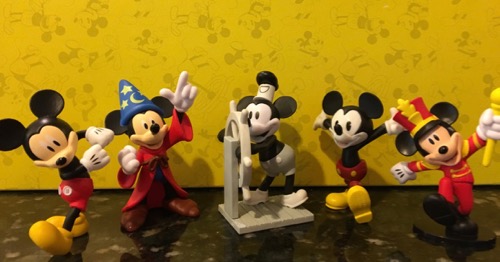 Fun Ways to Celebrate Mickey's 90th Birthday
Study the History
To truly understand the impact Mickey has had on the world of film and animation, you have to learn his incredible history. Studying history can be difficult for some kids so using play can help! To get the conversation started, you have to get the special edition Steamboat Willie plush. This black and white adorable toy is a wonderful replica of Mickey from his first animated short film. When you squeeze his hand, he dances while playing the classic Steamboat Willie song. The back of the box provides a short history of his creation which is the perfect way to get kids talking about Mickey and his long history.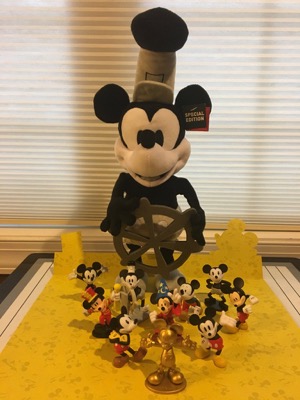 Older kids can combine technology and play to learn the history of Mickey Mouse. Just Play offers a collectible deluxe figure set with 10 pieces showing the design history of Mickey Mouse. First, see if the kids can put the figures in chronological order just by looking at them. Then, have the kids research Mickey to find out what year each Mickey came from to see if they were correct. You can add to the learning fun by having them research and list each movie, short or cartoon that was made during that time. Not only does this teach kids about Mickey's history, but it also enhances their research skills needed for school success!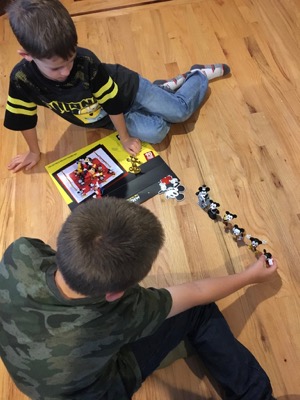 Learn to Draw Mickey
It all started with a sketch of a mouse so why not go back to basics when celebrating Mickey's birthday by learning to draw Mickey?! Little ones can start with the simple silhouette featuring 3 circles while older kids can try more complicated versions. There are dozens of websites and YouTube videos to help cartoon enthusiasts learn to draw Mickey. You can also purchase a variety of books on Amazon. Another fun way to learn to draw Mickey is to use a model. (You can use the Just Play collectible deluxe figure set mentioned above.) Artists can choose which Mickey they want to replicate or they can try to master them all!
Make a Sorcerer Mickey Hat Craft
Fantasia was Mickey's full feature movie debut and it took place in 1940. He traded in his red shorts for the now iconic red robe and blue sorcerer's hat. For many years, this hat was even the focal point of Hollywood Studios. To celebrate Mickey this year, why not celebrate his most remembered movie role by making your own sorcerer hat!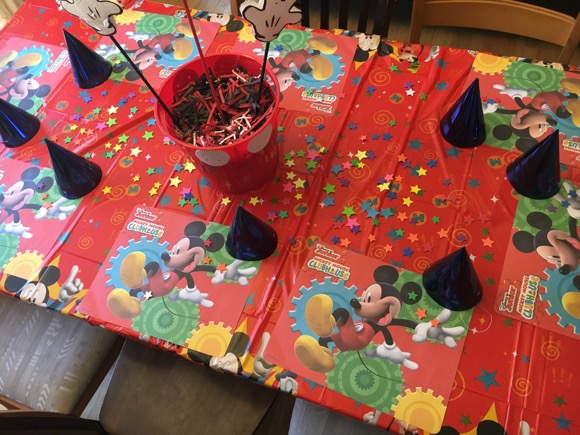 This craft is really easy and affordable! All you need is blue party hats and stickers. I picked up some foam stars but you can use any stickers you want. You can also use paint and glitter glue to add even more sparkle! Set the party hats on the table and just let the kids create.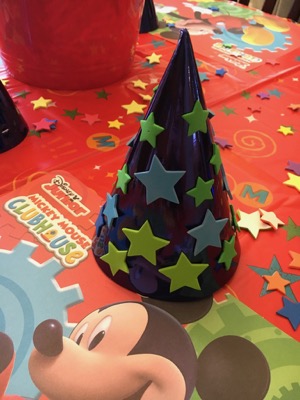 Play a Hidden Mickey Scavenger Hunt
If you have ever taken a trip to Walt Disney World, then you have heard about Hidden Mickeys. There are even books written about finding Mickey silhouettes hidden throughout the parks and resorts. To celebrate Mickey's birthday, why not play this game at home! Last year, when chosen by Disney to host a Disney Themed Playdate, I immediately decided to have the kids engage in a Hidden Mickey Scavenger Hunt around my house. I had adorable Mickey heads with little pockets in them that were perfect for hiding around the house. I filled each Mickey with pictures of rides and experiences at the parks along with pictures of iconic Disney characters. Then I hid the Mickeys around the room.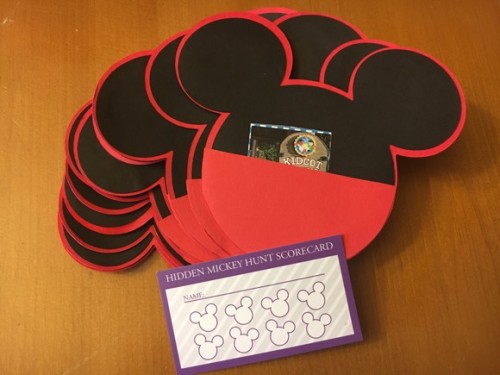 I then turned this game into Disney Parks trivia game. In another room, I set out pictures of each of the Disney Parks (Magic Kingdom, Epcot, Hollywood Studios and Animal Kingdom). As the kids found a hidden Mickey, I took out the picture and asked them to name the ride, experience or character, then all the kids had to run to the park where it could be found! Disney moms and dads can get involved in the game too!
Looking for more fun ways to celebrate Mickey's Birthday? Check out Mickey.Disney.com for some great ideas! Plus, check out the Just Play website for more magical Mickey toys!
You may also enjoy: