The Dinosaurs after Dark experience is a combination of traveling back in time with mystery dinner mixed with scientific learning and a dash of s'mores! Unlike visiting during the daytime at Field Station: Dinosaurs where you roam the prehistoric terrain with sunlight, in this unique experience, you travel through the park in organized groups by moonlight. I am afraid to report that the folks at Field Station have difficulty wrangling the baby T. Rex so when you arrive, you may be asked to help locate this large beast who seemed to escape his enclosure.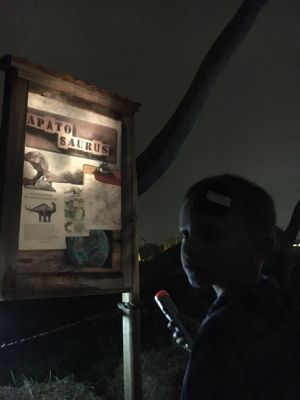 You will stomp through the trails past carnivorous and intimidating animals, discover clues and, if you are lucky, survive this epic adventure. As frequent visitors of Field Station: Dinosaurs, we know that they mix up their programming offering visitors new activities each year yet they always remain dedicated to teaching families about science and more specifically dinosaurs. We were thrilled to return to Field Station in the Fall to see how they transform to provide a rare treat to those who dare. Equipped with our curiosity, a flashlight and a guide, we began our search party for the King of Lizards.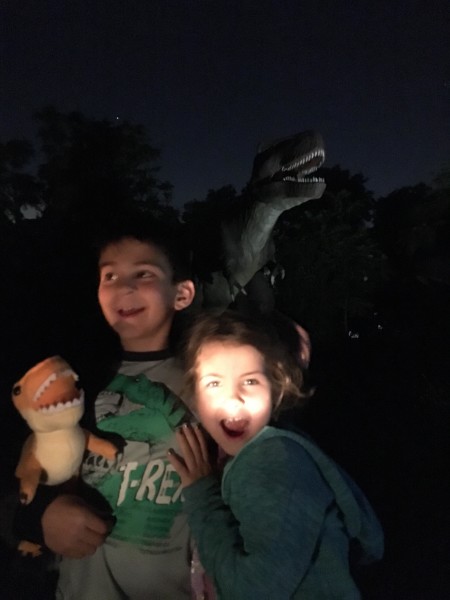 Mommy University Presents
Five Times You Will Scream in Dinosaurs after Dark!
Let the Games Begin!
If you are going to capture the escaped dinosaur, you will have to physically train and hone your skills. Our first stop included ­three different games. My kids loved knocking down inflatable dinosaurs using their own attached tails as well as throwing balls at a target and catching rings with a helmet. This is the perfect warm up to what later emerges in Dinosaurs after Dark.

Raptor Trap
Since Field Station added the Raptor Trap maze, we have been fans yet there is something entirely eerie when you are running through this puzzle at night. The darkness and distant sounds of dinosaurs adds to the increased adrenaline when you strangely hope to encounter the three hidden Velociraptors.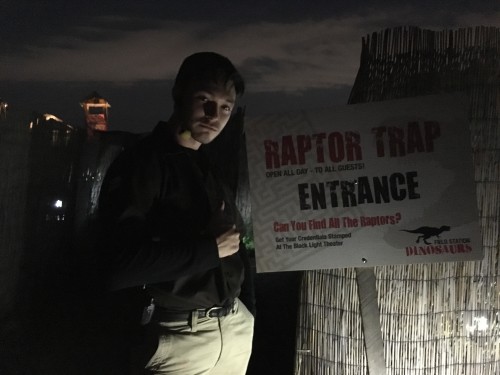 What do you hear?
Learning about dinosaurs also takes place when we entered the Command Center but what made this activity interesting was that it was not only informative but it was a great example of hands on learning. We learned about how eyes work in the dark as well as how dinosaurs could hear. Through various experiments, the kids were screaming with excitement.
Locating Clues
The purpose of this event is to find the escaped baby T. Rex which means that you will need to use all of your senses to find him. As you stroll past the Spinosaurus or Dimetrodon, you will be listening to fascinating history as well as scientific facts. But be careful because you can easily miss a footprint or the leftovers from the T. Rex's last meal.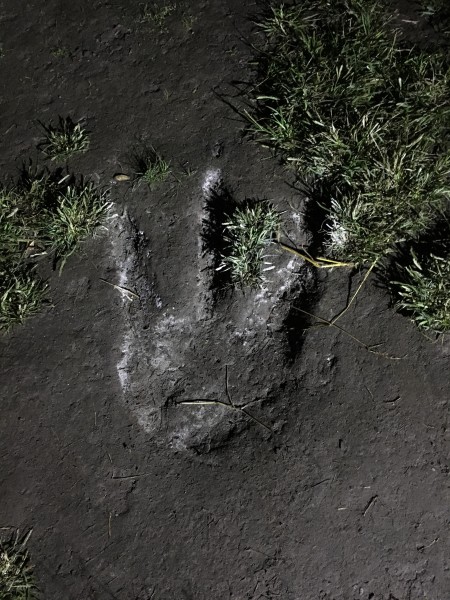 Finding the T. Rex!
In between activities, you can pose for a T. Rex Selfie! There are no spoilers in this post, but the biggest scream will be when the escaped carnivore appears and it is when you least expect it. However, at the end of the night, the staff at Field Station: Dinosaurs are able to get the baby dinosaur under control so you can take photos with him after enjoying delicious s'mores and hot chocolate around a campfire.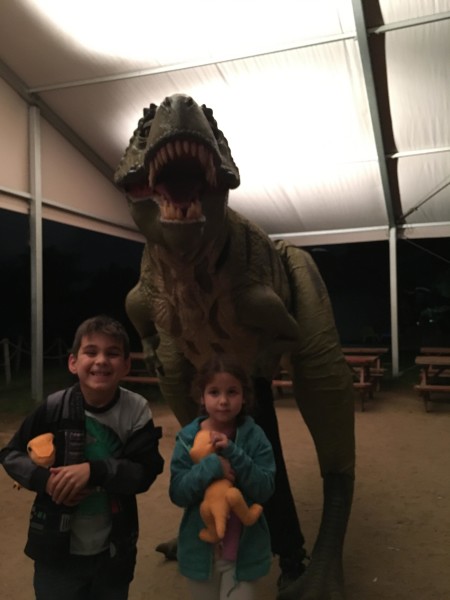 The annual Dinosaurs after Dark event has returned to Field Station: Dinosaurs this fall! Every Friday and Saturday night through October 27, you have an opportunity to experience this unique event. Tickets cost $24/person ($19.20/season pass holder). Field Station: Dinosaurs is located within Overpeck Park in Leonia, NJ. For more information, please visit their website.
You might also enjoy: