We are so excited to partner with our friends at Goliath and Pressman Toys to bring you fun ways to enhance fine motor skills in kids.
Kids learn best through play which is why we LOVE encouraging family game night. Through game play, children learn so many important skills like problem solving, turn taking, strategic thinking, language development and more. In this post, however, we are going to focus on visual and fine motor skills. Developing good fine and visual motor skills leads to academic success.
Before discussing the games we recommend, let's talk a little bit about fine motor skills. Fine motor skills involve the use of small muscles that control the hand and fingers. These skills are needed to pick up, grasp and manipulate objects. This includes small food items, toys and game pieces as well as writing utensils such as crayons, pencils and paintbrushes. Developing these skills not only helps children become successful in school but also enhances their independence.
Some kids develop these small muscles easily beginning at a young age while others struggle to gain strength in their hands and fingers. There are several ways to help kids develop fine motor skills like playing games. Even occupational therapists will choose game play as a form of therapy and a way to build fine and visual motor skills. To help parents build these skills at home, we have put together a list of games that can help kids enhance fine motor development.
Fun Games to Help Improve Fine Motor Development 
Shark Bite, Pressman Toys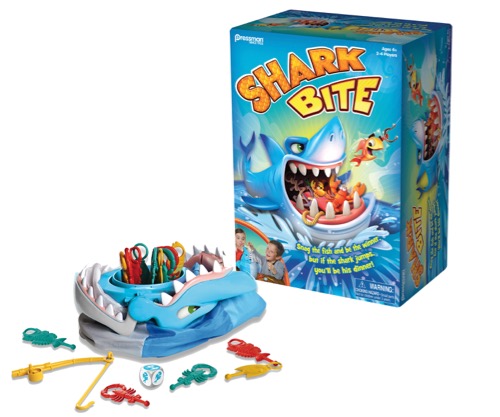 We are huge fans of games that bring the family together with laughter. Shark Bite is fun, engaging and will keep everyone guessing throughout the fast paced game. Each player is provided a fishing rod to capture fish but be careful because as you pull the fish up, the shark might bite you! Designed for 2-4 players, ages 4 and older, this game is a fun way to enhance visual-motor integration, coordination and fine motor manipulation skills. It can be purchased for less than $20 on Amazon.
Catch the Fox, Goliath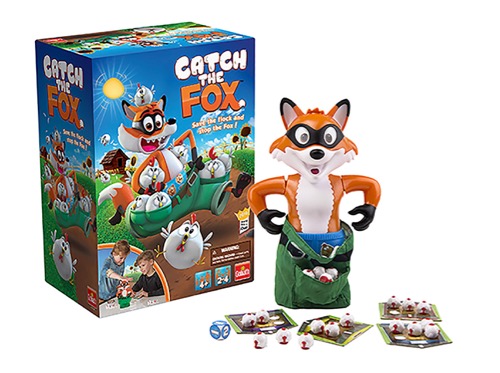 Catch the Fox is a fun game your kids will want to play over and over again. In fact, it is one I use with my students at the elementary school I work at. It is a game of chance making it suspenseful while also offering a learning element. As kids play, they will learn math concepts and build social skills. Players will also develop fine motor skills as they grab and manipulate the game pieces. To play, kids roll a dice and put that number of chickens in the fox's pants. At any moment the pants will fall, then the players have to grab as many as they can and put them on their chicken coup card. The player that fills their card first wins! Catch the Fox can be found on Amazon for under $20.
Pop the Pig, Goliath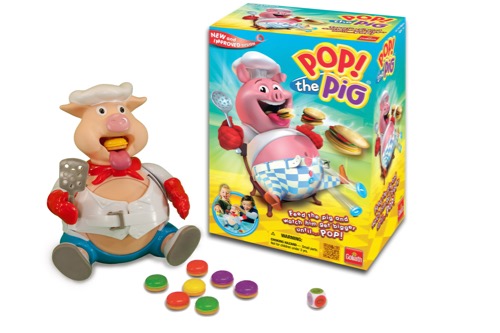 Goliath has created another fun game of suspense with Pop the Pig. My kids belly laugh every time we play this game, which is often. To play, kids roll the die then choose a hamburger based on the color they roll. Each hamburger has a number on the bottom. The players put the hamburger in the pig's mouth then pump his head as many times as the number found on the burger. When the pig gets too full, he pops! This game is great way to teach color recognition, number recognition and one-to-one correspondence. Kids also improve their pincer grasp as the pick up the burgers and build muscle strength when the pump the pig's head. Pop the Pig is under $20 on Amazon.
Jumping Jack, Goliath
 
Jumping Jack is another fun game for preschool aged children. Each player spins the spinner to see how many carrots they have to pull from Jack's bunny hill. One carrot will make Jack jump but no one knows which carrot that will be making the game new and exciting each time you play! This is a fun game that helps enhance fine and visual motor skills as well as teach cause and effect. Jumping Jack can be purchased on Amazon for under $20.
Giggle Wiggle, Goliath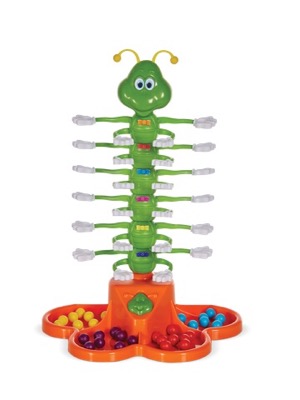 Giggle Wiggle is a fun and engaging game kids of all ages will LOVE! Players race to see who can get their marbles to the top of the tower first but be careful because the caterpillar wiggles to the music so your marbles can fall at any moment. This is a great game to enhance color recognition, fine motor control, motor planning, visual-motor integration, patience and problem solving skills. Giggle Wiggle is recommended for ages 4 and up. It can be found on Amazon and your local toy store.
Googly Eyes, Goliath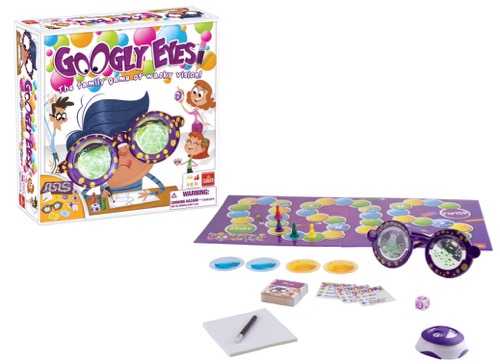 One of our favorite family games is Googly Eyes. It is recommended for ages 7 and up making it a great game to improve fine motor skills for older children. It offers a unique twist on a classic drawing game. Players have to draw various pictures while wearing special glasses that impede their vision. The players on their team then have to guess what they are drawing. This game is great for improving pencil grip, motor planning and writing skills. It can be played with 4-16 players making it perfect for small group lessons and OT sessions. Googly Eyes is under $20 on Amazon.
We hope you have as much as fun as we have playing these games!
You may also enjoy: