As summer winds down, children are heading to school excited to learn and grow their skills while having fun. For little ones, it is not about encouraging endless worksheets but learning through play; however, completing a page or two to develop their budding writing skills while absorbing academic information does help. It is even better when kids enjoy finishing the pages. We have found our children respond to brightly colored pages, changing activities and challenging tasks. If your children are preparing for preschool or entering preschool, then you will definitely want to consider the Wipe Off Workbooks or I Can Do That series from Gakken publishers.
Gakken creates the top-selling workbooks in Asia which has an emphasis to put fun first in learning, and they began releasing workbooks in the United States in the past two years. The initial workbooks they released are designed for children as young as two years old and have three different types of books: Early Learning, Brain Boosters and Skills Builders (School Skills for 4+). The activities shift every few pages which keeps your child's interest but is also consistent so that they can easily pick up the rules for each activity.
After reviewing their Play Smart Workbooks, I reached out to request books for older children because my kids loved playing with the books. They would independently pull them out and work on different pages. I was thrilled that Gakken continues to expand their collections and even more excited that we received copies so we can share with our readers their amazing benefits.
For Preschool aged children, there is now the Wipe-Off Workbooks as well as the I Can Do That series. We are going to look at both of them, but if you want a detailed preview please look at our video below.
Mommy University Reviews New Releases from Gakken
Wipe-Off Workbooks
Developed by educators and child experts, the Wipe-Off books consist of six different options. Each book contains 60 activities which grab your child's attention. My children enjoy the books because they just see them as fun, but I know that they are developing their critical thinking skills as well as their fine motor coordination. Unlike previous workbooks from Gakken, these pages can be wiped off after they are used with the dry erase marker. Essentially, your child can do the same page multiple times or if you have more than one child can be used from child to child. Gakken also understands that children may not want to repeat the same activity so they offer tips to parents on different ways children can play with the pages.
The Wipe-Off books have a thick cover and wire binding so pages lay flat. We have taken these workbooks for the kids to use during adult swim at the pool, a road trip to Maryland and day trips to the Jersey shore. The books have survived in the backseat of my car which is a testament to their durability.
At the end of each book there are pages that include numbers and letters so children can trace them. It is designed cleverly that there are numerous opportunities for children to practice, grow and learn. For example, in the Dot to Dot workbook, children are asked to discover the shape by tracing the lines in numerical order. At the bottom of every page is a number line in case they lose track.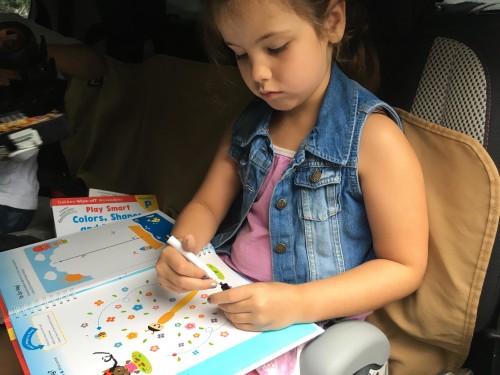 I Can Do That Series
Gakken has also released three books in the "I Can Do That" series which encourage fun, independence and learning. Traditionally, the workbooks for younger children require parental involvement but I found with these books my children were quickly playing with them on their own (and quite frequently). The three books include Erasable Art, Origami and Stickers.
Erasable Art invites children to finish coloring in images on pages. They are invited to draw their own patterns and designs. This book does require some parental involvement as the questions are designed to spark their imagination. The Origami book transforms one image into another with folding or cutting. This book invites children to increase their hand strength in fun and imaginative methods. As well, children need to follow the sequential order so building on their ability to follow instructions. Lastly, the Stickers book was my daughter's favorite and one reason it didn't appear in the video was because she had already taken off to an activity with the book. The pages are designed so that the included stickers are used to solve puzzles thus building reasoning skills. The stickers are reusable which means this book still has a long shelf life.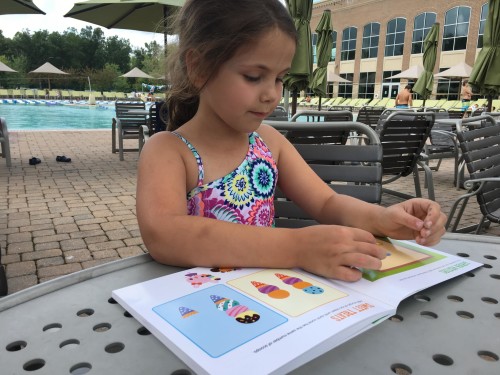 The "I Can Do That" books are wonderful stocking stuffers or gifts. The meticulous design of the puzzles keeps children engaged. Play Smart Wipe-Off Workbooks from Gakken are NEW released in June 2018! They were recently released on Amazon. There are several books that promote writing skills while simultaneously captivating their attention so that they are developing their critical thinking skills.
Whether it is Early Math, Amazing Mazes, Preschool Prep, or Dot to Dot (to name a few) they are  each sold for less than $10 on Amazon.  The I Can Do That series includes the Stickers: Super Simple (and Smart!) Sticker Activities, Origami: Super Simple Projects to Cut and Fold, and Erasable Art: Super Simple Scribbles and Squiggles which are priced for less than $10 on Amazon. Gakken makes a high quality product so with the new series being Wipe Offs extends the life of the books as they will be used repeatedly.
If you like this post, you will enjoy!