Another way to play by the bay!

With a wingspan that can reach up to seven feet, the Bald Eagle is considered one of the largest raptors in the United States and is a treasured icon of our freedom. While we have seen this bird at our local zoo and at a bird sanctuary, we have never seen it in its native habitat. As much as I appreciate the conservation efforts to save this threatened species, observing this noble creature in the wild is unsurpassed. Our family trip to the Chesapeake Bay included an invitation from Blackwater Adventures to explore Blackwater National Wildlife Refuge to see not only this majestic bird but many of the residents that call this area their home.
Blackwater Adventures is a family owned business that has a second location at the Hyatt Regency Chesapeake Bay. They have rentals on kayaks, bicycles and stand up paddleboards, to name a few. For the beginners or those who prefer to have a native expert, Blackwater has various guided tours. Essentially, they enable families to get outdoors and be with nature. The benefits of being outside are numerous ranging from exercise to finding a space to breathe to increasing our appreciation of nature to family bonding. Our experience reflects this as we enjoyed a kayak tour of the Blackwater National Wildlife Refuge.
Making arrangements for the tour were simple, and when we arrived Susan Meredith, Co-Owner of Blackwater Adventures, greeted the participants with a gregarious nature that puts everyone at ease. The employees have a laid-back manner that makes you want to share a drink and look over the water. You need to arrive 15 minutes early to complete paperwork and at our scheduled 9 am tour, we received a brief yet informative kayaking lesson. Equipped with a paddle and a life jacket, my daughter and I boarded the two-seater kayak with our tour guide Kacey. It was an experience we will not soon forget! Here are some reasons I believe you will find this to be a memorable family experience as well!
Benefits of Blackwater Adventures
Guided Kayak Tour
Get Moving
Kayaks don't require significant physical prowess. You will use your arms but part of its charm is actually leaning back in the seat to use the wind to propel you. However, you are working muscles as you paddle through the water. Our group included kids, parents and senior citizens. This is a perfect beginner activity if you want to get outdoors but may hesitate due to your strength or comfort level.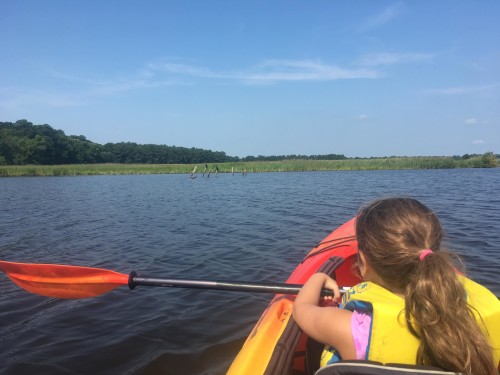 Observe Nature
Throughout our tour of the Blackwater National Wildlife Refuge, we watched nature without disturbing it. From passing multiple Blue Herons to a young snapping turtle sitting on a log, we saw animals existing in their environment.  However, if we didn't have our tour guide, it would have been beyond difficult for us to identify or even notice some of the well camouflaged animals.
Always Learning
Our tour guide spoke effortlessly about the birds we came across. There are 200 species in the Blackwater Refuge, yet she was naming them quickly and rattling facts about each of them. We learned how Blue Herons hunt in isolation but live in a community and how if you spot two Bald Eagles then they are a couple. It wasn't just birds as we came across a muskrat den and she pointed out the local plants. For a short time that morning, we were part of a National Geographic documentary and it was amazing.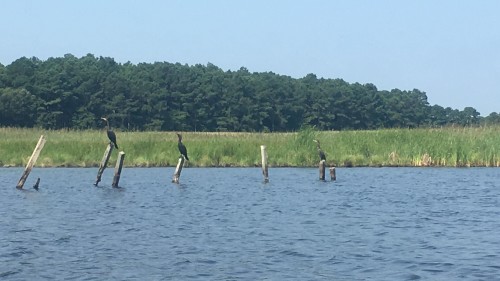 Family Bonding
Throughout this morning adventure, my daughter and I shared a kayak. If you have a six-year-old, then you are familiar that shining moments of attitude will emerge when you don't want them. While the beginning of our launch included some raised eyebrows and snippets of sighs and comments, the crankiness melted. The mommy-daughter team had an awesome trek into nature where she began to focus on what she could find hidden in the trees. While this was our first trip, it will not be our last!
Blackwater Adventures has the expertise and an impressive team that will make your morning (or afternoon) transform into a peaceful family memory. You can look at our video to see some of what we encountered during our guided kayak tour.
Blackwater Adventures Chesapeake Bay is located at 2524 Key Wallace Drive, Cambridge, Maryland 21613
If you like this post, you might enjoy: