Christmas in July has become a growing trend in NJ and all over the country. From festivals to shopping deals to decorating, Christmas in July is a fun way to get families to spend time together and enjoy the summer! To kick off the season, I thought it would be fun to put together a list of ways to celebrate Christmas in July!
Fun Ways to Celebrate Christmas in July
Christmas Movie Marathon
I don't know about you but I can watch Elf and Christmas Vacation ANYTIME of year so having a Christmas movie marathon in the summer is a no brainer for me! You can pop in a DVD and watch classics like A Christmas Carol or snuggle on your couch to watch Christmas movies on the Hallmark Channel (July 13-26).  What's your favorite Christmas movie?
Decorate Your Boat or Campsite
Several lake communities and campgrounds celebrate Christmas in July with decorating contests. Families can work together to decorate their boat then drive it around the lake to get in the holiday spirit. Going camping in July? Decorate your campsite with some lights or even a Christmas tree!
Enjoy a Christmas in July Event
There are tons of events that families can enjoy to celebrate this new holiday season. From farmer's markets to amusement parks to historical sites, there are events and activities for everyone to enjoy. Check out our list of events in NJ or find an event in your state!
Visit Santa
Believe it or not, there are some places where families can visit Santa in July! In fact, kids can visit Santa all summer at the Land of Make Believe. Take a boat or train ride, enjoy brunch or watch a parade with Santa this summer. It will be an experience the kids will NEVER forget!
Make Ornaments
A fun summer craft is to make ornaments! Since it's July, they can have a summer theme or be based on a vacation you are taking. For example, you can fill an ornament with sand and shells or make one that looks like a surfboard. The possibilities are endless!
Elf on the Shelf
A fun way to celebrate Christmas in July is with a visit from those pesky elves! You can pretend the elves are on summer vacation and want to visit the kids. Dress them in bathing suits or have them bring gifts like swim goggles and beach balls. If your child has a summer birthday, have them show up with a birthday book!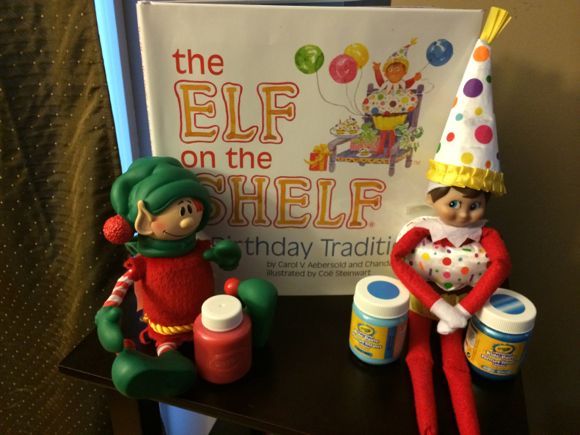 Bake Cookies
Nothing says the holidays quite like baking cookies so this July pull out some of  your favorite recipes and get baking! Use your Christmas cookie cutters or get some summer themed ones. You can even do a summer cookie swap!
Donate Clothes and Toys
During the holidays, many families teach their kids about giving back. They often donate clothes and toys to those in need or volunteer at a local soup kitchen or senior center. This July (and all year-long), help the kids gather toys and clothes to donate. They can even have their own lemonade stand and donate the profits to a charity!
These are just some of the many ways to celebrate Christmas in July! How will you celebrate?
You may also enjoy: