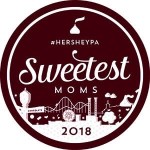 I am so unbelievably excited to be chosen as one of Hershey, PA's Sweetest Moms. Through this program I am able to bring you all the sweet adventures Hershey has to offer this year. I have been provided passes, tickets and/or compensation for my reviews but all opinions are my own as I have always been a big fan of Hershey!
Every time someone asks me where they should stay in Hershey, PA (and I get asked this question often), I usually respond with the Hersheypark Camping Resort. This answer often surprises people especially those that don't camp. The thing is you don't have to be a camper to enjoy this resort. For each visit, we stay in the Deluxe Cabin that has all the comforts of home but with the perks of being on a campground. Don't get me wrong, I absolutely LOVE the Hershey Lodge and Hotel Hershey, but when planning a summer stay at the Sweetest Place on Earth my vote goes to Hersheypark Camping Resort and here's why!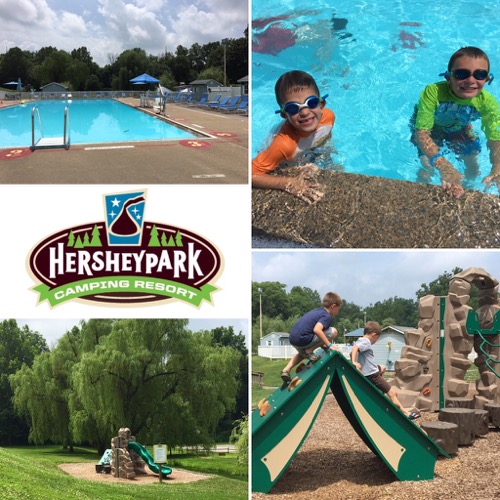 Why We LOVE the Hersheypark Camping Resort
Something for Everyone
Hersheypark Camping Resort offers an adventure for every type of camper! From tents to RVs to cabins, this resort has it all. Not a camper? Don't worry! This resort has something for you too! Here is what you can enjoy: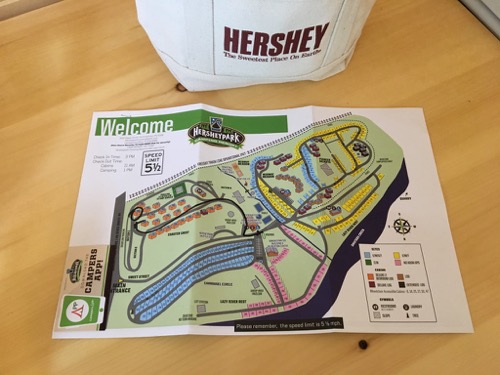 RV Hook Ups
Available in full and partial hook ups
Pull-through sites available
Electric available in 20, 30 and 50 AMP
Water available mid-April to mid-October
Each site has a picnic table and fire ring
Tent Sites
Partial hook ups and primitive sites available
Electric available in 20 and 30 AMP
Water available mid-April to mid-October
Each site has a picnic table and fire ring
Log Cabins
Extended Log Cabin: Sleeps up to 8
Regular Log Cabin: Sleeps up to 4
No indoor plumbing but restrooms are available nearby
Has electric, heat, air conditioning, TV with cable, DVD player, refrigerator and microwave
Each cabin has a picnic table inside and outside as well as an outdoor fire ring
Campers must bring their own towels, pillows, sheets, blankets and toiletries
Deluxe Cabin
1 and 2 bedroom options available (both sleep up to 7)
ADA cabins are available
Has year-round indoor plumbing
Has a kitchenette with full refrigerator, microwave, 2-burner stove top, coffee pot, toaster and with serving items for 7 people
Has electric, heat and air conditioning
Each cabin has a dining table with chairs as well as a sofa
Campers must bring their own towels, pillows, sheets, blankets and toiletries
Discounts, Perks, Amenities…Oh My!
Staying at the Hersheypark Camping Resort, like the other 2 Hershey properties (Hershey Lodge and Hotel Hershey) provides guests with unique discounts and perks. Guests can enjoy FREE transportation to and from Hershepark which is especially helpful for those that rolled into the resort in an RV! Guests can also enjoy great discounts to the park as well as Hershey Gardens, ZooAmerica and the Hershey Story Museum. Tickets can be purchased right at the resort store for added convenience. One of the best benefits of staying at Hersheypark Camping Resort is early access to Hersheypark. Resort guests can enter Hersheypark an hour earlier than regular guests allowing them to explore more with less wait and fewer crowds. This Sweet Start is a sweet way to begin any day in Hershey, PA.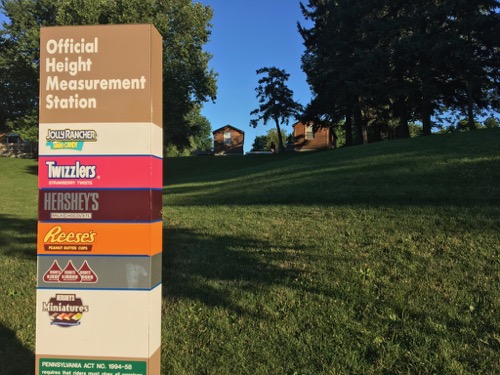 Hersheypark Camping Resort also offers sweet amenities for its guests. Each day there is an activity schedule offering fun for the entire family including arts and crafts, lawn games, magic shows and night time movies. Guests can also enjoy 2 playgrounds and 3 pools as well as a beach volleyball court, basketball court and horsehoes. For those that want to stay indoors a bit, there is also an arcade. To learn more, check out my post Explore, Play and Learn at Hersheypark Camping Resort.
Get Back to Basics
Don't get me wrong, I love staying at luxurious resorts with all the bells and whistles but there is just something freeing about taking away all the extras and getting back to basics. There is a sense of accomplishment when you pitch your own tent or start your own fire. Food just seems to taste better when you cook it as a family over an open flame, and sometimes a walk during sunrise gives you better perspective on life. Rolling down the hill with your kids, roasting marshmallows over the fire and reading a good book while watching the sunset are all amazing moments you can experience and will remember from your Hersheypark vacation when you stay at the Camping Resort.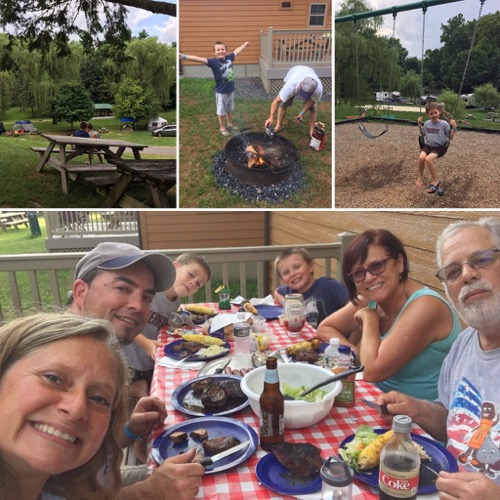 Encourages Open-Ended Play
What I love MOST about Hersheypark Camping Resort is that it encourages open-ended play for kids (and kids at heart). You can put away all the technology and just have fun. Whether it's swinging on the swings, diving for treasure in the pool or playing a game of horseshoes, there are so many ways to encourage play. I loved watching my kids make new friends and come up with their own games at the playgrounds and in the pool. They also enjoyed exploring the grounds and catching fireflies at night.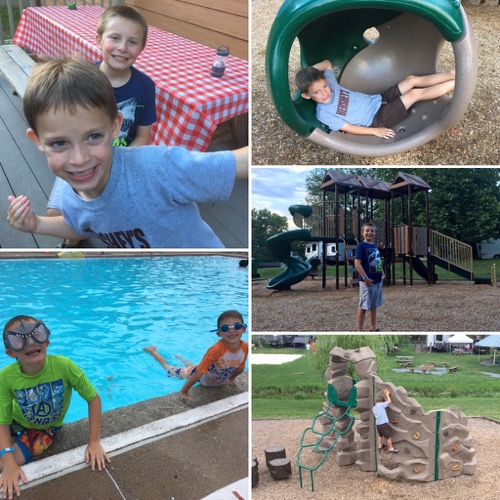 The Recreation Center on-site also offers fun ways for kids and adults to play. We LOVED playing lawn games and even teaching our kids some classic games they have never played before like Bocce Ball and Nok Hockey. Playing is a fun way to reconnect as a family while fostering a child's imagination and creativity.
Allows Families to Relax and Unwind
Although there are plenty of things to do and see at Hersheypark Camping Resort, it's open and inviting atmosphere helps promote a feeling of relaxation. Whether it is by the pool, at your campsite or watching a movie under the stars, a stay at Hersheypark Camping Resort truly allows families to relax and unwind. I love enjoying my coffee on the deck while watching the sunrise as well as taking walks around the grounds in the evening. I felt at peace and gained a greater appreciation for nature during my stay!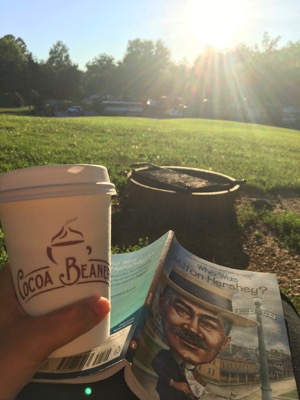 Want to plan your own sweet stay at Hersheypark Camping Resort? Visit their website for more information and to book your next vacation!
You may also enjoy: