A Review of Discovery Kids Place
A winter break road trip down the East Coast may sound crazy, but for us it was the perfect way to celebrate the holidays. Driving from New Jersey to Florida to see family means expediently traveling but with two little ones a stopover is a necessity for sanity. We designed our trip to stop at Huntersville in North Carolina so that we can allow the kids to run for hours before jumping back in the car for hours and hours and hours…
We came across this small town several years ago when luck would bring us to finding Cafe 101 for breakfast and sweet tea! Five minutes down the street was Discovery Place Kids which is a children's museum offering brain boosting fun and learning. From an oversized water table to vehicles they can climb aboard to art spaces, kids can do what they do best which is play. Here are some of the reasons this location has turned into a repeat stop for our family:
Hands On Learning at Discovery Place Kids
I Can Create
Art is about creating and at Discovery Place Kids there are plenty of activities for children to not only enhance fine motor and visual spatial skills, but also to spark their imagination. There are several tables spread out throughout the space with rotating projects each month. As well, there is a stand that contains pots and pans where children are invited to make music (or noise) but ultimately where they are creating.
I Can Move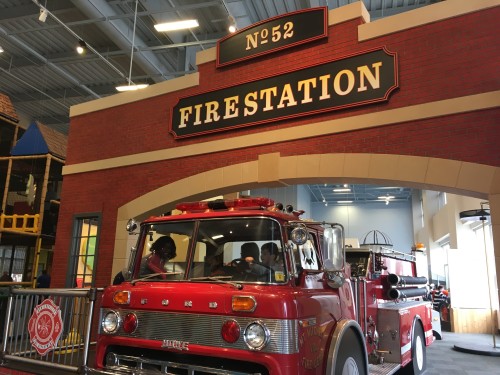 Land, water or air, the I Can Move exhibit enables kids to climb into different vehicles then travel using their own imagination. Climb into the cockpit of a plane or inside a racing car or the inside of a boat. Have your camera ready for your future race car driver as they are inspired to drive away!
I Can Work
One of the most impressive spaces is a town center. It is located inside the tall building housing Discovery Place Kids with exteriors of buildings that enable children to fully immerse themselves in pretend play revolving around work. They can take food orders and serve meals at the pizzeria, go grocery shopping or even climb aboard a fire truck. Not only are they moving around but they are learning about different professions and life skills.
I Can Explore Underwater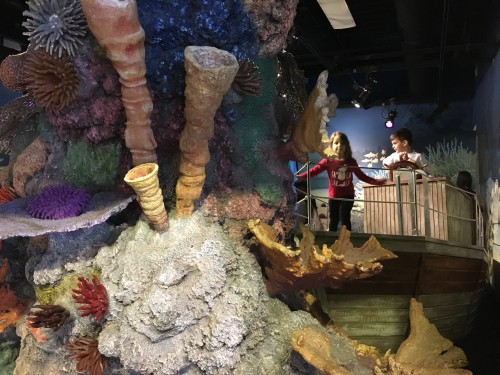 We are huge fans of the ocean so each time we have visited Discovery Place Kids our favorite space has been the I Can Explore Underwater. Surrounded by blue when you walk into this space, kids can jump into the yellow submarine, jump on a boat or toss bean bags into an octopus.
I Can Grow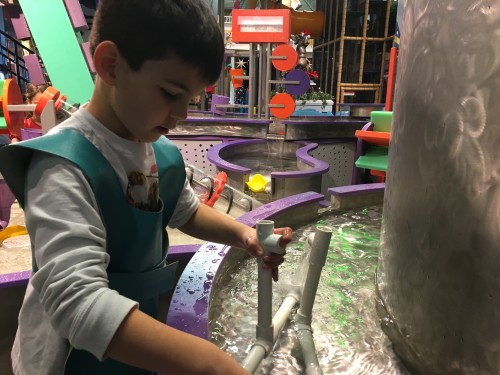 For little ones, 0-36 months, I Can Grow is the perfect soft padded spot for them to explore. With its own fenced in area, babies and waddlers can safely explore the space surrounding them. My favorite activity is the massive water table that little ones can enjoy. It extends into the main area which is how my children were able to enjoy it. Children can splash into fun by pouring water, testing cause and effect and developing an early understanding of STEM concepts through hands on play.
Tips & Suggestions
According to the website, free parking is available in the Huntersville Town Center parking deck located behind the Museum.
I haven't been able to locate an eligible partnership discount yet, but if you register for their newsletter you can receive 10% off admission.
We have eaten at Café 101 which is one block from Discovery Place Kids. Traveling from New Jersey to Georgia one time and Florida another, this was our first stop for Sweet Tea and amazing strawberry stuffed pancakes.
What will you explore at the Discovery Place Kids? To learn more visit their website.
Discovery Place Kids Hours:
Monday Closed
Tuesday, 9 AM – 8 PM
Monday – Sunday, 9 AM – 5 PM
Wednesday – Friday, 9 AM – 4 PM
Saturday, 9 AM – 5 PM
Sunday, 12 – 5 PM
Discovery Place Kids is located at 105 Gilead Place, Huntersville, NC 28078
If you like this post, you might like: