A Review of Anne Kolb Nature Center
The beauty of the outdoors changes with each location you explore. Whether it is the crisp clean mountain air or the warmth of the sand on a beach, getting outdoors promotes a greater appreciation of the world. Since falling in love with nature centers in our home state of New Jersey, we have incorporated visiting nature centers when we travel to other states as well. Not only is it affordable (most are FREE to visit) but it also provides a multi-sensory experience where children can learn about nature, science and the environment while getting some exercise.
When we visit my parents in Fort Lauderdale, we have been taking advantage of the experiences and activities of Broward County. From butterflies to art, this area has extensive family friendly locations that promote learning through play. The Anne Kolb Nature Center offers plenty of learning opportunities which is why we keep returning to this space! Here are some fun things your family can do while visiting!
Educational Experiences at Anne Kolb Nature Center
Learn About Mangroves
The ecosystem of mangroves extends throughout the world and provides protection for many creatures. Mangroves encompass South Florida's coastline as well as the Keys as these plants prefer tropical climates. They offer safety for endangered species like manatees and sea turtles which makes them fascinating. At Anne Kolb Nature Center, families can learn about these ecosystems and the benefits they offer wildlife. Guests can also learn how the tide changes the mangrove ecosystem, look at native birds and listen to a soundtrack of their sounds. The brief documentary about the local wildlife helps children to understand what they may encounter as well as develop an appreciation for the area.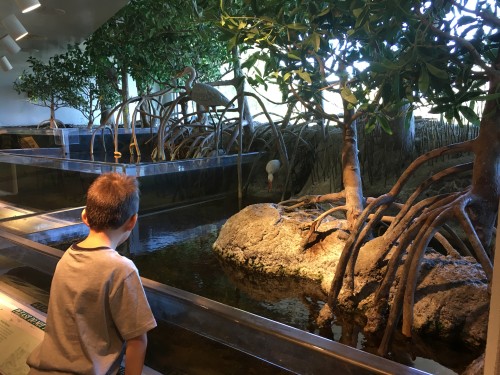 Touch Nature
At the Anne Kolb Nature Center, the Exhibit Hall is a fascinated space for children to explore. My children wanted to spend most of their time in the room that had samples of turtle shells and sand dollars. They even saw some live creatures in the aquarium.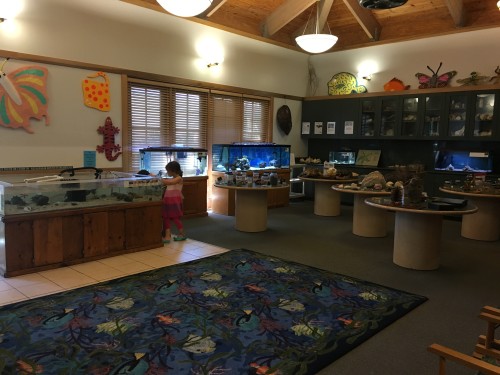 Get Outdoors
If it is a beautiful day, you will want to take a stroll through the three miles of mangroves. Well, you will not be walking through the mangroves but rather on the boardwalk.  You can also climb the observation tower to see the entire surrounding area which is impressive for young children.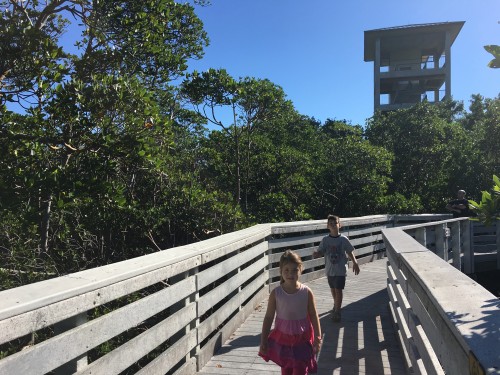 Observe Wildlife
Our favorite part of the nature stroll is grabbing a scavenger hunt sheet from the Exhibit Hall. We found quite a few creatures along the way such as crabs. Our favorite moment was when we found a Yellow Crowned Night Heron on the prowl for food. My son was so excited he shushed a family walking by but they were thrilled when I pointed out the bird patiently hunting for its next meal.
Get on the Water
At Anne Kolb Nature Center, for a nominal cost, you can ride on the Environmental Boat through the mangroves. We have visited Anne Kolb twice and luckily the first time we took a relaxing search looking for wildlife in the water. I found the boat ride perfect for little ones because it is a calm ride. I recommend bringing a pair of binoculars and calling ahead to confirm when the boats are running as they don't always run every day.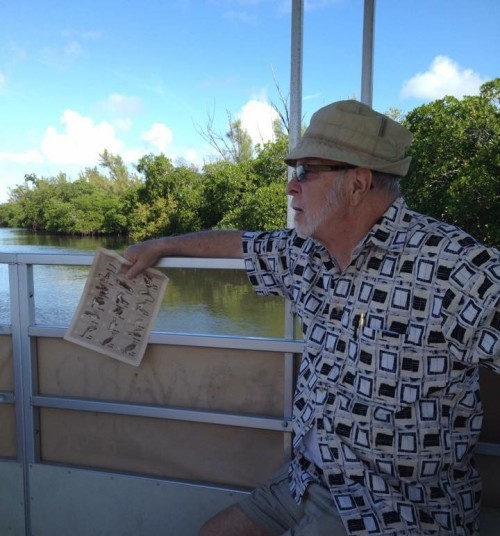 What will you explore at the Anne Kolb Nature Center? To learn more visit their website.
Anne Kolb Nature Center Hours:
Monday – Sunday, 9 AM – 5 PM
Anne Kolb Nature Center is located at 751 Sheridan St., Hollywood, FL 33019
If you like this post, you might like: