My kids love playing on their iPad and my iPhone. Since I limit their screen time, I am always looking for apps that offer a fun interactive learning experience as to make the most of this time. I love apps that offer hands-on learning that can be used in conjunction with technology. That is why I was excited to be offered the opportunity to have my boys try out Get Qurious!
I had not heard of Get Qurious before being contacted so I was excited to have my boys try out a new interactive educational experience. Get Qurious is a set of games and activities that can be used alone or in conjunction with an app. There are 2 options: Maker Box and Explorer's Box. We received the Explorer's Box which my boys really enjoyed.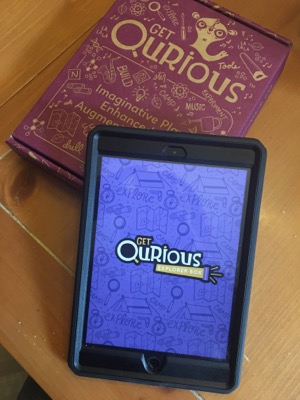 What does it include and how does it work?
The Explorer's Box comes with 4 sets of activities that correspond with each of the 4 games found on the app. Each activity offers a unique learning experience in an easy to use format. It is recommended for ages 4-8 making it a perfect way to enhance learning at home. It can also make for a wonderful learning tool in the classroom.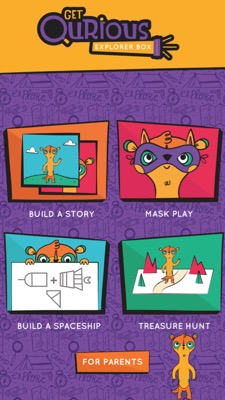 Build a Story
Inside the box you will find 16 story cards that can be organized in fun ways that allow kids to create their own unique story. There are several ways to play with these cards. First, kids can verbally develop stories based on the cards they chose. Second, older kids can use the cards as writing prompts or a storyboard to help them write out their own stories. Third, the cards can be captured using the app's camera feature then turned into a story right on your device. Each option helps kids enhance language and academic skills.
Mask Play
Kids can build their imaginations by engaging in role-playing activities using the 4 masks provided in the box. The child chooses a mask then can record their own voices and play them back. It's a fun way to enhance language skills and build confidence.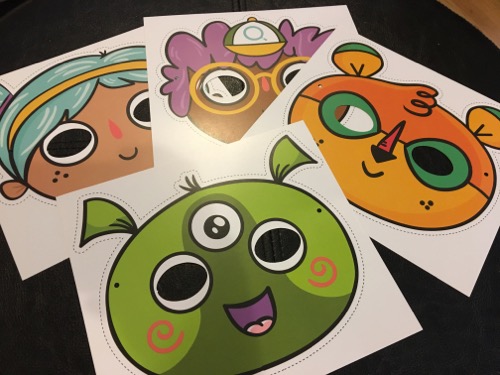 Build a Spaceship
Your little astronaut will love building his/her own spaceship using the included cards. The 16 spaceship cards are on the back of the story cards. Kids are able to create their own design using 4 different cards. The ship is created on the app and is then used as part of a fun space game. This is a fun way to combine art, science and technology.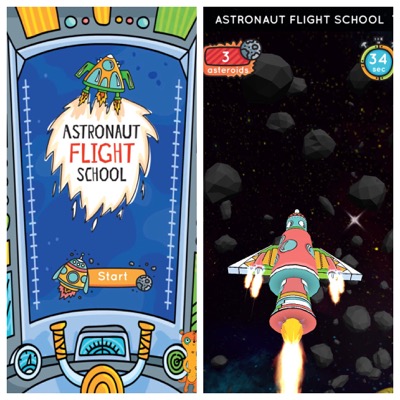 Treasure Hunt 3D Game
The box comes with 2 double-sided cards that can be colored in your child's own unique way. The cards can then be used to create the backdrop for a fun treasure hunt on the app. While playing, kids have to move the device around to find all the treasures. It's a fun way to encourage creativity while building fine motor, visual-spatial and problem solving skills.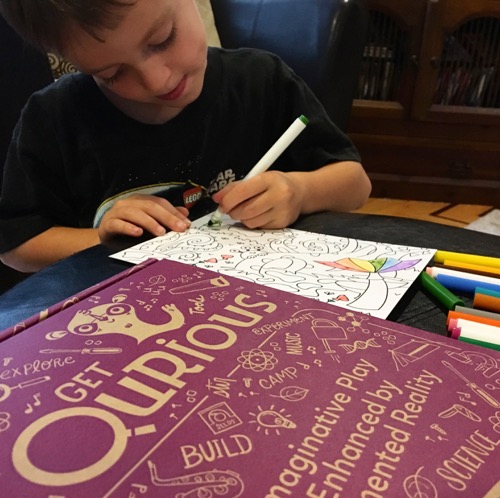 My boys absolutely love playing with Get Qurious, and I love that it encourages development in so many important areas like language, motor and cognitive. It also helps reinforce skills learned in school. Get Qurious is a wonderful way for kids to create, play and learn!
The Explorer Box is only $19.99 and can be purchased on Amazon. The app is FREE in your app store. It requires iOS v10.3 and above and is not compatible with iPad 4.The Maker Box is also only $19.99. Coming in June 2018 are the Nature and Adventure Boxes for even more learning through play fun! Learn more on the Get Qurious website.