There is nothing like visiting a farm for young children. They are thrilled and fascinated with the scenery and opportunities for learning that surrounds them. After taking my children for several years, they still smile with delight over tasting the food, petting animals and breathing the fresh air. While there are plenty of activities that can be done before or after visiting local farms, there are actually some easy activities that can be done while visiting the farm. Here are some fun activities to try on your next visit to the farm! (Some affiliate links are included to make your experience easier.)
Educational Activities for Kids on a Farm
Pick Your Own
Most farms have opportunities where you and your family can pick your own fruit. While some may joke that you are paying the farm to do their work, your children are experiencing a wonderful activity that is multi-sensory. As well, they are developing an appreciation for the quality of work needed to grow food and an understanding of where that food comes from. If you want to extend the learning activity, replant what you pick. For instance, plant a strawberry or sunflower so that they can watch the life cycle of these plants. Here our tips before visiting a Pick Your Own  Farm.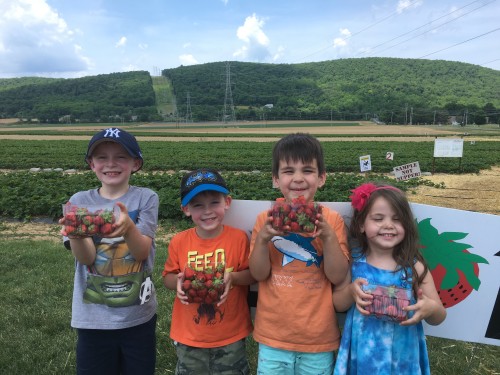 Create Farm Sculptures
You can provide your children with a brown paper bag to collect objects found on the farm such as sticks, hay, corn kernels and more. Talk about what those items feel and smell like as well as how they sound when shaken in the bag. Then take those objects home to stick in Model Magic to create their own unique sculpture. Don't have anything to make sculpture? That's okay! Just have them glue them to paper or a plate to make their own art scene!
Pet & Feed Animals
A lot of local farms have animals on their property that your children can access to feed and/or pet. You may need to purchase feed supply to give the animals and, in some instances, you can bring your own carrots. Be mindful of what the animals can eat and ask a farmer if you do not know. This is always a nice moment to watch animals graze.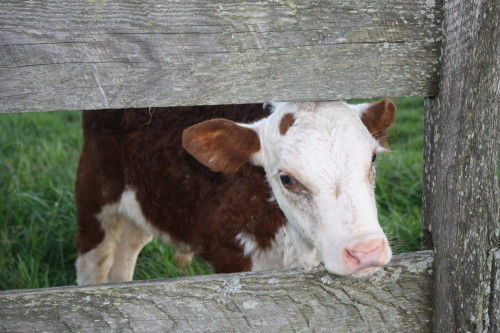 Take a Hayride
Hayrides may be available at your local farm which can be FREE but most times there is a nominal cost. We always enjoy the hayride especially when you can tour an extensive farm. At some of our favorite farms, we learn new information as the local farmers guide the tours of the farm. Even if there is no narration, this opportunity opens the conversation to discuss different crops grown and what time of the year they appear.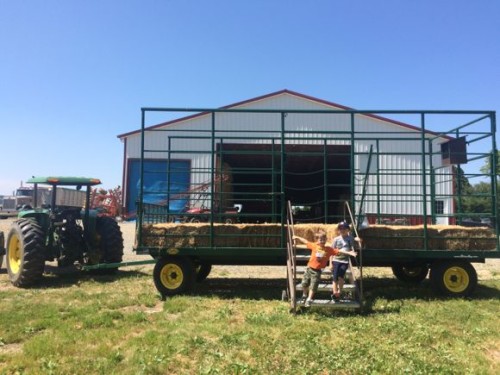 Scavenger Hunts
Farms are perfect for teaching kids colors and letters. Besides creating scavenger hunt sheets that have just pictures, you can also have your kids make a Scavenger Hunt or Bingo Card using different colors. By grabbing some paint chips and glueing them to paper, kids can seek out different items they find on the farm that match the colors on their card. For older kids, have them find one item that starts with each letter of the alphabet.
Fun with TOOBs
For those that don't know, TOOBs are literally plastic toobs filled with little figurines such as animals, dinosaurs and bugs. Before your next farm visit, pick up a one of these Farm Toobs (affiliate link): baby farm animals, down on the farm, farm and animal explorer. Talk about the animals before your visit and discuss which ones you may see on the farm you are going to. Then pack them up for your visit.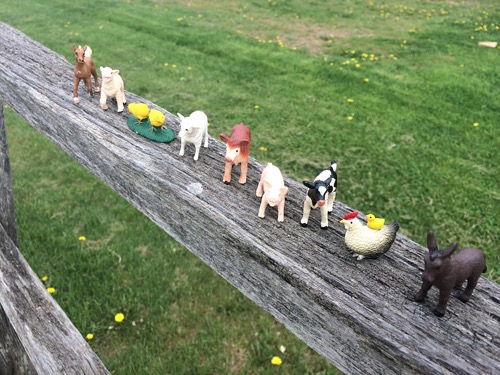 One fun activity is to match the animals. Walk around the farm and find the animals that match the Toob animal. Another fun activity that my kids enjoyed was hiding them in the corn bins and hay piles and then looking for them. This is a fun sensory activity that can keep kids busy for a long time on the farm!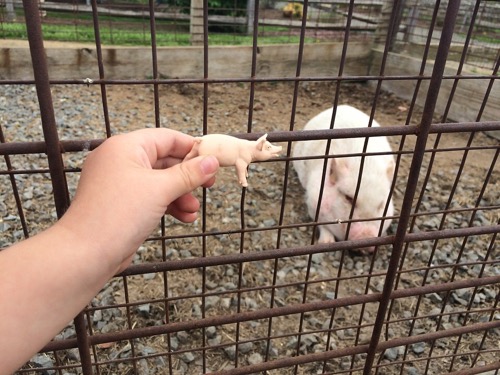 Try Something New
Stop by the farmstand to try a new fruit or vegetable! By attempting new flavors your palette can expand but, more importantly, you may find a new favorite flavor.
Read Books!
You can always bring a book to read to your little one during a quiet break in the day. There are a few farms that host Story Time on the farm but if you can't join them why not create your own. We have a list of Awesome Farm Books if you decide to bring one a long.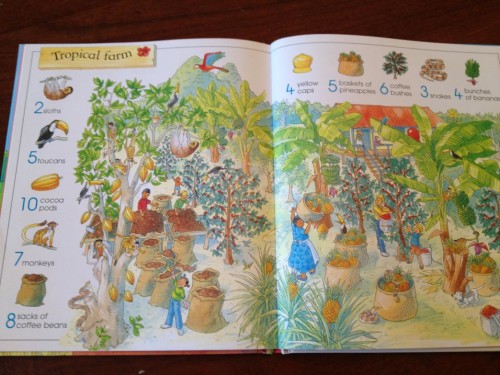 Questions to Ask
Part of visiting the farm is the sensory experience of the trip. From the smells to the textures, but there are also questions you can ask your little ones to encourage them to think. Here are some suggestions:
What do we get from a farm animal?
What do farms grow/make?
What animals live on the farm?
Which animals have feathers?
What are the names of the vehicles on the farm?
What does that feel like? (i.e. sandbox, pet animals, hay, plants)
What kind of activities do you do with your family on the farm?
You may also enjoy: