Visiting the Met with Small Children?
Despite years of taking my children to museums of art, nothing prepared me for taking them to The Metropolitan Museum of Art, also known as The Met. I believe by visiting museums it opens the world of possibilities to my children with thinking about and understanding the world. I believe children belong in museums. Granted, maybe not for an entire day, but I believe exposure helps prepare them for a prolonged love of learning.
The Metropolitan Museum of Art measures over 2 million square feet with over 2 million pieces in its permanent collection. It is massive. Overwhelming is a word that can be easily used when discussing this iconic building; however, there are some concrete suggestions to ease the stress of this trip when you decide to bring your children.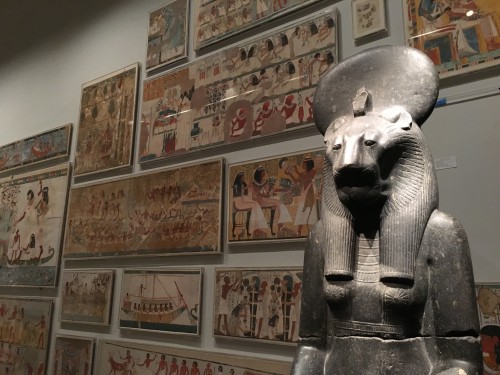 Mommy University Presents
Tips When Visiting The Met with Small Children
Payment Options
The cost of The Met is a suggested donation of $25 per adult. If you are going to pay the full recommended donation, you can purchase the tickets in advance online or use the kiosks next to the admission desks to avoid the line. Unfortunately, the line outside the building is for visitors to be checked by security not necessarily the line to buy tickets.
Ask for the Family Map
Make sure to ask for the Family Map at the Information Desk. The Where's Waldo guide offers friendly tips and a poster where kids can see an illustrated version of the visitor's map. The Guide has illustrations of the art and sculptures inside The Met. As well, it provides helpful suggestions to make your trip more enjoyable. Lastly, it provides children with items to find on the map which is great if they need a break.
Play Games
How much do you appreciate looking at art painted over a hundred years ago? Whether your answer was yes or no, little children don't just suddenly appreciate art techniques or history. This belief needs to be fostered through familiarity, interaction and finding the hook that grabs their attention. What animals can you find? What patterns do you see? Ask them questions to see if they can find objects or images to increase their interest.
Family Guides
If you are an individual that struggles to think on their feet to invent games in the museum or if you prefer to be overly prepared, we recommend visiting the Met Museum's Family Guides website. You can ask for these at the Information Desk, however, some are no longer in print but you can print from the website. For example, if you know the Temple of Dendur is a stop for your family, there is a guide. Maybe you want to try visiting the Asian exhibits then you can check out Good Guys and Bad Guys: Characters from Asia.
Pick an Exhibit
Have everyone select an exhibit that interests them. Your first visit with little children most likely will be a short one and this strategy gets them invested in the process. It also helps them to develop patience as everyone in the group has selected a destination. If we have a significant amount of time remaining, we will then have one location chosen by the entire family to visit last.
Wear Walking Shoes
Our visit to The Met resulted in a three-mile stroll so comfortable shoes are a must. Small children have small feet which tire quickly so be prepared. Strollers are welcome but due to the size of the crowds you may want to opt for the umbrella stroller. Also, remember for the first trip you may want to keep it brief.
Bring Reinforcements
I feel confident bringing my children to locations where we have memberships and have visited on a regular basis; however, I would not recommend being outnumbered by your children on the initial visit. If you feel that you need another adult to feel secure, then listen to your gut instinct. You want your children to enjoy the experience so it needs to be kept light and interesting. If you are stressed, they will not enjoy the experience. My friend kept my son engaged in a painting when I had lost my patience. As adults, The Met can also be overwhelming for us so remember it is supposed to be fun!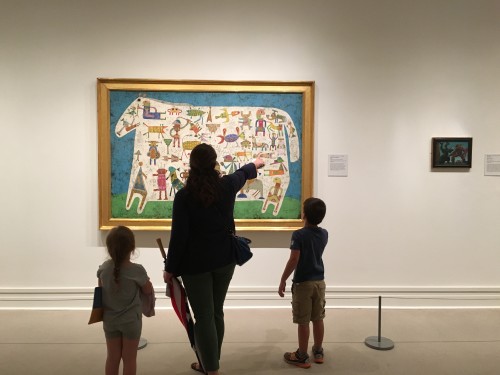 What to Do About Food
You are permitted to bring water in plastic bottles; however, it is stated on the website that no outside food is permitted. There are plenty of locations to eat inside the museum and the food options are diverse. My children were able to find food they like; however, be prepared for the sticker shock on the cost of the food. You can leave and return to the museum if you want to eat outside or you can set up your visit to fall outside lunch or dinner.
Watch or Read About The Met
The Met is historic. It is a moment or experience to enjoy with your family, and part of the preparation for the trip includes reading about it through books or you can even watch Big Bird visit the museum in an episode called "Don't Eat the Pictures." If they watch the Sesame Street episode, they will get excited when they see artwork that Oscar enjoyed or that Mr. Snuffleupagus admired. Here are a few books you can take out from the library or purchase from Amazon using our affiliate link:
The Met is a location that tourists flock to and art enthusiasts have on their bucket list for wonderful reasons. Visiting this space is not a destination but an adventure, so strap on your imaginary Indiana Jones hat and have a fun time! For more information, visit The Met website.
The Met is located at 1000 Fifth Avenue, New York, NY. 
If you like this post, you might like: